About this Event
ENGLISH VERSION BELOW!
UN TALLER EXCLUSIVO DE DOS DÍAS EN MONTERREY, MÉXICO.
¿Cómo puedes preparar tu negocio para el futuro y encaminarlo al éxito? Debes innovar, pero, ¿por dónde comenzar? En nuestro taller práctico basado en el libro Design a Better Business, aprenderás cuáles son los pasos vitales que debes tomar y qué herramientas te pueden ayudar. Lo único que necesitas hacer es comenzar desde cero y seguirnos conforme avanzamos. ¿Eres uno de los 20 afortunados participantes?
Este taller exclusivo Diseña Un Mejor Negocio en Monterrey será facilitado para la experta en innovación Maaike Doyer. Ella tiene su base en Silicon Valley y ha estado involucrada por más de 15 años en redefinir las estrategias para la riqueza en 500 empresas alrededor del mundo, como Microsoft, Audi y Cisco. También es profesora en la California College of the Arts y Hult University, y es oradora regular en conferencias como Innov8rs e INCMty.
¿Por qué deberías venir?
Estás listo para llevar a tu compañía al siguiente nivel, ya sea que trabajes para un corporativo o estés comenzando. Eres un líder de negocios, un aspirante a emprendedor, un innovador corporativo, un inversionista de crecimiento, un agente de cambio con impacto social o un estudiante emprendedor. Este taller te dará las visiones y experiencia necesaria para cambiar la incertidumbre hacia una oportunidad para el futuro. No estás solo en este viaje; estarás haciéndolo como parte de un equipo con personas de pensamiento similar.
Esto es lo que puedes esperar cuando te unas a nuestro taller.
PROGRAMA - DÍA 1
9:00-10:30 Aprende a Adoptar la Incertidumbre y Co-Crear Opciones para el Futuro
10.30- 11.00 Coffee break
11:00-12:30 Crear un punto de vista (POV) fuerte y cómo puedes conectar tu visión a tu modelo de negocios
12.30-15.00 Lunch break
13:30-15:00 ¿Para quién estamos diseñando esto? ¿Quiénes son nuestros futuros consumidores y qué necesitan?
15.30-17.00 Idear y diseñar una nueva propuesta de valor
18:00 Cocktail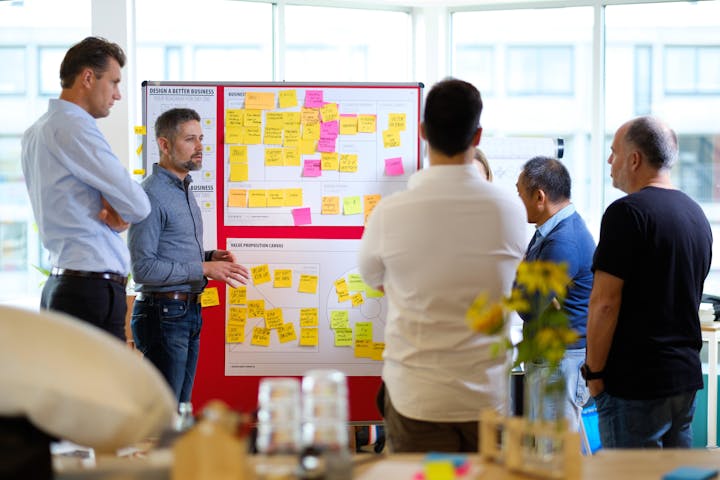 PROGRAMA - DÍA 2
9:00-10:30 Creación de prototipos de Business Models of the Future. ¿Cómo podríamos co-crear modelos de negocios a prueba del futuro? ¿Cuáles son nuestros supuestos más riesgosos y cómo podríamos probarlos usando prototipos?
10.30-11.00 Coffee break
11:00-13.00 ¡Sal del edificio! Consigue respuestas importantes: ¿son válidas tus suposiciones o son invalidadas por tus clientes?
13.00-14.00 Lunch break
14:00-15:00 Aprende a girar: ¿cómo puedes construer una historia que la gente vaya a escuchar?
15.50-17.00 Coffee break
15.30-17.00 Prepara tu pitch y preséntalo a tus inversionistas. ¿Estarán dispuestos a invertir?
¿Qué obtendrás cuando te unas a nuestro taller?
El libro Design a Better Business
El kit de herramientas esencial con plantillas
Un conjunto de plumones y post-its para trabajar.
Experiencia BMI•, que incluye desayuno, comida, y cocktail.
Un kit de herramientas de narrative para comunicar tu mensaje.
Guiones para los talleres de estrategia e innovación.
Un certificado oficial de tu participación.
Esta experiencia es impulsada por Business Models Inc.
Si tienes alguna pregunta, mándanos un correo a info@businessmodelsinc.com o contáctanos a este número +1 (415) 735-8273.
From the producers of the bestsellers the Business Model Generation and Design a Better Business:
A TWO DAY LIMITED EDITION WORKSHOP IN MONTERREY, MEXICO
How can you prepare your business for the future and set it up for success? You must innovate, but where do you start? In our hands-on workshop based on the Design a Better Business book, you will learn what vital steps you have to take and which tools can help you to do so. All you have to do is starting from scratch and follow us as we go. Are you one of the lucky 20 participants?
This limited-edition Design A Better Business workshop in Monterrey will be facilitated by innovation-expert Maaike Doyer. She is based in Silicon Valley and has been involved for over 15 years with redefining the strategies for Fortune 500 companies all across the globe; such as Microsoft, Audi and Cisco. She is also a professor at the California College of The Arts and Hult University and is a regular speaker at conferences such as Innov8rs and INCmty.
Why should you come?
You are ready to take your company to the next level, whether you work for a corporate or you've just started. You are a business leader, an aspiring entrepreneur, a corporate innovator, a growth investor, a social impact change agent, or an enterprising student. This workshop will give you the insights and experience that are required to change uncertainty into an opportunity for tomorrow. You are not alone on this journey; you will be doing this as a team with like-minded people.
Here's what you can expect when you join our workshop
THE PROGRAM - DAY 1
9:00-10:30 Learn to Embrace Uncertainty & Co-Create Options for the Future
10.30- 11.00 Coffee break
11:00-12:30 Creating a strong point of view (POV) & how you can connect your vision to your business model
12.30-15.00 Lunch break
13:30-15:00 Who are we designing this for, who is your future customer and wat do they need?
15.30-17.00 Ideate and design a new value proposition
18:00 Drinks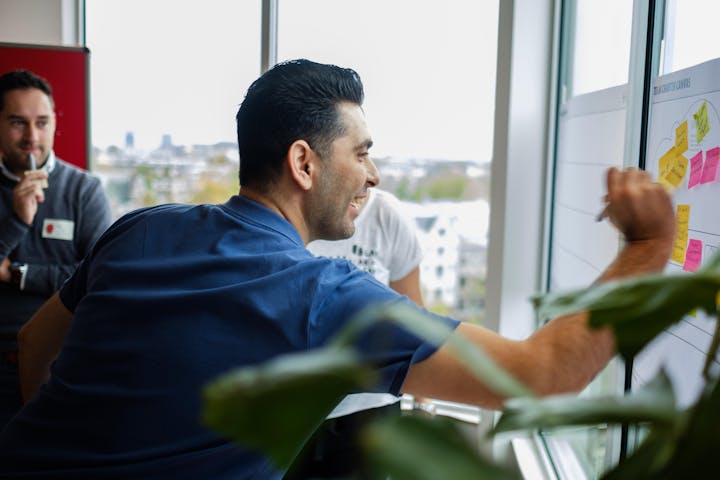 THE PROGRAM - DAY 2
9:00-10:30 Prototyping the Business Models of the Future How might we co-create future-proof business models? What are our riskiest assumptions and how might we test them using prototypes?
10.30-11.00 Coffee break
11:00-13.00 Get out of the Building! And get important answers, are your assumptions validated or invalidated by your customers?
13.00-14.00 Lunch break
14:00-15:00 Learn how you can pivot, how can you construct a story that people will listen to?
15.50-17.00 Coffee break
15.30-17.00 Prepare your pitch & pitch for the investors. Will they be willing to invest?
What do you get when you join our workshop?
The Book Design a Better Business
The essential toolbox with templates
Set of markers, post-it notes to work with
BMI• experience including breakfast, lunch, and drinks
A storytelling toolkit to get your message across
Screenplays for strategy and innovation workshops
An official certificate of your participation
This experience is powered by Business Models Inc
Please note: the workshop will be conducted in English!
If you have any questions, send an email to: info@businessmodelsinc.com or reach out to us at +1 (415) 735-8273