About this Event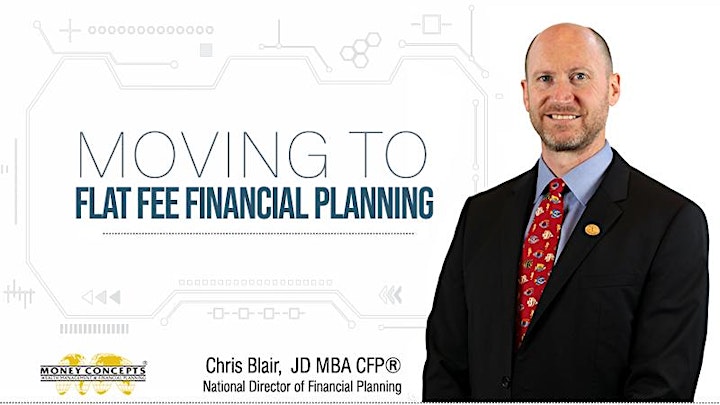 Over the past several months, Chris Blair, our National Director for Financial Planning, has been sharing excellent tools, systems, and philosophies on a fee-based holistic financial planning approach to the financial advisory business. The next step in this series will be a Financial Planning Boot Camp, where Chris will review many of the tools and systems used to make a fee-based financial planning approach valuable to both the client and the planner.
Training conducted at the Momentum Group headquarters in Saint Charles, Missouri. A room block at a convenient hotel has been put in place to make the transfer from the hotel to the office easy. There is no cost for the training, but you will be responsible for your own travel and hotel costs. The meeting will begin at 8:00 am on Thursday, Feb., 6, and adjourns at 2:30 pm on Friday, Feb., 7. If you are flying ( STL Airport) is located 12.8 miles from hotel or driving from far away, you should plan on arriving on Wednesday evening (hotel check-in is 3:00 pm).
This intense two-day Boot Camp will cover all aspects of the fee-based system he uses in his office, including meeting presentations, marketing, processes, and more. Please join Chris for this important event to make 2020 your best year ever.
--------------------------------------------------------------------------
SPECIAL HOTEL GROUP RATE:
Courtyard St. Louis St. Peters
4341 Veterans Memorial Parkway | St. Peters, Missouri 63376
PHONE: 636-477-6900 | Complimentary on-site parking
SLEEPING ROOM INFORMATION / BOOKING:
GROUP RATE: $119.00 /per night
CHECK-IN: 3:00PM | CHECK-OUT: 12:00PM
DEADLINE: Last Day to Book Room: Mon., January 27, 2020
Book your Group Rate Sleeping Room Now
--------------------------------------------------------------------------
DAY 1: THURS., FEBRUARY 6, 2020
8:00am – 9:15am INTRODUCTION AND MINDSET
9:15pm – 9:30am NETWORKING BREAK
9:30am – 10:45am SALES FUNNEL AND INITIAL MEETING- INTERVIEW
10:45am – 11:00am NETWORKING BREAK
11:00am – 12:15pm INITIAL MEETING AND PRESENTATION
12:15pm – 1:15pm LUNCH BREAK
1:15pm – 2:30pm DATA GATHERING AND PROGRESS MEETING
2:30pm – 2:45pm NETWORKING BREAK
2:45pm – 4:00pm DELIVERABLES
4:00pm – 4:15pm NETWORKING BREAK
4:15pm – 5:30pm TECHNOLOGY
DAY 2: FRI., FEBRUARY 7, 2020
8:00am – 9:15am PROGRESS MEETINGS
9:15pm – 9:30am NETWORKING BREAK
9:30am – 10:45am SAMPLE PROGRESS MEETING
10:45am – 11:00am NETWORKING BREAK
11:00am – 12:15pm BACK OFFICE
12:15pm – 1:15pm LUNCH BREAK
1:15pm – 2:30pm FINAL THOUGHTS
ADJOURN