Description
PLENTY OF TIX AVAILABLE AT THE DOOR AT 9PM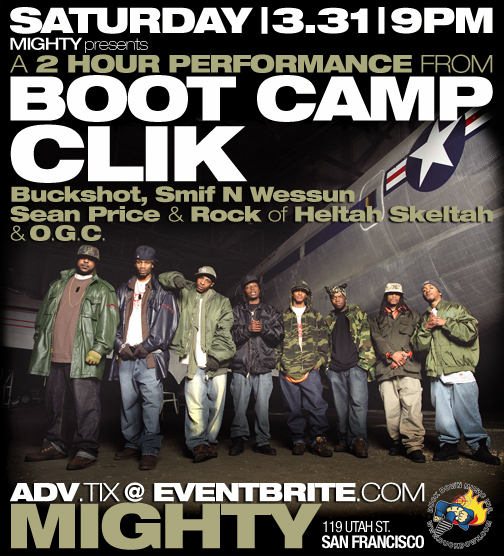 On Saturday, March 31st, MIGHTY is proud to present the legendary Boot Camp Clik. Hailing from Brooklyn, New York, All 8 members will hit the stage for a 2 hour performance, revisiting classics from Smif N Wessun, Buckshot, Heltah Skeltah, OGC and the Boot Camp Clik in their entirety.
Don't call it a comeback. Boot Camp Clik's been here for years. In fact, with several revered releases last year, BCC's presence is being felt more than ever. Cemented is BCC's legacy in the Hip-Hop annals. Spitting hardcore raps over dirty samples, the BCC comprised of Buckshot, Smif N Wessun (Tek & Steele), Heltah Skeltah (Sean Price and Rock) and OGC, (Louieville Sluggah, Starang Wondah and Top Dog) have epitomized New York Hip-Hop throughout their storied career. Just when the West Coast G Funk was becoming Hip-Hop's choice sound, Brooklyn's BCC individual groups lead the East Coast resurgence with the releases, Black Moon's 'Enta Da Stage' (1993), Smif N Wessun's 'Da Shinnin'' (1995), Heltah Skeltah's 'Nocturnal' (1996) was released and won the group New Artist of the Year by the Source Magazine, and O.G.C.'s debut 'Da Storm' (1997). As a group, Boot Camp Clik has released seminal albums which include For the People (1997), The Chosen Few (2002), The Last Stand (2006) & Casualities of War (2007). Boot Camp Clik is in the early stages of making their 5th album which is tentatively set for a 2012 release.
Though the crew has never reached commercial success by mainstream standards, BCC more than makes up for it in respect. Over the years, the Brooklynites have worked with and collaborated on songs with legends like, Tupac Shakur, Mary J Blige, Q-Tip, Busta Rhymes, Sean 'Diddy' Combs, Wyclef Jean, Raekwon, Method Man, Spike Lee and KRS-One just to name a few. Respect comes from all angles. As the crew was getting ready to take the independent turn, West Coast luminary Dr. Dre flew Dru and Buck to Los Angeles to cut several songs and contemplate a potential partnership. The crew had also previously worked on the 'One Nation' album with Pac. Unfortunately, the CD was never released due to his untimely death. Several of the LP's verses were gradually put onto other posthumous Pac released after his death. One Nation's "Military Mind" was eventually placed on 2002's Better Days. The crew also participated on Pac's poetry album, The Rose Vol.2.
Organizer of Boot Camp Clik @ MIGHTY - TIX AVAILABLE AT THE DOOR!