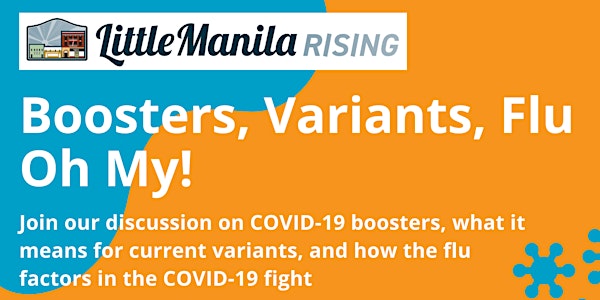 Boosters, Variants, Flu: Oh, My! A Discussion with Dr. Freddie Rayray
Join our discussion on COVID-19 boosters, what it means for current variants, and how the flu factors in the COVID-19 fight.
About this event
Boosters, variants, and flu; Oh my! Coming into 2022, COVID-19 is still in our communities. Please join the Little Manila Rising COVID-19 events and outreach team with special guest, Dr. Freddie Rayray, a local critical care pharmacist specialized in treating COVID-19 patients, in our discussion addressing the efficacy of boosters for current variants and how the flu plays a factor in our communities. This will be a townhall environment so any questions you may have on topics discussed or even about vaccinations are invited for Dr. Rayray during this discussion! Some topics discussed may be specific to the Stockton, CA community but the medical knowledge shared is universal.
About Dr. Freddie Rayray: Dr. Freddie Rayray is a critical care pharmacist and native of Stockton, CA. He received his Bachelor of Science in Biochemistry and Molecular Biology from University of California, Davis, Doctor of Pharmacy from University of the Pacific Thomas J. Long School of Pharmacy, and is a Board Certified Pharmacotherapy Specialist. Freddie's clinical experience includes direct patient care within the neurocritical care, trauma, medical surgical, pediatric, and covid intensive care units. In an effort to combat misinformation and make healthcare information easier to understand, Freddie has created a YouTube Channel and Instagram to educate others and can be followed at "TraumacistRx".