Boost your Health, Wellbeing & Finances: Serena Sabala and Jason Graystone
About this Event
Whole Shift Wellness welcomes you to a two hour workshop to learn effective exercises and tips to boost your health, wellness and financial stability.
Do you want to broaden your horizons for your health and wealth?
Do you feel like you are in the dark when it comes to finances?
Are you feeling unfit and unhealthy (possibly harbouring chronic disease)
Do you lack motivation and inspiration to get out there and start designing your life?
Are you lacking energy and suffering from frequent "dips" throughout the day
In this two hour workshop, Serena and Jason will cover these topics and more so that you can create a strategy to achieve your greatest level of health, fitness, wealth and success.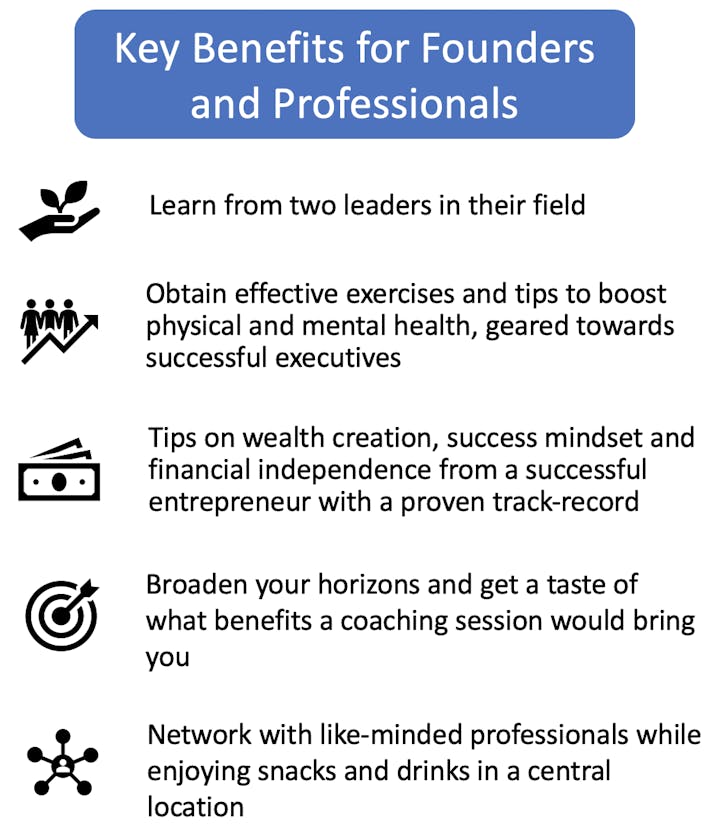 Agenda
6pm - 7pm Health and Wellness Hour by Serena Sabala
- Discover the most common mistake busy professionals make when wanting to improve their fitness and nutrition
- Learn how to prevent the most common mistakes
- How to set goals effectively
- How to stick with your fitness and nutrition plans long term
- The 5 steps proven methodology which will allow you to transform your mind-body fitness
7pm - 7.15pm Break / Networking
7.15-8.15pm Wealth Mindset by Jason Graystone
- Why we need to think about our finances
- The formula for wealth
- 9 questions you need to ask yourself 
- How to become financially independent
- How to become financially free
8:15pm - 8.30pm Event ends / Networking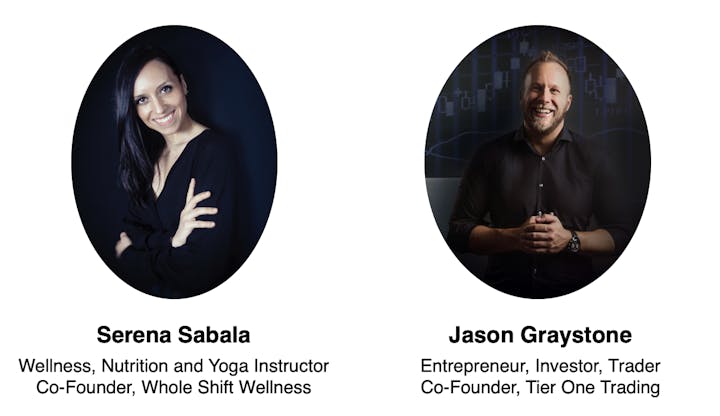 About Serena Sabala
Serena is a Wellness Coach, Certified Yoga Teacher and Plant Based Nutrition Consultant who has studied the subject of nutrition for over ten years and has a unique, wholistic approach to health and wellness.
When she was only 8 years old her father, a very successful and busy entrepreneur, got really sick: unfortunately he didn't have the tools to take care of his own wellbeing and therefore crumbled under the pressure of owning a multi million euros business. This led to him losing everything he had worked so hard for, with huge consequences for him and the whole family.
As a result of her childhood experiences, Serena has developed an interest in wellbeing practices which started at a very young age. Today, she works passionately to help leaders be strong and fit so they can be healthy and satisfied and can continue to have a positive impact within their organizations and the communities around them.
Serena is also very passionate about bringing wellness to the workplace, since many people spend most of their waking hours at work: she believes that "employees who are cared for, care more" and that companies who put the wellbeing of their employees at the forefront of what they do, are more successful than average.
About Jason Graystone
Since starting his first business at 22 years old, Investor and currency trader Jason Graystone has successfully built and run multi million pound businesses both in the service sector and online. 
Jason believes that if you have the right balanced mindset, and adopt the right personality traits, you can use simple formulas to achieve anything you want in life; and it's this attitude that allowed him to achieve complete financial independence by the time he was 30 by strategically replacing his active work force income. 
Since then, Jason helps to empower others around money and wealth creation.
Jason believes that everyone deserves to live an inspired life. "When we are free and able to focus on meaningful work, we become better human beings. All we want in life is time primarily, and then the ability to focus on our highest values for fulfilment and reward."
Who is this event for:
If you feel that your greatest level of health, fitness and body confidence still escapes you
If you have thought about financial or wellness coaching before, and want an opportunity to test in with a mini-coaching strategy session
If you have a high demand job, manage teams or run your own company
If you feel that by increasing your financial independence you would achieve more in work and life
If you want to learn effective ways to get more fit and healthy even though you're busy and time pressed
If you worry you may be harbouring chronic disease
If you know you have to improve your fitness and nutrition but are unsure where to start from
If you are interested in networking with like minded professionals
If you have an interest in self-development and learning new skills
FAQ
Q. Is this event limited to professionals from a specific sector?
A. Anyone can attend but we find those who benefit the most are busy professionals with stressful lives and demanding careers. They often also manage a team.
Q. I don't feel I lack of financial confidence but want to learn more about fitness and nutrition: is this event suitable?
A. Absolutely. They say that "room for improvement" is always the largest in the house so you don't have to feel in lack in order to learn something new and useful.
Q. I already work with a trainer, nutritionist, coach: would this conflict?
A. Not at all. Most of the subjects we'll cover are quite universal and will actually complement and re-enforce your existing practices.