| | |
| --- | --- |
| Boost Your Business Through Speaking in Philly! | |
Event Details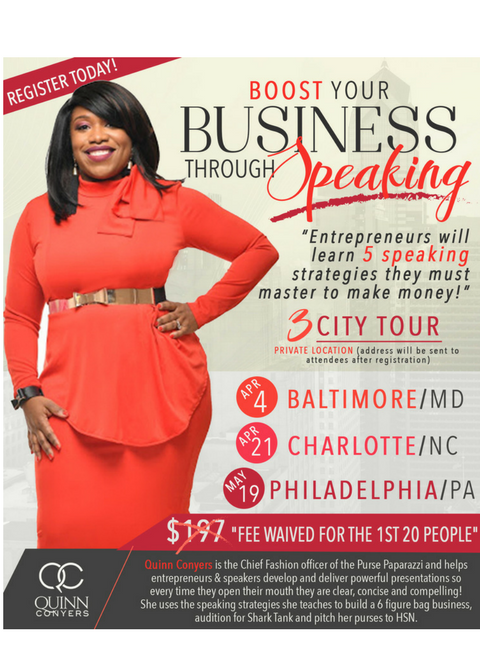 The way you speak about your business can HELP or HURT you as an entrepreneur!
Many entrepreneurs are great at what they do but FAIL to describe their products or services in a way to get potential customers to buy from them! 

As a result, business owners have a hard time explaining what they do in 30 seconds or less or worse have no clue how speaking really impacts the success of their business! 
This usually leads to entrepreneurs losing money and sometimes quitting their business altogether! 
But it doesn't have to be this way! 
Quinn Conyers has made it her personal mission to help entrepreneurs Boost Their Business Through Speaking! 

Quinn has won over $31,000 in business competitions, pitched her product to HSN and Shark Tank and uses speaking as her #1 strategy to get customers and market her business! 
Quinn will be in Philadelphia PA, Baltimore MD, and Charlotte, NC for a 3-City Speaking Tour helping other entrepreneurs speak with confidence! 
If you are an entrepreneur experiencing the following, the Boost Your Business LIVE event is for you! 
You struggle to explain your business in 30 seconds or less! 

You are unsure what makes your business, special, different or unique! 


You "wing it" if you get a request to speak about your entrepreneurial journey! 
It's time to speak with confidence about your business so every time you open your mouth you make money!
After this LIVE Masterclass, entrepreneurs will know how to:

Speak like a SUPER Star! 

Secure money to grow or expand their business through speaking! 

Add speaking to their business as a marketing AND revenue stream! 




Create a killer elevator pitch in 30 seconds or less! 

The 3 speeches they must master to make money! 
So who is Quinn Conyers? Quinn Conyers has built a 6-figure bag business using speaking as a strategy to expand her brand and grow her business! She is now going on a 3-City Tour teaching entrepreneurs the 3 speeches they must master to make money!
When & Where

City CoHo
164 South 24th Street
Ground Level (Suite 102)
Philadelphia, PA 19103


Organizer
Quinn Conyers is the Chief Fashion Officer (CFO) of the Purse Paparazzi LLC, a unique bag business specializing in purses and clutches for women who went to college or are members of a Sorority! 

As a result of Quinn's success, she was able to quit her job and pursue entrepreneurship full-time, has won over $34,000 in business pitch competitions AND has been featured in Black Enterprise, Essence and Young Money Magazines as well as a host of other local magazines and newspapers.  
Additionally, she has auditioned and made it to the 2nd round of Shark Tank 3 times, pitched her purses to HSN and has appeared on the Entrepreneurs Elevator Pitch TV Show! 

Quinn now helps other entrepreneurs using Speaking at their go-to strategy to boost their business!