Boost your business through Help to Grow
About this event
As a small and medium sized business leader you have a vital role to play in the growth and prosperity of the UK economy. The government is offering to help your business reach its full potential as we build back better from the coronavirus pandemic through the Help to Grow schemes, which provide leadership and management training and software that is proven to get results.
Join us for this Help to Grow showcase - an exclusive event where you can find out more and sign up for both schemes - and take this opportunity to make your business more profitable, boost organisational performance, deliver a happier and more productive workforce and help with the adoption of digital technologies through training and software proven to get results.
At this event you will hear from Secretary of State Kwasi Kwarteng and the two Ministers responsible for each of the schemes. Hosted by Ann Francke, CEO of the Chartered Management Institute, you will have the opportunity to ask questions of a panel represented by Business Schools offering the course, together with Help to Grow scheme participants on how the programme is inspiring them to take their business to the next level.
This is an opportunity not to be missed if you're serious about growing your business, implementing new technologies, supercharging your sustainability or transforming your people management strategies.
Help to Grow is divided into two main programmes:
Help to Grow: Management offers senior business leaders management and leadership training. Designed to be manageable alongside full-time work, businesses receive 50 hours of training across 12-weeks through a combination of online sessions and face-to-face learning. The programme is 90% subsidised by the government and up to 30,000 places will be available over 3 years.
Help to Grow: Digital provides businesses free, impartial, online support and guidance on how digital technology can boost their performance. Through the scheme, eligible businesses can take advantage of discounts of 50%, worth up to £5000, when buying approved software from leading technology suppliers. Businesses will also be able to access free support and tools on how to choose the right digital technologies through a new online platform.
Who is it for?
Help to Grow: Management
UK businesses from any sector that have been operating for more than 1 year, with between 5 to 249 employees are eligible.
The participant should be the decision maker, ideally the Chief Executive or Owner of the business.
Charities are not eligible.
Help to Grow: Digital
Help to Grow: Digital's online platform will be available to all businesses, offering them free, impartial online support and guidance to help level-up business digital technology and skills.
The financial discount will be available to businesses from any sector that meet all of the following criteria:
have between 5 and 249 employees.
are registered in the UK at the relevant Companies House or are a registered society listed on the Financial Conduct Authority's Mutuals Register.
have been actively trading for more than 12 months, and have an incorporation date of, at least, 365 days prior to the date application.
are purchasing the approved software product for the first time.
Host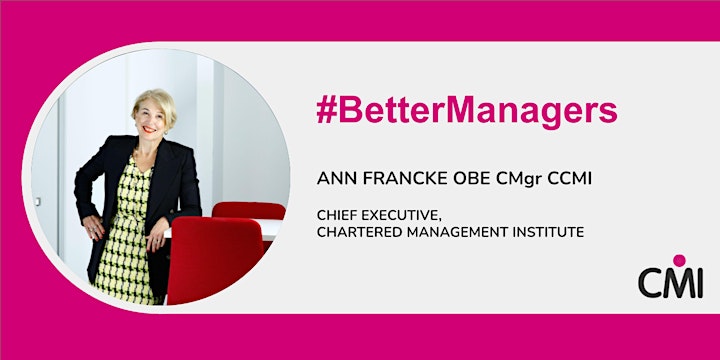 Ann Francke OBE CMgr CCMI
Chief Executive, CMI
Ann Francke is Chief Executive of the Chartered Management Institute the UK's leading professional body for management and leadership with a global member community of over 160k. She started her career at Procter & Gamble and has held senior executive positions at Mars, Boots, Yell and BSI. In 2020, Ann was awarded an OBE for services to workplace equality.
Ann is an expert on gender balance in the workplace and speaks frequently in the media and conferences on this and other management topics. Her book on gender balance - Create a Gender-balanced Workplace, published in September 2019. Ann also authored the 'Financial Times Guide to Management' and has been named in the top 100 women to watch in the 2015 Female FTSE Cranfield report. She was awarded the MemCom award for outstanding leadership of a UK professional body in 2016.
Ann has five Honorary Doctorates for her work in management and leadership and is an advisory board member for the Work Foundation & Nottingham Business School, sits on the Advisory Council of the Chancellors Help to Grow: Management initiative, is an Engineering Council Board member, chairing their diversity & inclusion working group and chairs the WACL working group on workplace equality. She has also previously served on commercial boards - Grant Thornton and Tongal.
Ann and her husband live in West London; she has one daughter
Speakers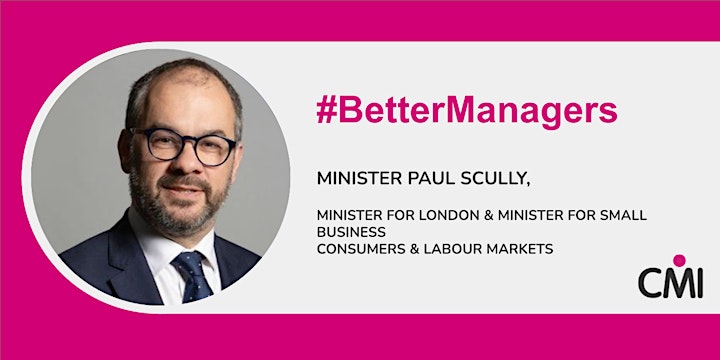 Paul Scully MP
Minister for London and Minister for Small Business, Consumers and Labour Markets
Paul Scully was appointed Parliamentary Under Secretary of State in the Department for Business, Energy and Industrial Strategy and Minister for London on 13 February 2020. Since May 2015, he has been the MP for Sutton and Cheam.
Between September 2017 and February 2020 he was the Prime Minister's Trade Envoy to Myanmar, Brunei and Thailand.
He was Non Executive Director for Nudge Factory, a new innovative business consultancy that specialises in the corporate social responsibility for business, between May 2011 and May 2015. Also, Minister Scully was the Conservative Leader of the Opposition for the London Borough of Sutton between 2006 and 2010.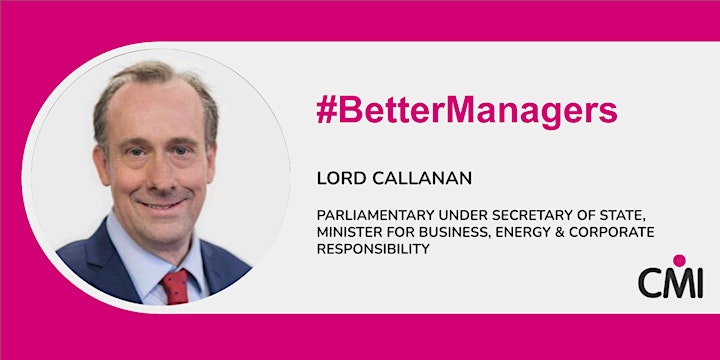 Lord Callanan
Parliamentary Under Secretary of State (Minister for Business, Energy and Corporate Responsibility)
Lord Callanan was appointed Parliamentary Under Secretary of State at the Department for Business, Energy and Industrial Strategy on 14 February 2020. Among his portfolio responsibilities includes Help to Grow: digital.
He was Minister of State at the Department for Exiting the European Union from 27 October 2017 to 31 January 2020.
Lord Callanan was a Conservative Councillor on Tyne and Wear County Council between 1983 and 1986 and Gateshead Metropolitan Borough Council between 1987 and 1996. He was a Member of the European Parliament for the North East England constituency from 1999, re-elected in 2004 and 2009.
Outside politics, he worked as a project engineer at Scottish and Newcastle breweries from 1986 to 1998.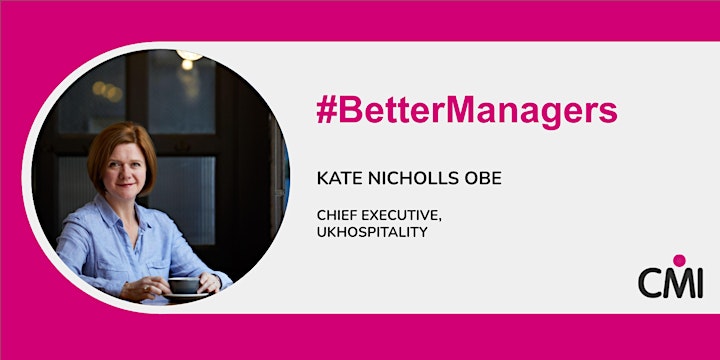 Kate Nicholls OBE
Chief Executive, UKHospitality
Kate Nicholls OBE has been CEO of UKHospitality, the powerful voice representing the broad hospitality sector, since its inception in 2018, having previously worked as CEO and Strategic Affairs Director of the ALMR.
Kate is Chair of the Tourism Alliance and co-Chair of the London Tourism Recovery Board, representing the needs of the wider tourism sector in discussions with Government and the Mayor of London. She sits on the Government's Tourism Industry Council and Events Industry Board, the London Food Board and has previously Chaired the London Night-time Commission. She is a Board member of London & Partners, Best Bar None, PASS and is a trustee at Hospitality Action. In July 2021, she was appointed as the first Government Disability Ambassador for hospitality, promoting inclusivity.
Kate initially worked as a researcher in the House of Commons and European Parliament on food, employment and environmental policy before joining Whitbread to work in Strategic Affairs. She has extensive experience as a political and strategic communications consultant and is a graduate of Fitzwilliam College, Cambridge and Kings College London.
In the meantime...
If you're a member of CMI, or subscribe to our content, you can find thousands of exclusive, practical development resources in ManagementDirect. Log in here and search for a topic to get started!
Not yet subscribed?
From free newsletters packed with the latest trends, insights and tips for managers and leaders, to the full suite of invaluable tools and benefits that come with being a CMI member, we've got something for everyone. Visit our website to find out more.