Description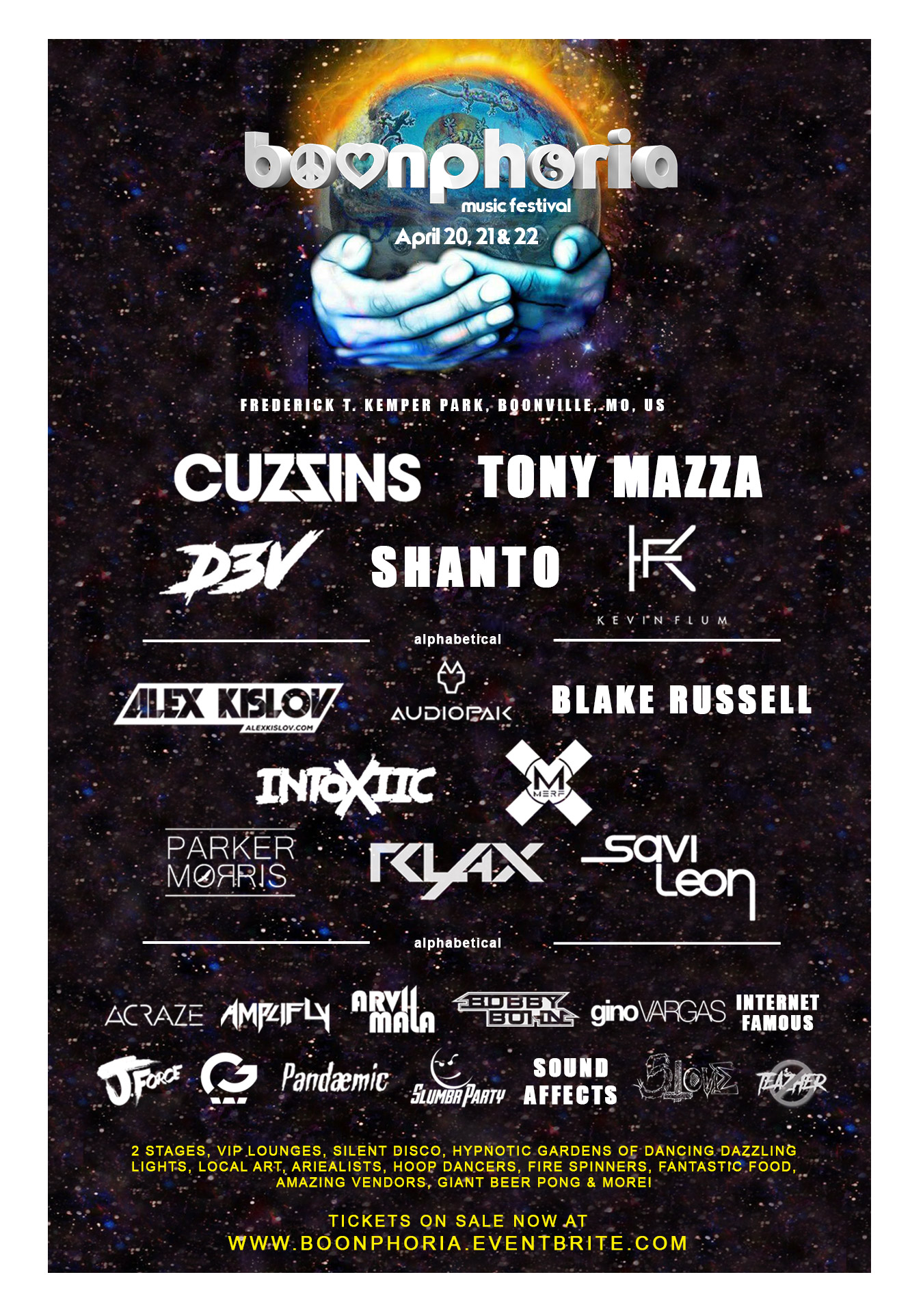 Welcome to boonphoria 2018: Mid-Mo's first three-day electronic Earth day music and camping festival. 20+ DJ's, two stages, VIP lounges, hypnotic gardens of dancing dazzling lights, local art installations, mesmirizing hoop dancers, enchanting aerialists, unique and rare performances by many intriguing performers, amazing vendors, fantastic food, giant beer pong and much much more. Come experience the deep rich vibe of freedom; as we all embrace to live, love and learn in our musical moments together.
FAQs
When is the festival?
The weekend of April 20th, 21st and 22nd of 2018.
What is the location of the festival?
Frederick T. Kemper Park 701 3rd Street Boonville, MO 65233
What time do the gates open for camping?
All camping will begin 8 a.m. Friday, April 20th.
What time does the festival end on Sunday?
3 p.m.
What are the hours of the festival?
We Bass Out on 2 stages starting on Friday @ 9 am April 20th, 2018 and Don't Stop til 3 pm Sunday April 22nd, 2018. Afterparties are held on site. The Afterparties will begin at midnight and go until 9 a.m. on Friday and Saturday in our exclusive Silent Disco Arena ....
Can I buy tickets at this event?
Yes.
Can I buy a ticket for just one day?
Yes. DAY PASSES and AFTERPARTY PASSES are avaiable for purchase for one day access
I have a question about my ticket, what can I do?
Please send all questions to our ticket department: tickets@boonphoria.com.
Are there ID or minimum age requirements to enter the event?
18+ years of age and 21+ years of age to buy alcohol.
What's the refund policy?
NO REFUNDS.
Is boonphoria Music Fest accessible to all guests?
Yes, please with any questions send questions to ada@boonphoria.com.
What can I bring into the campground/venue?
Check out our prohibited items list to avoid any surprises when you show up, located on the website, www.boonphoria.com.
Is there a limit on how big my campsite can be or how many people/tents per campsite?
This depends on whether you have purchased BAE Pass, WUBBIT Pass, BANGER Pass. **1st come, 1st serve basis**
Where can I access water?
There will be drinking fountains and fill stations available throughout the festival grounds.
What kind of security can we except?
Everyone entering the festival grounds will be searched upon entry; ALL items will be examined. We reserve the right to refuse entry to anyone. Once inside, there will be event staff security located throughout boonphoria to help ensure your safety and security.
Where is the nearest airport?
Columbia Regional Airport, Columbia, MO 65201. Kansas City International Airport, Kansas City, MO 64153. St. Louis Lambert International Airport St. Louis, MO 63145.
Where is the nearest store/supermarket?
The town of Boonville has a number of general stores and a couple supermarkets, Dollar General, CnR grocery store and Walmart. All attendees should come prepared for the entire weekend.
Can I attend an afterparty without attending the main festival?
Yes. The Afterhours will be Silent Disco and is included with the VIP BANGER Pass. Anyone else that wants to attend the Afterparty is open to the public $15 charge.
Are pets allowed in the campsites?
No.
Will there be re-entry?
Yes ..... UNDERSTAND boonphoria Music Fest is a car camping and tent camping event with exclusive VIP package areas. Going to your vechicle is NOT a problem and re-entering our main stage area will NOT be a problem, as long as you have your PASS. You may COME and GO as you please. DO NOT LOOSE YOUR PASS ....
Will alcoholic beverages be served?
Alcoholic beverages will be served to those with a government-issued photo ID that states you are 21 years of age of older.
Can I bring water bottles into the festival?
You can bring one (1) water bottle and one (1) empty plastic bottle (for water fill-up) or an empty Camelback or similar brand. For your convenience, there are simple drinking stations within the festival grounds.
Will there be a first aid area, or paramedics on duty?
We will have plenty of paramedics on duty, as well as several first aid stations located throughout boonphoria.
What happens if it rains?
boonphoria Music Fest is a rain or shine event.
If you're from the Midwest, you understand the weather. boonphoria Music Fest will take place Rain or Shine.
The safety of our fans are most important to us. In case of severe weather, announcements will be made over the Main Stage PA's and event staff will direct you to the nearest exit.
Are pets allowed?
Not unless they are service animals. Persons with diaabilities and their service animals that are individually trained to do work or perform tasks for those people with disabilities are welcome at boonphoria Music Fest. Pets are not allowed and will be turned away. Due to large-scale animal service fraud, and for the protection of all festival patrons, service animals must be screened and registered at the Access Center immediately upon entry to the site. Please contact us ada@boonphoria.com for protocol regarding service animals.
Am I able to camp at boonphoria without a festival pass?
Yes, camping is including with every kind of pass purchased at boonphoria Music Fest; EXCEPT the DAY PASS.
I'm under 18. Can I attend with a legal guardian?
boonphoria Music Fest is an 18+ event. No one under the age of 18 will be permitted with or without a guardian.
What if my question was not answered?
info@boonphoria.com