BoomerTennis Weekend

Saturday, November 19, 2011 at 11:00 AM

-

Sunday, November 20, 2011 at 1:00 PM (PST)
Event Details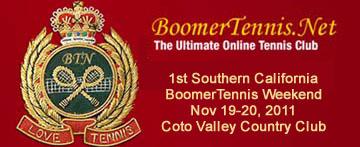 What is BoomerTennis?
BoomerTennis was founded by Bob and Lace Milligan in the summer of 2010 with the hope of providing adult tennis players with the information they need to get maximum enjoyment from this great game for a lifetime. Our founders said: Tennis boasts three of the most important natural ingredients to a happy, healthy life and to minimizing the effects of the aging process: physical, mental and social activity. Add proper nutrition and you have a formula tailor made for the Baby Boomers' revolution against "GETTING OLD."
Our Mission is simply to provide our members with age-relevant, insightful information in the areas of Orthopedics, Psychology, Nutrition, Physical Therapy/Training, Travel and Instruction through a staff of experts in each field. In addition, we strive to provide our members with a platform to interact with these experts and fellow members through feedback, blogs and an active social network.
As members of the most powerful economic demographic group, Baby Boomers wield significant consumer power. Recognizing this, we endeavor to provide our members with meaningful discounts on products they routinely use. The savings in patronizing our partner vendors can result in hundreds, even thousands of dollars each year.

BoomerTennis in Southern California - Special Events

We are organizing Southern California as a Section of BoomerTennis with all the benefits of membership plus the privilege of being part of SoCal special events. Our Socal special events include tennis weekends in different areas and clubs, with tennis match play, lectures, wine tastings, dinners, and foremost: fun, fun, fun! Charlie Pasarell and Indian Wells Tennis Garden Director of Tennis Tom Fey are planning larger tennis events at the Indian Wells Tennis Garden and nationwide, in addition to many fun social activities.

How do I sign up for BoomerTennis?

Please go through the New Member Signup process on the BoomerTennis home page. Type SOCAL into the Referred By box so we can identify all SoCal members more easily. Or click here for the Nestle Water promotion until October 30, 2011.


What is the BoomerTennis Weekend Nov 19/20?

During our inaugural weekend at the Coto Valley Country Club in Coto de Caza (Orange County) we will combine social tennis with a little bit of education and entertainment and a whole lot of fun. After the Nov 19/20 date we will offer many more BoomerTennis Weekends in different Southern California locations throughout 2012.
Saturday, November 19
11:00 am

Arrival

11:30 am

Brunch with Vic Braden

01:00 pm



Optional: Low impact clinic with Jeff Lewis
(Coto Valley Country Club Director of Tennis)

01:30 pm



Round Robin Tennis dbls and mixed dbls
Trophies for the most fun players

04:00 pm



- Wine Tasting with "Vineyard Troubador" Joel Reese
presented by Lionesse Cellars, Temecula
- Presentation "Sports injuries, prevention and rehabilitation, by Andrew Pritikin, Clinical Director- Bauerfeind Performance Center (Santa Monica)


08:00 pm

Dinner
Sunday, November 20
09:00 am

Light Breakfast

10:00 am



Round Robin Tennis dbls and mixed dbls
Trophies for the best dressed players

10:00 am




Optional: Shotgun 21 Singles tournament
for our singles tennis players
Trophies for the finalists

01:00 pm

Departure
Cost $89.00 per person (BoomerTennis members)
$99.00 per person (non-members)
includes all food, wine tasting, Vic Braden lecture, and all the tennis
If you need hotel acommodation
We secured a special rate of $119.00 per room incl. Breakfast
Ayres Suites Mission Viejo
28941 Los Alisos Blvd • Mission Viejo, CA 92692 •
Tel. (949) 455-2545

When & Where

Coto Valley Country Club
23331 Vía Venado
Trabuco Canyon, CA 92679


Saturday, November 19, 2011 at 11:00 AM

-

Sunday, November 20, 2011 at 1:00 PM (PST)
Add to my calendar
Organizer
Warner Tennis Center, 6336 Canoga Ave, Level 7 Parking Structure Woodland Hills, California 91367