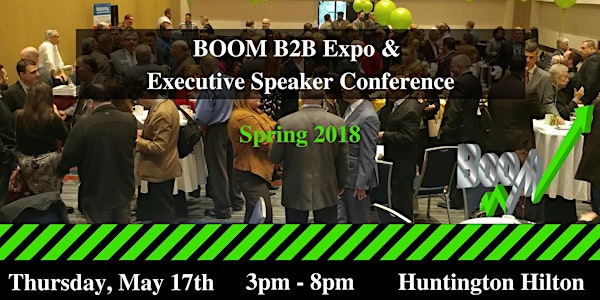 BOOM B2B Expo & Executive Speaker Conference - 5.17.18
Date and time
Thursday, May 17, 2018 · 3 - 8pm EDT
Location
Hilton Long Island/Huntington 598 Broadhollow Road Melville, NY 11747
Description
BOOM B2B Expo & Executive Speaker Conference
The expo will feature 100+ business exhibitors, 75 partnering business organizations, 20 BOOM TV executive interviews, 20 partnering media organizations, 9 Executive Speaker Panels, and 9 benefiting non-profit organizations. The event will consist of all local Long Island businesses, executives and organizations.
The itinerary for the expo is the following:
1:00 PM – 3:00 PM – Executive Lunch
An opportunity for our Sponsors, Exhibitors, Speakers, Local Governments Officials, and Partnering Business, Non-Profit & Media Organizations to meet and build relationships before the Expo begins. A Senior Representative from the BOOM B2B Expo's Main Event Sponsor, PSEG Long Island, will welcome and give a keynote address. A light lunch will be provided during an open-networking style mixer.

3:00 PM – 3:30 PM – Press Conference and Ribbon Cutting Ceremony
A press conference / ribbon cutting ceremony highlighting the "BOOM Long Island" campaign to promote increased investment in local Long Island businesses in front of the Grand Ballroom (expo exhibit floor) at 3pm
3:00 PM – 8:00 PM – EXPO Exhibit Floor Open
The expo exhibit floor opens at 3 pm and closes at 8 pm.
6:00 PM – 7:00 PM – Executive Speaker Conference
The Executive Speaker Conference, will have one panel discussion in each themed room that is partnered to a non-profit.
Choose from offerings related to the following:

Room 1: Legal - Michael Magro Foundation
Room 2: Real Estate - Paws of War
Room 3: Financial Services - Leukemia & Lymphoma Society
Room 4: Network Marketing - The INN (Interfaith Nutrition Network)
Room 5: Speed Networking - SCORE
Room 6: Business Development - Heroes to Heroes
Room 8: Recruitment / Staffing - Crohn's & Colitis Foundation
Room 9: Non-Profit & Long Island Community Affairs - ECNY

Additional Information
For additional information, please feel free to visit our website at
or visit our Facebook page at
https://www.facebook.com/BOOMBusinessNetwork/
or our YouTube Channel
https://www.youtube.com/channel/UCiGxqCVzRvO5tir_I4vmAmg
About the organizer
The BOOM Business Network is a membership-driven business organization with a variety of programs including: industry exclusive breakfast / lunch chapters, regional monthly events, industry specific meetings, business expos, speaker conferences, business development training, and more.