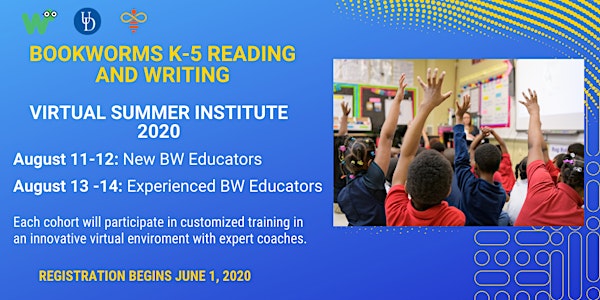 Bookworms Summer Virtual Institute 2020
BOOKWORMS 2020 SUMMER VIRTUAL INSTITUTE AUGUST 11-14
Refund Policy
Contact the organizer to request a refund.
About this event
The University of Delaware will host two intensive, virtual Bookworms K-5 Reading and Writing Institutes to help you gear up for the 2020-21 school year. These professional learning events, led by the program author Dr. Sharon Walpole and her team of coaches at the Professional Development Center for Educators, will have specific tracks open to teachers, administrators, and coaches. For the first two days, we will work with teachers who are new hires in existing Bookworms schools. We will focus on what they need to do to prepare for the first month of school. For the second two days, we will work with returning Bookworms teachers. We will focus on ways that they can enhance and improve their practice as they greet the new school year. We will limit each grade-level and leadership group to 30 participants.
Bookworms summer institutes will include two full-day sessions. A strong internet connection for full access to materials and videos is required for virtual training.
Daily Schedule
8:30 - 9:00: Introductions and fellowship
9:00 - 10:00: Session 1
10:30 - 12:00: Session 2
12:00 - 1:00: Lunch break
1:00 - 2:30: Session 3
3:00 - 4:00: Session 4