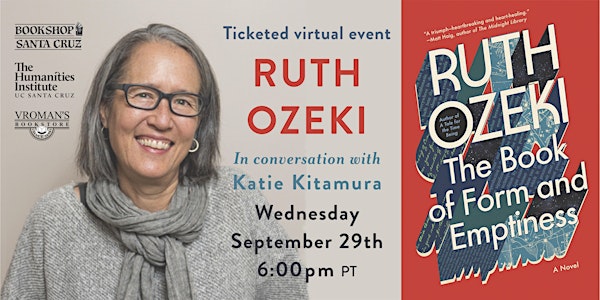 Bookshop Santa Cruz Presents: Ruth Ozeki | THE BOOK OF FORM
Bookshop welcomes bestselling author and staff favorite Ruth Ozeki to celebrate THE BOOK OF FORM AND EMPTINESS, with Katie Kitamura
Refund Policy
Contact the organizer to request a refund.
About this event
"Ozeki has done it again. This time she crosses into new dimensions, breathing life into pages, enticing us into an intimate world. Richly imagined, gorgeously executed, The Book of Form and Emptiness is a remarkable book." —David Eagleman, acclaimed neuroscientist and author of Livewired
Cosponsored by The Humanities Institute at UCSC and Vroman's Bookstore
TICKETING INFORMATION:
Tickets include entry to the virtual event plus a hardcover copy of THE BOOK OF FORM AND EMPTINESS.
There are several ticket options: choose IN-STORE PICKUP or have it SHIPPED to you (either in the U.S. or Internationally). Book will become available for pickup and to ship beginning on its publication date, Sept. 21st.
The link to join the virtual event will be sent to the email address you register upon purchase. It will also be available for ticketholders here on Eventbrite.
ABOUT THE BOOK + AUTHOR:
One year after the death of his beloved musician father, thirteen-year-old Benny Oh begins to hear voices. The voices belong to the things in his house—a sneaker, a broken Christmas ornament, a piece of wilted lettuce. Although Benny doesn't understand what these things are saying, he can sense their emotional tone; some are pleasant, a gentle hum or coo, but others are snide, angry and full of pain. When his mother, Annabelle, develops a hoarding problem, the voices grow more clamorous.
At first, Benny tries to ignore them, but soon the voices follow him outside the house, onto the street and at school, driving him at last to seek refuge in the silence of a large public library, where objects are well-behaved and know to speak in whispers. There, Benny discovers a strange new world. He falls in love with a mesmerizing street artist with a smug pet ferret, who uses the library as her performance space. He meets a homeless philosopher-poet, who encourages him to ask important questions and find his own voice amongst the many. And he meets his very own Book—a talking thing—who narrates Benny's life and teaches him to listen to the things that truly matter.
With its blend of sympathetic characters, riveting plot, and vibrant engagement with everything from jazz, to climate change, to our attachment to material possessions, The Book of Form and Emptiness is classic Ruth Ozeki—bold, wise, poignant, playful, humane and heartbreaking.
Ruth Ozeki is a novelist, filmmaker, and Zen Buddhist priest. She is the award-winning author of three novels, My Year of Meats, All Over Creation, and A Tale for the Time Being, which was a finalist for the 2013 Booker Prize. Her nonfiction work includes a memoir, The Face: A Time Code, and the documentary film, Halving the Bones. She is affiliated with the Everyday Zen Foun­dation and teaches creative writing at Smith College, where she is the Grace Jarcho Ross 1933 Professor of Humanities.
Katie Kitamura's most recent novel, A Separation, was a finalist for the Premio von Rezzori and a New York Times Notable Book. It was named a best book of the year by over a dozen publications, translated into 16 languages, and is being adapted for film. Her two previous novels, Gone To The Forest and The Longshot, were both finalists for the New York Public Library's Young Lions Fiction Award. A recipient of fellowships from the Lannan Foundation and Santa Maddalena, Katie has written for publications including The New York Times, The Guardian, Granta, BOMB, Triple Canopy, and Frieze. She teaches in the creative writing program at New York University.