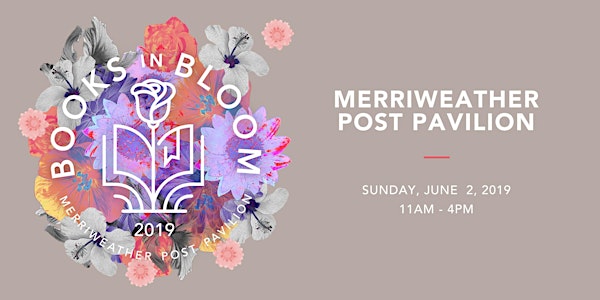 Books In Bloom
When and where
Location
Merriweather Post Pavilion 10475 Little Patuxent Pkwy Columbia, MD 21044
Description
BOOKS IN BLOOM RETURNS WITH ALL-STAR LINEUP OF BESTSELLING AUTHORS
Love books and reading?
How about wine and beer?
Are you a Top Chef?
Into live music?
Come experience it all (and way, way more) at the summer festival of your dreams!
P.S. Attendance is F-R-E-E (told you, it's a dream come true)!
The Downtown Columbia Partnership proudly announces the third annual Books in Bloom Festival. Happening in Columbia, Maryland, it's the ultimate celebration of the joys of books and reading with world-famous authors.
The day-long festival includes celebrity panel discussions, featured readings, live music, food trucks, rosé, a beer garden, and a pop-up bookstore by Busboys and Poets. Attendees will get the chance to meet iconic authors like José Andrés and Feminista Jones, along with Top Chef contestants Edward Lee and James Beard award-winning Kwame Onwuachi.
This event is suitable for all ages. We've got rosé (all day, if you like) and a beer garden as well as children's activities including puppet shows, face painting, story-time, balloon artists, and more!
The Books and Bloom festival will be held at Merriweather Post Pavilion—a 20-minute drive from Baltimore and 40 minutes from Washington D.C.
Featuring Headliner:
Chef José Andrés, Author of We Fed an Island: The True Story of Rebuilding Puerto Rico, One Meal at a Time
Panelists:
Rising Up + Speaking Out: Black Feminism Today
Feminista Jones, Author of Reclaiming Our Space: How Black Feminists Are Changing the World from the Tweets to the Streets

Brittney Cooper, Author of Eloquent Rage: A Black Feminist Discovers Her Superpower
From Knife to Pen: Top Chefs Share Their Stories
Kwame Onwuachi, Author of Notes from a Young Black Chef: A Memoir

Edward Lee, Author of Buttermilk Graffiti: A Chef's Journey to Discover America's New Melting-Pot Cuisine
Looking for the Rainbow: Celebrating Pride 50 Years After Stonewall
Matthew Riemer and Leighton Brown, Authors of We Are Everywhere: Protest, Power, and Pride in the History of Queer Liberation

Charles Kaiser, Author of The Gay Metropolis: The Landmark History of Gay Life in America
And You Don't Stop: The Birth and Rise of Hip-Hop
Vikki Tobak, Author of Contact High

Geoff Edgars, Author or Walk This Way
Documenting Immigration: Sharing Perspectives with the Next Generation
Laura Wides-Munoz, Author of The Making of a Dream: How a Group of Young Undocumented Immigrants Helped Change What It Means to Be American

Nadia Hashimi, Author of The Sky At Our Feet
Graphic Memoirs + POC Voices: The Surprising New Narrative
Malaka Gharib, Author of I Was Their American Dream: A Graphic Memoir

Mira Jacob, Author of Good Talk
Featured Authors:
Bob Yule, Author of Spirits, Sugar, Water, Bitters: How the Cocktail Conquered the World

Nicole Chung, Author of All You Can Ever Know

Abby Maslin, Author of Love You Hard: A Memoir of Marriage, Brain Injury, and Reinventing Love

Angie Kim, Author of Miracle Creek

Maurice Jackson, Author of DC Jazz: Stories of Jazz Music in Washington, DC

David Wiegel, Author of The Show That Never Ends: The Rise and Fall of Prog Rock

Anna Palmer and Jake Sherman, Authors of The Hill to Die On: The Battle for Congress and the Future of Trump's America

Carmen Rorigues, Author of The Universal Laws of Marco

Kathy MacMillan, Author of Dagger and Coin
The Downtown Columbia Partnership promotes and advances the growth of Downtown Columbia as a vibrant, diverse, economically robust and desirable place for employment, entertainment, living and learning. Its initiatives, such as Books In Bloom, include supporting cultural and arts programs aimed at enhancing residents' quality of life. Howard County is home to one of the most well-educated communities in the country and is well-known for its book clubs, poetry and literature organizations, literary publications and award-winning library system.
Visit our website: http://dtcpartnership.com/booksinbloom