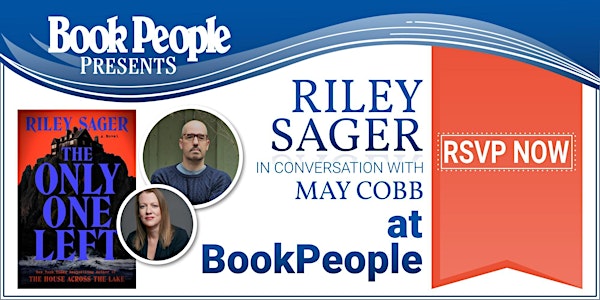 BookPeople Presents: Riley Sager - The Only One Left
BookPeople welcomes Riley Sager in conversation with May Cobb to celebrate the release of The Only One Left.
Date and time
Starts on Wednesday, June 21 · 7pm CDT
Location
BookPeople 603 North Lamar Boulevard Austin, TX 78703
About this event
Please welcome Riley Sager and May Cobb to celebrate The Only One Left!
This event is free and open to the public.
Start time: 7:00 P.M.
Run time: 45-60 minutes, followed by a signing line.
Location: The second floor of BookPeople.
The author will be signing and personalizing copies of the book after the speaking portion of the event.
To get a book signed, a copy of the event book or an item of equal value must be purchased from BookPeople.
Guidelines:
Seating will be on a first-come, first-served basis.
There will not be a live stream or recording available.
BookPeople reserves the right to cancel or postpone this event if necessary.
If you have any other questions, please email us at online@bookpeople.com
About the book:
Bestselling author Riley Sager returns with a Gothic chiller about a young caregiver assigned to work for a woman accused of a Lizzie Borden-like massacre decades earlier.
At seventeen, Lenora Hope
Hung her sister with a rope
Now reduced to a schoolyard chant, the Hope family murders shocked the Maine coast one bloody night in 1929. While most people assume seventeen-year-old Lenora was responsible, the police were never able to prove it. Other than her denial after the killings, she has never spoken publicly about that night, nor has she set foot outside Hope's End, the cliffside mansion where the massacre occurred.
Stabbed her father with a knife
Took her mother's happy life
It's now 1983, and home-health aide Kit McDeere arrives at a decaying Hope's End to care for Lenora after her previous nurse fled in the middle of the night. In her seventies and confined to a wheelchair, Lenora was rendered mute by a series of strokes and can only communicate with Kit by tapping out sentences on an old typewriter. One night, Lenora uses it to make a tantalizing offer—I want to tell you everything.
"It wasn't me," Lenora said
But she's the only one not dead
As Kit helps Lenora write about the events leading to the Hope family massacre, it becomes clear there's more to the tale than people know. But when new details about her predecessor's departure come to light, Kit starts to suspect Lenora might not be telling the complete truth—and that the seemingly harmless woman in her care could be far more dangerous than she first thought.
About the author:
Riley Sager is the New York Times bestselling author of six novels, most recently Survive the Night and The House Across the Lake. A native of Pennsylvania, he now lives in Princeton, New Jersey.
About the moderator:
May Cobb earned her MA in literature from San Francisco State University, and her essays and interviews have appeared in the Washington Post, the Rumpus, Edible Austin, and Austin Monthly. Her previous novels are The Hunting Wives and My Summer Darlings. A Texas native, she lives in Austin with her family.
By purchasing a book from BookPeople, you are not only supporting a local, independent business – you're showing publishers that they should continue sending authors to BookPeople.
Thank you for supporting Riley Sager, May Cobb, and your local independent bookstore!
About the organizer
BookPeople is the largest independent bookstore in Texas. For more information, visit BookPeople.com.