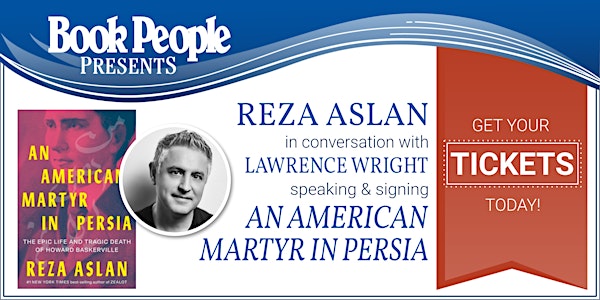 BookPeople Presents: Reza Aslan - An American Martyr in Persia
BookPeople welcomes Reza Aslan in conversation with Lawrence Wright to celebrate the release of AN AMERICAN MARTYR IN PERSIA.
When and where
Location
BookPeople 603 N Lamar Blvd Austin, TX 78703
Refund Policy
Contact the organizer to request a refund.
About this event
Please welcome Reza Aslan and Lawrence Wright to celebrate An American Martyr in Persia!
This event is ticketed.
Start time: 7 P.M.
Run time: 45-60 minutes, followed by a signing line.
Location: Second floor of BookPeople
Please note that this event was previously scheduled to take place at an offsite location. BookPeople is the current and final location for our event with Reza Aslan!
The author will be signing and personalizing copies of the book after the speaking portion of the event.
In order to get a book signed, you must have purchased a ticket (which includes a copy of the book).
You may attend the speaking portion of the event without a ticket.
If you buy a ticket and are unable to attend:
We will hold your book at BookPeople for 30 days after the event.
We cannot guarantee that your book will be signed. While we do our best to try and get all event books signed, priority is given to event attendees and any extra stock is dependent on the author's availability.
Guidelines:
Seating will be on a first-come, first-served basis.
There will not be a live stream or recording available.
BookPeople reserves the right to cancel or postpone this event if necessary.
If you have any other questions, please email us at online@bookpeople.com
About the book:
The #1 New York Times best-selling author of Zealot recounts the spellbinding tale of an unrecognized American martyr for democracy.
As a student of Woodrow Wilson at Princeton, Howard Baskerville was aflame not only with the gospel of Jesus, but with the Wilsonian gospel that constitutional democracy is the birthright of all nations. Rather than become a small-town minister like his father in South Dakota, he volunteered for missionary service in Persia.
Tabriz in 1907 was a hotbed of democratic revolution. Brilliant young firebrands were among Baskerville's students at the Presbyterian school—and became his devoted friends. He lectured on freedom; they dedicated their lives to it. Soon he would join them on the battlefield.
Was Howard Baskerville the "American Lafayette" of Iran, or a naïve "white savior" stumbling into Persian affairs? Baskerville's story, like his life, is at the center of a whirlwind, in which Americans must ask themselves, how seriously do we take our ideals of constitutional democracy and whose freedom do we support?
About the author:
Reza Aslan is an acclaimed writer and scholar of religions. He is the author of the #1 New York Times bestseller Zealot, No God but God, and editor of Tablet & Pen: Literary Landscapes from the Modern Middle East. He lives in Los Angeles, California.
About the moderator:
Lawrence Wright is a staff writer for The New Yorker and the author of nine previous books of nonfiction, including In the New World, The Looming Tower, Going Clear, Thirteen Days in September, and The Terror Years, and one novel, God's Favorite. His books have received many prizes and honors, including a Pulitzer Prize for The Looming Tower (now a series on Hulu). He is also a playwright and screenwriter. He is a longtime resident of Austin, Texas.
By purchasing a book from BookPeople, you are not only supporting a local, independent business – you're showing publishers that they should continue sending authors to BookPeople.
Thank you for supporting Reza Aslan, Lawrence Wright, and your local independent bookstore!