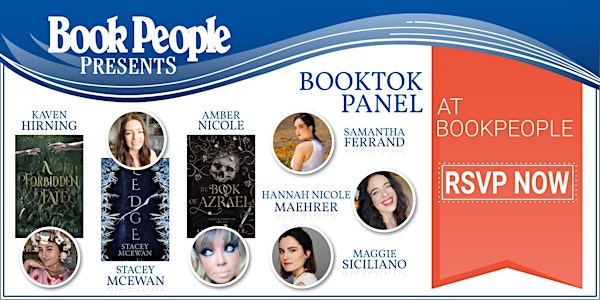 BookPeople Presents: Booktok Panel
BookPeople welcomes 6 viral BookTok creators as they discuss the literary side of Tiktok and the world of self-publishing.
Date and time
Starts on Sunday, April 23 · 6pm CDT
Location
BookPeople 603 North Lamar Boulevard Austin, TX 78703
About this event
Please welcome Kaven Hirning, Stacey Mcewan, Samantha Ferrand, Maggie Siciliano, Amber Nicole, and Hannah Nicole Maehrer in a panel discussion discussing BookTok, self-publishing, and entrepeneurship in a digital age.
This event is free and open to the public. However, if we meet our capacity restraints, customers with an Eventbrite RSVP will be prioritized.
Start time: 6:00 P.M.
Run time: 45-60 minutes, followed by a signing line.
Location: The second floor of BookPeople.
The panelists will be signing and personalizing copies of the book after the speaking portion of the event.
To get a book signed, a copy of the event book or an item of equal value must be purchased from BookPeople.
Guidelines:
Seating will be on a first-come, first-served basis.
There will not be a live stream or recording available.
BookPeople reserves the right to cancel or postpone this event if necessary.
If you have any other questions, please email us at online@bookpeople.com
About the Panel Discussion:
Want to self publish a book, but not sure where to start? How to get signed by an agent and what those query letters look like? How to start your own small business? Or just wanna shoot the sh*t with your favorite booktokers and authors? WELCOME to the Found Family Fireside Chat, a BookTok panel.
Join these BookTok creators with backgrounds in publishing, entrepreneurship, film, and television - picking their brains, dissecting their ideal book boyfriends, and judging their taste in tropes.
Afterwards, get a chance to take pictures and get your books signed!
About the Panelists:
Kaven Hirning is the author of A Forbidden Fate, who sometimes stomps around as a beloved book character named Cassian. She is trying her best and yes, she realizes that it's still not very good. She is also much too lazy to do anything about it. Looking at her TBR gives her anxiety but also makes her giddy at the same time. Good luck figuring that one out.
Maggie is an actress, BookToker and small-business owner based in NYC, with a penchant for fantasy worlds and red lipstick. Raised on baseball and good books, she graduated from Syracuse's Newhouse School with a television & film degree. She will happily discuss anything from The Vampire Diaries, to Rear Window, to The Departed.
Stacey McEwan is a school teacher by day and fantasy writer by night. She is a book influencer on multiple platforms and began writing Ledge after book lovers of the internet begged her to share her story ideas. Stacey lives on the Gold Coast, Australia with her husband, two children and one questionable dog. When Stacey isn't writing, teaching, or making ridiculous tiktoks, you'll find her playing with her children, reading, annoying her husband, or possibly all three at once.
Hannah Nicole Maehrer is a Booktoker Fantasy enthusiast with a propensity for Villain's. When she's not creating bookish comedy skits about Villains and Assistants, she's daydreaming to Taylor Swift songs. Her biggest passions in life are creating stories, romance, and tropes that make her giggle. Most days she can be found with her head in the clouds and a pen in her hand.
Samantha Ferrand is a Peruvian-American filmmaker & BookToker living in Los Angeles, California, who spends far too much time on airplanes to claim she lives anywhere in particular. When not writing or reading, she enjoys visiting her mother & grandmother for Happy Hour back home in FL. Samantha enjoys studying languages, religion, and discussing Sailor Moon ad nauseam.
Amber Nicole is an author who works full time helping animals as a vet assistant. When she isn't working she is dreaming of far off places with dragons, magics, swords. She loves a good villain and plans to tell many stories showcasing them in the spotlight.
By purchasing a book from BookPeople, you are not only supporting a local, independent business – you're showing publishers that they should continue sending authors to BookPeople.
Thank you for supporting our BookTok creators, and your local independent bookstore!
About the organizer
BookPeople is the largest independent bookstore in Texas. For more information, visit BookPeople.com.