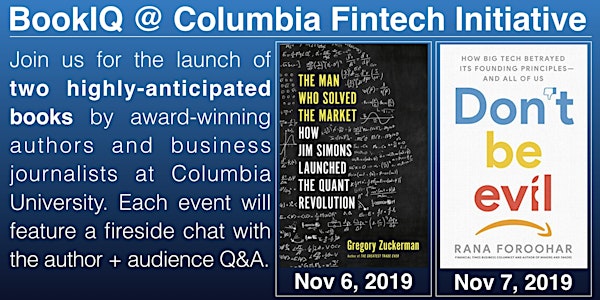 BookIQ @ Columbia University (fintech.gsb.columbia.edu)
When and where
Location
Joseph D. Jamail Lecture Hall (3rd Floor), Pulitzer Building Columbia Journalism School 2950 Broadway New York, NY 10027
Refund Policy
Refunds up to 7 days before event
Eventbrite's fee is nonrefundable.
Description
Join us for two book launches at Columbia University - you can register for either events, or both:
Nov. 6: "The Man Who Solved the Market: How Jim Simons Launched the Quant Revolution" (book info)
Nov. 7: "Don't Be Evil: How Big Tech Betrayed Its Founding Principles -- and All of Us" (book info)

Book giveaways; meet the author; onsite book signing and sales.
Columbia Business School's Advanced Projects and Applied Research in Fintech, together with the Columbia Journalism School's Knight-Bagehot Fellowship Program, invite you to join us for BookIQ Series, which will feature book launches and conversations with some of the most prominent and influential thought leaders as well as award-winning business journalists covering a variety of topics in technology, finance, and data, to name a few.
Our two Fall 2019 events will take place separately on Nov. 6 and Nov. 7, 2019 (6:30-8:30 pm) at Columbia campus, each featuring one book launch and a fireside chat with the author moderated by Prof. R.A. Farrokhnia.
The November 6 event will be the book launch of "The Man Who Solved the Market: How Jim Simons Launched the Quant Revolution" (by Gregory Zukerman, WSJ) and November 7 will be on "Don't Be Evil: How Big Tech Betrayed Its Founding Principles -- and All of Us" (by Rana Foroohar, FT and CNN). Please scroll down this page for more details.
Agenda (same for both Nov. 6 and Nov. 7 events):
6:00-6:30 pm - doors open
6:30-8:00 pm - fireside chat with the author, moderated by Prof. R.A. Farrokhnia, followed by audience Q&A
8:00-8:30 pm - meet the author + book signing
Logistics
Here are the relevant event details:
Tickets: you can purchase tickets separately for each event, or for both in case you are interested in attending the two book launches. Please note ticket purchases are for admission to events only, and do not include or count toward the cost of on-site book purchases.
Of note: book prizes awarded to attendees for best questions asked during the event. Book sales available at the venue and signing at the end of each event. Students MUST bring and show valid CUID (with current semester sticker) to verify their credentials for discounted ticket admission, otherwise they will have to pay full admission price at the door for entry. Students with valid ID may also qualify for discounts on book purchases at the venue.
Venue: both events will take place at the same location. You can view or print venue map here (PDF) - on the map, follow the dotted red lines from Columbia University main campus entrance (Broadway and 116t St.) to Pulitzer Hall, which can be accessed by entering the main Columbia gates at 116th Street and Broadway and walking down the set of steps to the right. Once at the bottom of the steps take the next right and walk to the entrance of Pulitzer Hall, which is on the right (Pulitzer Hall was formerly called Journalism Hall).
Disclaimer: this event will be photographed and filmed (audio and video recordings). By being present, participants consent to Columbia University and its affiliates using such photographs and video for instructional, promotional, or other such purposes.
Questions? Write us at FintechEvents@gsb.columbia.edu.
---
First Up, on November 6: "The Man Who Solved the Market: How Jim Simons Launched the Quant Revolution" (link)
In his newest book, Gregory Zuckerman, award winning journalist, best-selling author, and Special Writer at The Wall Street Journal, has written the story of how Jim Simons, a mathematician and code breaker, developed the data-driven, algorithmic approach to investing that made Simons billions and his fund, Renaissance Technologies, one of the most successful quant hedge fund with unmatched returns topping 39% annualized over 30 years (1988-2018) after fees. "The Man Who Solved the Market" is a portrait of a modern-day Midas who remade markets in his own image, but failed to anticipate how his success would impact his firm and his country. It's also a story of what Simons's revolution means for the rest of us.
Next Up, on November 7: "Don't Be Evil: How Big Tech Betrayed Its Founding Principles -- and All of Us" (link)

In her new book, Rana Foroohar, Financial Times global business columnist and associate editor as well as CNN's global economic analyst, examines the rise of the companies that constitute "Big Tech" from their beginnings as idealistic startups into their current form as monopolistic behemoths. She shines an uncompromising light on the dark side of Big Tech. But she does not leave us without hope. She outlines a strategy for people and policymakers to ameliorate the negative aspects of Big Tech, while still promoting technological innovation.
---
About Gregory Zuckerman
Greg is the author of "The Frackers: The Outrageous Inside Story of the New Billionaire Wildcatters", a national bestseller named among the best books of 2014 by The Financial Times and Forbes Magazine, and "The Greatest Trade Ever: The Behind-the-Scenes Story of How John Paulson Defied Wall Street and Made Financial History," a New York Times and Wall Street Journal bestseller published December 2010. At the Journal, Greg writes about big financial firms, personalities and trades, hedge funds, the energy revolution and other investing and business topics. Greg appears regularly on CNBC, Fox Business, Yahoo Finance, Bloomberg Television and various television networks. He makes regular appearances on National Public Radio, BBC, ABC Radio, Bloomberg Radio, and radio stations around the globe.
About Rana Foroohar
Rana Foroohar is global business columnist and associate editor for the Financial Times. She is also CNN's global economic analyst. Previously, Foroohar was the assistant managing editor in charge of business and economics at Time, as well as the magazine's economic columnist. She also spent 13 years at Newsweek, as an economic and foreign affairs editor and a foreign correspondent covering Europe and the Middle East. During that time, she was awarded the German Marshall Fund's Peter R. Weitz Prize for transatlantic reporting. She has also received awards and fellowships from institutions such as the Johns Hopkins School of Advanced International Studies and the East-West Center. She is a life member of the Council on Foreign Relations.
About "Advanced Projects and Applied Research in Fintech" at Columbia Business School
Advanced Projects and Applied Research in Fintech ("APAR") is a multidisciplinary initiative at the intersection of business and engineering. Its two primary goals are: 1) to research the innovative forms and functions of new enterprise and consumer financial services products, and 2) to explore the development of novel technological solutions and oversee their industry implementation.
Visit us at fintech.gsb.columbia.edu.
About "The Knight-Bagehot Fellowship in Economics and Business Journalism"
The Knight-Bagehot Fellowship Program offers qualified journalists the opportunity to enhance their understanding and knowledge of business, economics, finance and technology, as well as gain a strong understanding of the business of journalism itself, in a yearlong, full-time program administered by the Journalism School. Fellows typically take courses at Columbia's graduate schools of journalism, business, law and international affairs, participate in a variety of academic and professional activities, and receive free tuition as well as a stipend to offset living expenses in New York City and healthcare.
You can learn more at journalism.columbia.edu/kb.
---