BOOKER T. JONES ● Maui ● Castle Theater

Thursday, November 5, 2015 at 7:00 PM (HST)
Event Details
 Tickets Are Available Now at:
MACC Box Office
By Phone: (808) 242-SHOW (7469)
Online (click link to purchase): mauiarts.org 
Reserved Seating - Buy Now for Best Seats!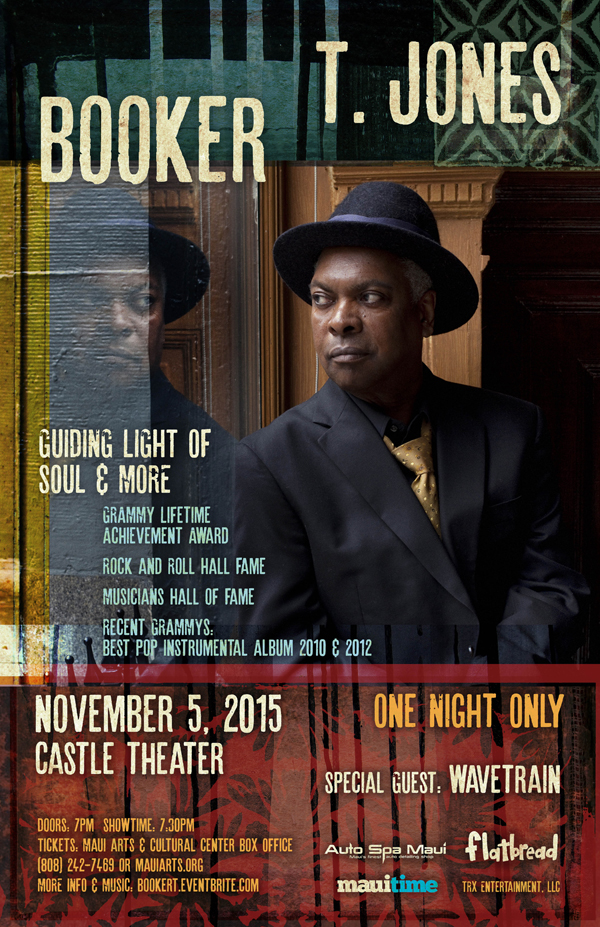 Grammy Award-Winning and Rock & Roll Hall of Fame Musician, Booker T. Jones, to Perform on Maui for the Very First Time with a Band!
Over his more than 50-year career, Booker T. Jones has accomplished virtually everything in music - Grammy Lifetime Achievement Award, Rock and Roll Hall Fame, Musicians Hall of Fame and 2010 and 2012 Grammy Awards for Best Pop Instrumental Album to name a few of his noteworthy accomplishments. Yet, this will be the first time that Booker T performs on Maui with a band. In making plans for their Hawaii visit, they have made it clear that they are excited to end the drought and electrify the Castle Theater crowd with Booker T's distinctive bedrock grooves and contemporary R&B finesse. The band will feature Booker T on both Hammond B-3 organ and guitar, Jeremy Curtis (bass), Darian Gray (drums), Vernon Black (guitar) and Ted Jones, Booker T's son (guitar).
Co-producer of the event, Mark Tarone says: "I am thrilled that Maui residents at last have a chance to connect with Booker T on their home shores - in one of our state's best theaters no less. With Booker T's exceptional roots music, warm heart and close connections with Willie Nelson, I'm sure Maui residents will view him as family as soon as the first few notes roll out of his vintage Hammond B-3."
Booker T's career began while he was in 11th grade when renowned Memphis producer and songwriter, David Porter from Stax Records, walked into the classroom, presented the young musician with a hall pass and booked him to play baritone saxophone for a Rufus Thomas recording that afternoon. Little did anyone know that this recording session, Jones' first ever, would alter the musical landscape of Memphis, the United States and the world.
Jones quickly became an anchor of Stax Records' 'house band' moving from sax to Hammond B-3 organ. While still in high school, Jones recorded his own international hit, 'Green Onions,' with his band, Booker T. & the M.G.'s., and went on to perform on countless Stax Records classics including Otis Redding's Respect, (Sitting on) The Dock of the Bay, Hold On I'm Coming, In The Midnight Hour, I've Been Loving You Too Long, Knock On Wood and more.
The story of Jones is in no way complete though when focused on his days with Stax. Yes, he and his bandmates (Steve Cropper - guitar, "Duck" Dunn - bass, Al Jackson - drums) created a special brand of soul that immersed the airwaves backing not only Redding but also seminal recordings by Sam & Dave, Wilson Pickett, Albert King and more. But, that was just the beginning. Since those early days over 50 years ago, he has never stopped making major contributions: as a musician (playing bass on Bob Dylan's 'Knocking on Heaven's Door', Booker T. & the M.G.'s supporting Eric Clapton (backing all artists at the first Crossroads Festival), Neil Young (recordings and tours), the Rock n' Roll Hall of Fame (backing band for its grand opening), etc.), as a producer (Bill Withers' debut album 'Just as I Am' (incl. 'Ain't No Sunshine'). Willie Nelson's genre-bending 'Stardust' album, etc.), as a bandleader (his own recent timeless albums, Potato Hole (2009 Grammy winner - backed by the Drive-By Truckers), The Road from Memphis (2012 Grammy winner - backed by The Roots) and this year's Sound the Alarm album (featuring Gary Clark. Jr. and Mayer Hawthorne)) and as a songwriter/arranger ('Born Under a Bad Sign,' '(Your Love Has Lifted Me) Higher and Higher,' etc.).
Today, Booker T. Jones carries that same passion that's kept him at music's forefront for decades. When Jones steps on-stage at Castle Theater with his Hammond B-3 at his fingertips and five-piece band at the ready, expect music and a sound that goes straight to the heart and is both a ride through time and window to the future.
"I walked into the lobby of the Capitol Theater [in Memphis, TN in 1958], and it had been transformed into a record store, and there was Steve Cropper playing records for me there when I was in ninth grade. That legacy is my heart and my life. That's where I come from." And, Booker adds, "I have music inside me, and I'm looking forward to the future. I'm very excited about making some things happen."
Click to hear highlights from his:
●  2011 Grammy-winning The Road from Memphis album 
●  2013 Sound the Alarm album
Mahalo to our sponsors for helping bring great LIVE music to Maui!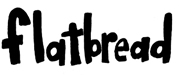 When & Where

Castle Theater
Maui Arts & Cultural Center
One Cameron Way
Kahului, HI 96732


Thursday, November 5, 2015 at 7:00 PM (HST)
Add to my calendar
Organizer
T-Rx Entertainment, LLC
T-Rx Entertainment has been producing events in Hawai'i for over 10 years.
Each year, we produce the Hallowbaloo Music + Arts Festival in Honolulu and roots concerts around the state. Past shows include Booker T. Jones, Edward Sharpe & the Magnetic Zeros, Diplo, 
Maceo Parker,
Xavier Rudd,
 Allen Toussaint, 
Big Freedia, Nahko and Medicine for the People,
Z-Trip, Steve Gadd, Cut Chemist, Greensky Bluegrass, 
Anders Osborne,
David Lindley, Gaudi, Jake Shimabukuro, Quantic, Brett Dennen, Ozomatli, Rebirth Brass Band, Warpaint, 7 Walkers (feat. Bill Kreutzmann & Papa Mali), Luther Dickinson, Iyeoka, Blitzen Trapper, Jon Cleary (with Steve Ferrone and Reggie McBride), Delta Spirit, John Cruz, The New Mastersounds, Mad Professor, Mike Love, Old Blind Dogs, Eddie Bo, Man Man, Big Chief Monk Boudreaux, Dengue Fever, Baths, The Budos Band, Paper Diamond, The Helio Sequence, Taimane, Benzi, Ursula 1000, DJ Logic, Jeremy Sole, Eric McFadden, Larry and Jenny Keel, Dj Low Down Loretta Brown (aka Erykah Badu), Charlie Hunter with Scott Amendola, and more.
BOOKER T. JONES ● Maui ● Castle Theater