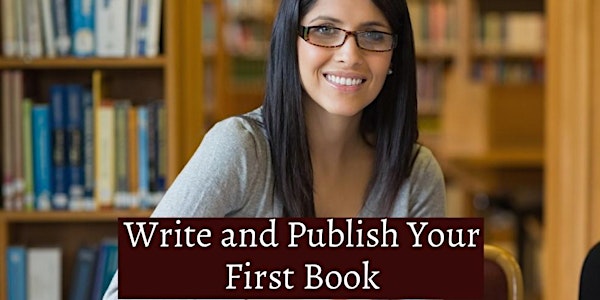 Book Writing & Publishing Masterclass -Passion2Published — Odense
Sales Have Ended
Registrations are closed
Tickets SOLD OUT
Sales Have Ended
Registrations are closed
Tickets SOLD OUT
Learn The Book Publishing & Writing Blueprint to effectively write, publish and market your book that will help to be a published author
About this event
Learn The Best Book Publishing & Writing Blueprint to effectively write,publish and market your book that will help to be a published author
"Book Writing and Publishing Workshop" - Become an Author in 2021
Welcome to the Book Writing and Publishing Workshop by Susmita, Founding Partner and CEO of Global Book Publishing.
It is a 2 hour workshop, where Susmita teaches you Perfect Book Writing and Publishing Strategy right from scratch, going into immense detail on why, what, and how to do specific little-known critical things in the book publishing process.
Feel like you are not getting anywhere with your book writing because you get stuck with no one to give you feedback ? 😕
Getting frustrated with no response from traditional publishing houses 📕 ?
Wondering what is the best way to write or publish your book?
Figuring a way to find the best chance of your book being a success?
I'm sure these questions are all sure to be on top-of-mind for any aspiring author!
In this workshop, Susmita is going to show you exactly how you too can become an author of a well-published book within no time. It is a proven system that's been worked on for over 15 years and thousands of people have already benefited from it from around the world. All you need to do is register your seat today for FREE.
During this Masterclass, you will learn exactly how to write and publish your book in the next 60 days, including:
👍Strategies - How to Start Writing and Publishing your book TODAY, irrespective of which 'Publishing Path' you choose
🙅🏽‍♀️Mistakes - Learn the top 3 Mistakes to avoid you must avoid while self-publishing
📄 How to market your book right and convert your book into a recurring source of income
🚀 A detailed step-by-step explanation of the Complete Publishing Process
📚 Pros and Cons of Traditional Publishing vs Self-Publishing
💰 Royalties and Cost associated with each type of books
📦 Global Distribution of your Book
☝️ The insider secrets to successfully publish a best-selling book
🚀Guaranteed - Over 10,000 students have learned this format and it has worked, I guarantee that you will be at the next level in your Book Publishing Journey after attending this masterclass
💻ONLINE Event - This is a live and interactive ONLINE Masterclass.
In case you miss the live session, I will send you the recording of the live session, but I would suggest you to attend live because you would be able to ask the questions and learn much more.
Frequently asked questions…
Is it in-person Masterclass or virtual Masterclass? This is a virtual Masterclass and you can attend it from the comfort of your home
Is this workshop helpful to non-fiction writers or children books ? Definitely! The processes and strategies taught are geared towards everyone, including non-fiction writers, fiction writers and children book writers. The template is useful if you are looking for a job or are currently working and looking to make a change in your career or even if you're applying to a new school.
Would you help me decide between which Publishing Path to choose? Yes, we cover about the different publishing paths and pros/cons of each path, so that you can choose the best path for move to move forward and publish your book
What is an ISBN and is it mandatory to have ISBN? An International Standard Book Number (ISBN) is a numeric code used to uniquely identify a book, right down to the language, publisher, edition – and whether it is an ebook, paperback or hardcover. The ISBN helps customers identify and order the exact book they want to purchase. Libraries, bookstores, online retailers, distributors, and wholesalers depend on this unique identifier to track purchases and sales, and it will be necessary to apply for an ISBN if you intend to sell to them.
Here is what attendees said about the past events:
"Thank you for sharing valuable knowledge. One of the best publishing workshops I have ever attended. Keep up the good work."
—Yun Maize
"Before attending the workshop, I thought it is going to all about selling but I was amazed by the amount of knowledge Susmita shares about the different world's of publishing and how it should be done, I am thrilled to have attended this workshop."
—Sylvia Gomez
"The best publishing workshop I have attended so far. The host teaches everything about book publishing. The amount of information I have received in these 90 minutes is invaluable. Thank you for doing this."
—Marlene M.
.
Organizer of Book Writing & Publishing Masterclass -Passion2Published — Odense
Sush is the Founding Partner and CEO of Global Book Publishing, where she helps authors in making their Dream Book become a reality. She has over a decade of experience in start-to-finish Book Publishing with some of the major publishing houses around the world. Aside from managing multiple books publishing, she has helped various genres of authors to implement effective marketing activities by combining conventional marketing and digital marketing, from strategy formulation to the implementation of successful marketing strategies.
She has worked with first-time authors, bestseller authors as well as various non-profit organizations to help them publish their books and make an impact in the lives of the people. 
Her passion is to help others learn more about publishing and enable people to get their dream fulfilled to become published authors. In the past 3 years, Sush has helped publish multiple books across 12 different industries including fiction, self-help, finance, real estate, coaching, consulting, and more.