Book Writing, Publishing, and Marketing 101 - Mini Workshop
What you need to know to successfully write, publish, and market your non-fiction book.
About this event
What You Need to Know About Book Writing, Publishing, and Marketing
Are you a new author or an aspiring author of a non-fiction book?
We know there are many steps along the way that can be confusing or overwhelming, so we created this workshop to help you understand the necessary steps to gain success as a publisher author.
Who Needs to Attend?
Professionals who want to:

Advance their expert status in an industry
Create an avenue of additional income
Create a platform to acquire speaking engagements
Share valuable and needed knowledge with their ideal clients or customers

Individuals and business owners who want to write a book but aren't sure where or how to start
New authors who may have started writing, but now find they need help getting the book published and reader ready
Authors who have been working with a book coach or editor and are now being told they need to figure out their marketing
Anyone who is thinking about writing a book in their future and who wants to learn about the process and what's involved in doing it right
What to Expect
This one-hour mini-workshop will cover:
Writing/Publishing
Some people think writing a book is easy. Some people think writing a book is hard. I'm here to show you that writing a book is a process. I'm talking about the kind of book that can easily help build your business, create a community around your specific message, and gain you more recognition and professional acknowledgement. By following the 7 Steps I'll share in this mini-workshop, you'll be ready to put your fingers to keyboard and start your next book, confident that your book will be great. You'll learn:
Why people write books. There are six specific reasons we put our pen to paper and then go on to publish our content in a book.
How to identify WHAT kind of book you're writing – the better to serve that specific audience your book is for.
How to ORGANIZE your book – how to create and follow blueprints (or, a TOC – Table of Contents.)
How to think about and USE THE SAME TOOLS FICTION WRITERS USE, to make your story believable and engaging. Remember – you aren't a preacher or a reporter, you're a storyteller.
Why and how to think about EXTERIOR DESIGN: book cover, including spine, front, and back.
Why and how to think about INTERIOR DESIGN: font, running headers, page numbers, layout, citations, end notes, index.
What your CHOICES are when it comes to publishing your book.
The 4 MYTHS about publishing and marketing your book, and why you should get over them, now!
All content is taken from How to WRITE A BOOK Book, by Tom Collins (Old Dog Learning) and Yvonne DiVita (Nurturing Big Ideas), available on Amazon.
Marketing
You're an expert in your field who has taken the time to write a book (or is going to). You've worked with a book coach, editor, or publisher. You're close to being ready to publish your book and send it out into the world. But now what?
In this mini-workshop, we'll cover what's necessary when it comes to marketing your book and what additional elements you can consider to successfully market your book to a best seller list, including:
Marketing Plan
Pre-Sale and Sale pages (we'll talk about why a pre-sale page is key!)
Digital Media Kits (the what and why you need this to get exposure)
Book Trailers (so many options!)
Book Launch Events (virtual, in-person and the many different ways to approach this)
Timing: Pre-launch and post-launch (there's a LOT that can, and should, be done long before your book is available for sale)
The Magic Best Seller Algorithm
REGISTER TODAY!
Please note: The mini-workshop will be recorded. Everyone who registers will receive a link to the recording, along with some additional bonus materials!
Your Presenters
Yvonne DiVita: Book Coach and Author Advisor at Nurturing Big Ideas. All big ideas start with a story — if I can help you tell yours as you become a successful entrepreneur, I will have fulfilled my purpose on planet Earth. It's because I am a writer, that I also learned to be a successful business professional. In my former print-on-demand publishing company, Windsor Media Enterprises, LLC (WME Books), I worked hand in hand with business professionals coaching them as they composed their ideas into a "Book as Business Card".
Following WME Books, I joined three other smart professionals as Co-founder of an online influencer community called BlogPaws, which hosted national events and became a successful marketing brand for pet products and services. In 2015, I was awarded Woman of the Year in Women in the Pet Industry Network. It's an honor I cherish to this day.
I now focus on the power of your voice, to tell your story and be recognized in today's digital world as a leader in your space, using my communications background, my publishing knowledge, and my writing/editing experience.
Deb Goeschel: Owner & Creative Director of Message Artist Creative Group. With 20 years experience and an extensive creative and professional background — writing, editing, acting, photography, yoga, journalism, and graphic and web design — Deb brings a uniquely intuitive, creative, and strategic focus to branding, messaging, and content strategy, creation, and marketing. Message Artist Creative Group serves small- to mid-sized businesses, start-ups, and nonprofits who need to outsource their branding and content marketing needs.
She also serves on two Boards: as Vice Chair of Marketing & Communications for the Connect 24 Business Alliance and Vice Chair of Marketing for the South Shore Women's Business Network.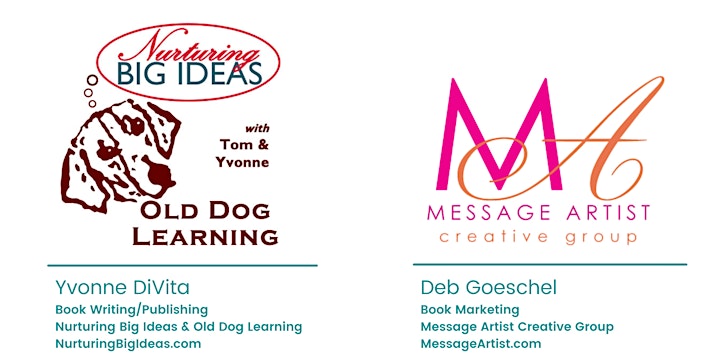 Organizer of Book Writing, Publishing, and Marketing 101 - Mini Workshop