Book tour stop (Vancouver) with Susannah Conway

Wednesday, 18 July 2012 from 19:00 to 21:00
Event Details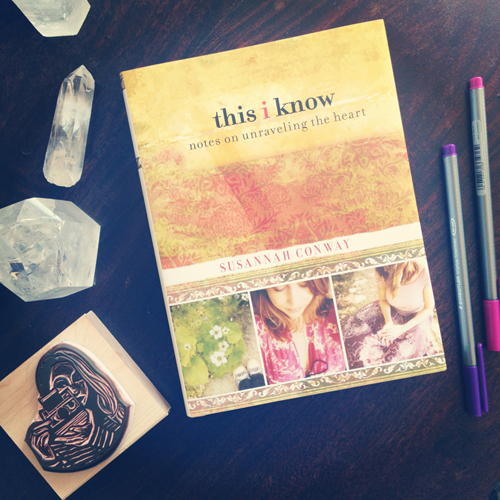 Join hosts Holly Truchan & Amanda Gilligan and friends for an evening with Susannah Conway to celebrate the release of her new book  This I Know: Notes on Unraveling the Heart.


We'll mingle, sip wine, and listen to Susannah read from her book followed by conversations and Q+A about life, love, grief, the blogosphere, photography, and more.

There will likely be cupcakes :)


When: Wednesday, July 18th from 7pm to 9pm.

Where: Holly's studio in Vancouver


* Note: unfortunately, books will NOT be on sale, so if you'd like Susannah to sign a book please bring one with you ~ thank you!

** There's lots of free parking all around the building (but don't park at the intersection of 5th Ave and Brunswick St as you can get towed). The studio is also close to public transit -- the skytrain station is about a 10 minute walk away and there are lots of bus routes very close by.



About the book:

Part memoir, part creative journal, This I Know chronicles Susannah's journey through bereavement and healing, taking the reader on a ride into the possibilities of unravelling — and healing — her own life too. It's a guidebook of sorts, a collection of thoughts and theories, with creative exercises for you to try, and dreamy light-filled Polaroids dotted throughout the text. It's a cosy blanket for your heart.


About Susannah:

Susannah Conway is the author of This I Know: Notes on Unraveling the Heart (SKIRT!, 2012). A photographer, writer and e-course creator, her classes have been enjoyed by thousands of people from around the world. Co-author of Instant Love: How to Make Magic and Memories with Polaroids (Chronicle Books, 2012), Susannah helps others reconnect to their true selves, using photography as the key to open the door. You can read more about her shenanigans on her blog at SusannahConway.com and connect with her on Twitter: @SusannahConway.



When & Where

Union Photographers
Suite 313 (buzzer code: #1412)
350 E. 2nd Ave
Vancouver, British Columbia
Canada

Wednesday, 18 July 2012 from 19:00 to 21:00
Add to my calendar