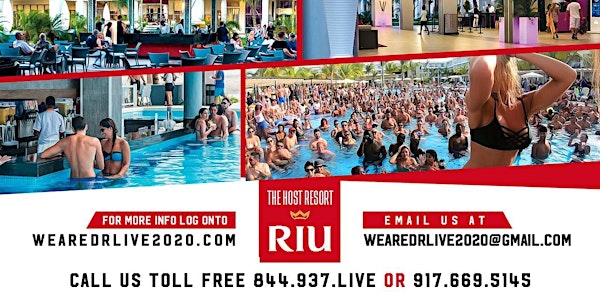 BOOK TODAY! "WeAreDRLive May 21-26th 2020 in Punta Cana, Dominican Republic
Location
Hotel Riu
1 Arena Gorda
Arena Gorda Beach, Punta Cana 23000
Dominican Republic
Sales Have Ended
Ticket sales have ended
GET READY TO PARTY & ENJOY LIFE!
About this event
M.I.T.TRAVELSLLC - & Team WeAreDRLive
PRESENT'S
WeAreDRLive2020
WELCOME TO THE PARTY
6 Days & 5 Nights of NON-STOP Partying!
WeAreDRLive2020
M E M O R I A L DAY W E E K E N D
Punta Cana , Dominican Republic
May 21 - 26th , 2020
Located on a Heavenly Beach, The Riu Hotel - Adults Only is your perfect option for enjoying an unforgettable vacation in Punta Cana. This Adults-Only Hotel offers free WiFi & The Best 24-Hour All-Inclusive Service!!! You heard it right, 24 hours!!!
Riu Hotel: What's included, you'll enjoy the best amenities, like satellite TV, air conditioning, a safe, a minibar and beverage dispensers, among many others. And, in the facilities of this Adults-only hotel you'll find eight swimming pools, some with swim-up bars or areas with water slides for you to experience a refreshing and fun-filled stay. Please note when booking this package, there's absolutely NO Refunds!
WeAreDRLive2020.com
The Riu Hotel has a rich and varied gastronomic offer. In its nine restaurants, you'll get to try the best of Italian, Asian, Spanish, Indian, Steakhouse, Jerk Station and gourmet cuisine, and to enjoy the best continental buffet breakfasts. We also offer 10 hotel bars which serve the best snacks.
Fun is guaranteed with us at the Riu Hotel. The discotheque, and the shows and live music. The more athletic guests can practice sports like volleyball, windsurfing, snorkeling, kayaking, or go to the hotel gym.
Punta Cana is one of the most popular Caribbean holiday destinations for its natural beauty and Heavenly Beaches.
PARTIES WE ARE OFFERING: You Need A Party Pass For These Events!
WHITE PARTY: We transport you to the Greek world to kick off the first party of the week and enjoy the best fun. Dance to hits from the 70s, 80s and 90s at this pool party, with an incredible air ballet show and many other surprises.
JUNGLE PARTY: You'll feel like you're in the jungle for real thanks to the atmosphere created. Everything is designed to let you experience one of the most unique parties of your life. The DJ plays the best of Latin House, Electro pop and Reggaeton House Mix.
NEON PARTY: Come enjoy incredible shows full of fluorescent colors. The dancers glow in their costumes from the 80s, and the music is courtesy of the DJ, who will play everything.
PINK PARTY: Everything takes on a pink tinge to create the best atmosphere at a party in which the dancers seem like authentic pop stars and The DJ brings the best Trip Hop, Hip Hop and Funky House.
BLACK & DIAMOND PARTY: IS OFF THE PROPERTY
PARTY AT THE HARD ROCK: IS OFF THE PROPERTY
PARTY AT VIP LOUNGE: IS OFF THE PROPERTY
Activities
A health club. 8 outdoor swimming pools with 3 swim up Bars are on site along with a spa tub. Other recreational amenities include a steam room and a fitness center.
The recreational activities listed below are available either on site or nearby.
Snorkeling nearby
Fitness classes on site
Beach volleyball on site
Kayaking on site
Windsurfing nearby
Scuba diving nearby
Check In between 3pm - 11pm
Check out: 12:00pm
Guest Services
Luggage storage
Laundry service
24-hour front desk
Daily housekeeping
Concierge
Porter/bellhop
Extra Things to do during the day
Pool
Spa tub
Shopping on site
Golfing nearby
Pool table
Parking: Free Self Parking For Those Who Rent A Vehicle in DR!
Punta Cana (PUJ-Punta Cana Intl.) - 23 min Drive
THIS IS A WEEKEND YOU WILL NOT WANT TO MISS!!
PUNTA CANA, DOMINICAN REPUBLIC
The # 1 destination in the Caribbean for the SEXY & MATURE PROFESSIONALS!!
Weekend HashTag #WEAREDRLIVE2020 #MITTRAVELSLLC
TO BOOK YOUR AIRFARE PLEASE CONTACT:
AJ WALKER AT: 424.296.1006
PRIVILEGEDESCAPES@GMAIL.COM
One Unforgettable Weekend with a Real Sexy & Mature Crowd -
Brought to you by M.I.T.Travelsllc
For More Info Call Judy Vargas: (844.937.5483)
Update as of April 13th
Dear WeAreDRLive Clients,
First and foremost we would like to express our sincerest gratitude for the understanding and patience you have afforded us as we gathered information and options relative to the scheduled WeAreDRLive 2020 trip. This has not been an easy feat since there were many questions being presented and not much credible information being dispersed by either the US Embassy nor the Dominican Government. We know that many of you have been faced with just as many challenges whilst trying to obtain basic information in your personal lives, so you are quite aware of what we have faced as a company. But in an effort to address these questions, many of which stemmed from very valid concerns, we persisted. Here are few examples of the questions and the answers received:
1. Is the DR Government actively testing both nationals and tourists for COVID-19?
Yes, the government is testing individuals but as we have witnessed here in the states, not all people exhibit symptoms. Thus the numbers reported may not be accurate.
2. When will the travel bans be lifted?
At this time there is no definitive answer. The US Department of State has continued its Global Level 4 Health Advisory which states that all citizens should avoid international travel.
3. If we are allowed to go, will we be quarantined upon return to the US.
Due to the almost daily changes in information, no one can guarantee that persons returning from international travel will not be forced to partake in a 14 day quarantine period. Furthermore, there is no guarantee that if you are embarking on flights in which there are layovers, that the layover city will not force you to quarantine within their locale.
Therefore, after evaluating the feedback from the numerous inquire we made to both governments, consulting with industry professionals and evaluating all of our options, in the best interest of you, OUR MOST VALUED CLIENT, we have made the difficult decision to reschedule WeAreDRLive 2020 to May of 2021. The integrity of our company as well as us as decent individuals, dictates that for the safety of you and your family, we do nothing less. We hope that you understand that this decision was not made without the consideration of several rescheduling options. We even considered postponing the event to a later date this Summer, however, experts are predicting a very active hurricane season (June-November), and once again we put the safety of our clients at the forefront.
Please note that all payments submitted for your WeAreDRLive 2020 package will be rolled over to your package for WeAreDRLive 2021 which will be held May 27, 2021 to June 1st 2021. As stated upon purchase of your original package, refunds will not be allocated. This was not a decision made by our company but it was a contractual condition with the Resort and Excursion Companies whom are not willing to renegotiate. Thus, there will be No Monetary Refunds, the credit applied can only be used during the aforementioned period in 2021.
We do understand that this is not welcomed news for some of you and we offer our most sincere apologies. COVID-19 has left us all to deal with matters that are beyond our control and I Pray that the rescheduling of this trip is the first and last disruption that this pandemic places in your life.
In closing, I would like to add that most airlines are offering reschedules and credits at no additional cost. Also, if your airline changes or cancels any part of your itinerary you may be eligible for a full refund. We also recommend that you review some of the other information in this email as it may help you with other travels during this year. Please check the US Embassy's web site which can provide you with valuable information. And as always, if you have any questions, we can be reached at 844.937.5483. We look forward to seeing you next year.
Wishing you continued Health, Safety and Blessings,
Judy Vargas
M.I.T.Travelsllc