Description
Meet Mayada Anjari author of The Bread and Salt Between Us who came to the United States in 2016 when she, her husband and four children fled Syria's civil war by way of Jordan under the Refugee Admissions Program of the US government.
The Bread and Salt Between Us tells the story of Mayada's journey through food with over 40 recipes from her personal recipe collection of easy-to-approach dishes from Syria including fresh tabbouleh, rice pudding stuffed grape leaves, and falafel. The book has received praise from Food & Wine and Esquire magazine, and Mayada has been profiled in The New York Times, WABC channel 7, and other news outlets.
Mayada will talk about her journey to the United States, her recipes and how she helps support her family by cooking community dinners at the Rutgers Presbyterian Church on the Upper West Side and other religious centers throughout New York City.
Guest will sample a few recipes from her book all made by Mayada including Kawaj (eggplant stew), Falafel, Rice with peas, and Hummus.
All members of the project team including the writer, photographer, editor, and publisher volunteered their time and talents to Mayada's cookbook. The proceeds from book sales go to Mayada, her family, and to the Refugee Relief Fund of Rutgers Presbyterian Church in New York City who is a co-sponsor of Anjari's family. For more information about the project visit https://www.breadandsaltbetweenus.org)
Tickets are $35 for Book & Event. $10 for Event Only.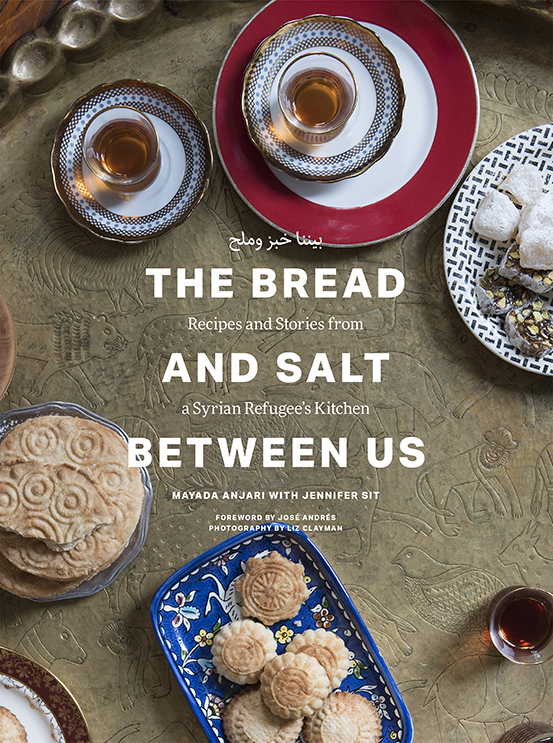 About Book To Plate: Farm & Fork Society and The Book House have teamed up to present Book to Plate, an evening series like no other. Guests are invited to meet cookbook authors and sample a selection of their recipes, made from locally grown produce. These are one of a kind events, planned monthly, to bring you amazing produce, authors, and books, all in one place. Join the company of like-minded friends who value the health of their body, mind, and environment.