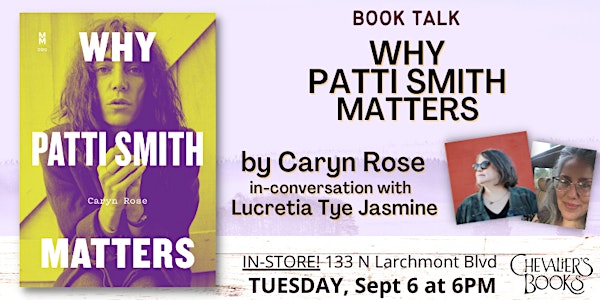 Book Talk! WHY PATTI SMITH MATTERS by Caryn Rose, w/ Lucretia Tye Jasmine
Caryn Rose discusses and signs WHY PATTI SMITH MATTERS with guest Lucretia Tye Jasmine
When and where
Location
Chevalier's Books 133 North Larchmont Boulevard Los Angeles, CA 90004
About this event
Masks Required.
ABOUT THE BOOK
Patti Smith arrived in New York City at the end of the Age of Aquarius in search of work and purpose. What she found--what she fostered--was a cultural revolution. Through her poetry, her songs, her unapologetic vocal power, and her very presence as a woman fronting a rock band, she kicked open a door that countless others walked through. No other musician has better embodied the "nothing-to-hide" rawness of punk, nor has any other done more to nurture a place in society for misfits of every stripe.
Why Patti Smith Matters is the first book about the iconic artist written by a woman. The veteran music journalist Caryn Rose contextualizes Smith's creative work, her influence, and her wide-ranging and still-evolving impact on rock and roll, visual art, and the written word. Rose goes deep into Smith's oeuvre, from her first album, Horses, to acclaimed memoirs operating at a surprising remove from her music. The portrait of a ceaseless inventor, Why Patti Smith Matters rescues punk's poet laureate from "strong woman" clichés. Of course Smith is strong. She is also a nuanced thinker. A maker of beautiful and challenging things. A transformative artist who has not simply entertained but also empowered millions.
ABOUT THE AUTHOR
Caryn Rose is a longtime music journalist whose work has appeared in Pitchfork, MTV News, Salon, Billboard, the Village Voice, Vulture, and the Guardian. Her essay on Maybelle Carter was included in Woman Walk the Line.
ABOUT THE INTERLOCUTOR
Lucretia Tye Jasmine. Wild interests and an inclination to rage against the machine with a flair that could equal the groupies and rock stars who fascinate her, vegan Lucretia Tye Jasmine from Kentucky earned her BFA with honors from NYU, and her MFA from CalArts.
She's a Los Angeles-based artist, writer, and interviewer, whose most recent work includes the Groupie Feminism art series; online writing for Please Kill Me and the Los Angeles Beat; and interviews for Feminist Magazine Radio and the GRAMMY Museum. In process are oral histories for her three mixtape zines, The Groupie Gospels; riot grrrl Los Angeles 1992-1995; and The 1970s Teen Pop Mixtape.
Notes on parking in Larchmont Village:
Chevalier's does not have any parking, but there is paid meter parking on the street, a paid lot next to the bank, and free street parking parallel the Larchmont Blvd. on Lucerne Blvd.