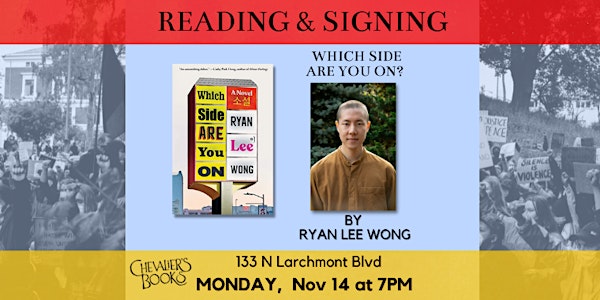 Book Talk! WHICH SIDE ARE YOU ON by Ryan Lee Wong
RYAN LEE WONG discusses his most recent book, Which Side Are You On?
When and where
Location
Chevalier's Books 133 North Larchmont Boulevard Los Angeles, CA 90004
About this event
ABOUT THE BOOK:
Twenty-one-year-old Reed is fed up. Angry about the killing of a Black man by an Asian American NYPD officer, he wants to drop out of college and devote himself to the Black Lives Matter movement. But would that truly bring him closer to the moral life he seeks?
In a series of intimate, charged conversations, his mother—once the leader of a Korean-Black coalition—demands that he rethink his outrage, and along with it, what it means to be an organizer, a student, an ally, an American, and a son. As Reed zips around his hometown of Los Angeles with his mother, searching and questioning, he faces a revelation that will change everything.
Inspired by his family's roots in activism, Ryan Lee Wong offers an extraordinary debut novel for readers of Anthony Veasna So, Rachel Kushner, and Michelle Zauner: a book that is as humorous as it is profound, a celebration of seeking a life that is both virtuous and fun, an ode to mothering and being mothered.
ABOUT THE AUTHOR:
RYAN LEE WONG was born and raised in Los Angeles, lived for two years at Ancestral Heart Zen Temple, and currently lives in Brooklyn, where he is the administrative director of Brooklyn Zen Center. Previously, he served as program director for the Asian American Writers' Workshop and managing director of Kundiman. He has organized exhibitions and written extensively on the Asian American movements of the 1970s. He holds an MFA in fiction from Rutgers University–Newark. Which Side Are You On is his first book.
ABOUT THE INTERVIEWER:
JEAN CHEN HO is the author of Fiona and Jane (Viking 2022). Her writing appears in New York Times Magazine, The Cut, Electric Literature, Los Angeles Times, Georgia Review, GQ, Harper's Bazaar, Guernica, and elsewhere.
Jean is the 2023 Mary Routt Endowed Chair of Creative Writing at Scripps College. She is a doctoral candidate in Literature and Creative Writing at USC, and she holds an MFA from the University of Nevada, Las Vegas. Jean has taught literature seminars and creative writing workshops at USC, UNLV, UCLA Extension, and the Mendocino Coast Writers' Conference.
Jean is a Kundiman fellow, and has been a writer-in-residence at Tin House, Kimmel Harding Nelson Center for the Arts, Hedgebrook, I-Park Foundation, MacDowell, Vermont Studio Center, and The Mastheads. In 2019-20, she was the W.M. Keck and George & Arlene Cheng Research Fellow at the Huntington Library, where she worked on an archival project on gender and racial violence in 19th-century Los Angeles Chinatown (the subject of her next book project).
Jean is a board member at Kaya Press, an independent publisher of experimental writing from the Asian Pacific Islander diaspora. Born in Taiwan and raised in Southern California, she currently lives in Los Angeles.