Book Talk: Victor Deupi & Jean-Francois Lejeune - Cuban Modernism
Join MCAD for a conversation with the authors of Cuban Modernism- Mid Century Architecture
About this event
Join us for a conversation with the authors, in person at the Miami Center for Architecture & Design.
ABOUT THE BOOK
From the publisher: "For several decades during this time period, 20th century architecture thrived in Cuba — the designs comprise luxurious nightclubs and stylish hotels, sports facilities, elegant private homes and apartment complexes. Drawing on the vernacular, the architects of these works defined a way to be modern and Cuban at the same time, creating an architecture oscillating between tradition and avant-garde.
Audacious concrete shells, curving ramps, elegant brises-soleils and a fluidity of interior and exterior spaces are characteristic of an airy, often colorful architecture well-suited to life in the tropics. New photographs and drawings were specially prepared for this publication. A biographical survey portraits the 40 most important Cuban architects of the era, listed below. This volume is the first comprehensive survey of Cuba's rich and fascinating mid-century architecture and includes previously inaccessible material."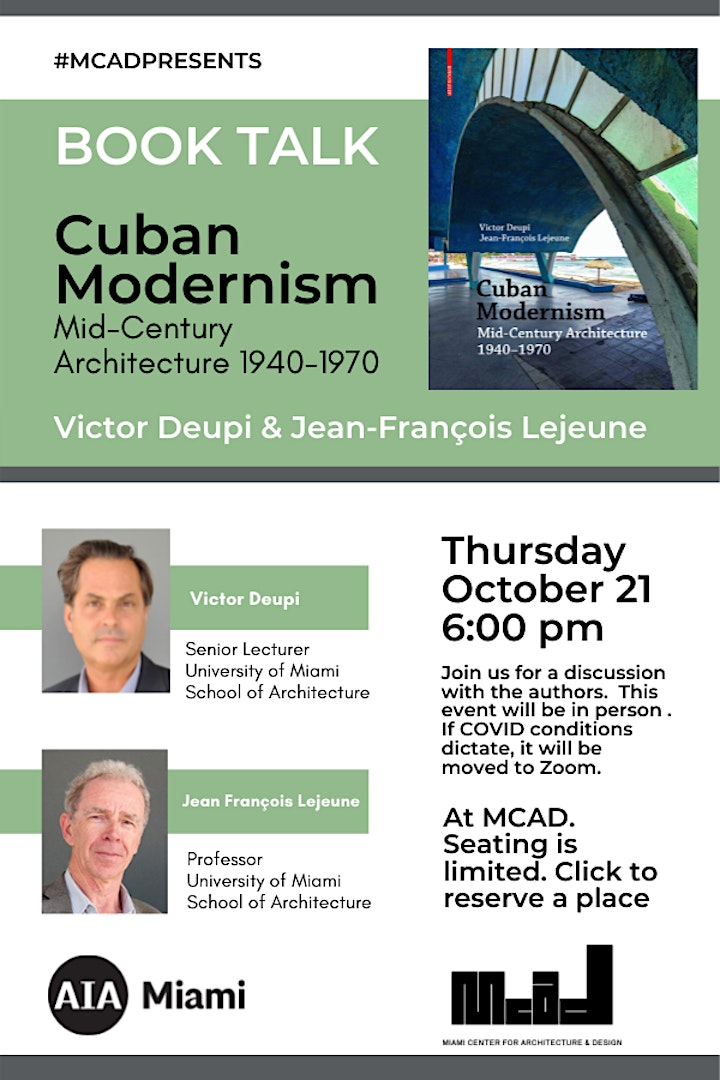 Organizer of Book Talk: Victor Deupi & Jean-Francois Lejeune - Cuban Modernism
MCAD is the place for everyone interested in design and the built environment, with community meeting space and educational programs to enhance public appreciation for architecture and design. 
MCAD is home to AIA Miami as well as the Welcome Center for Downtown Miami.   The Welcome Center, in collaboration with the Miami Downtown Development Authority will be "everything" Miami—cultural events, attractions, maps, information and more!
MCAD houses flexible exhibit/gallery space that accommodates lectures, seminars and meetings, space for urban lab studios and flex meeting rooms.