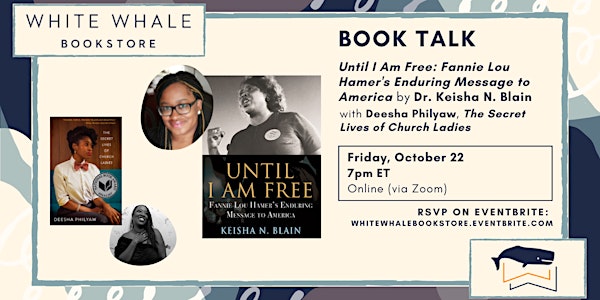 Book Talk: "Until I Am Free" by Dr. Keisha N. Blain (w/ Deesha Philyaw)
Can't wait to host local professor and author Dr. Keisha N. Blain for her book about Fannie Lou Hamer! With local author Deesha Philyaw
Refund Policy
Contact the organizer to request a refund.
Eventbrite's fee is nonrefundable.
About this event
White Whale Bookstore is looking forward to hosting local professor and best-selling author Dr. Keisha N. Blain in celebration of her latest book, Until I Am Free: Fannie Lou Hamer's Enduring Message to America. She'll be joined by another local best-selling author, Deesha Philaw (The Secret Lives of Church Ladies). Get your copies of both books on our site and join us this October!
You can order Until I Am Free: Fannie Lou Hamer's Enduring Message to America, and The Secret Lives of Church Ladies on our website! We have signed bookplates for Until I Am Free available! Check out our site here to view all of our upcoming events and local partnerships, purchase books directly from our inventory, and place orders for books we don't currently have in stock.
This event will be hosted on Zoom. You'll receive the link to the Zoom meeting the day of the event via email. Free registration/ticket sales will end at 6:30pm ET on 10/22. Please email events@whitewhalebookstore.com if you miss this cut-off and need a ticket. For questions, check out our FAQ for events here.
About Until I Am Free:
"Keisha Blain's insightful new book…leaves us yearning to live in an America guided by Hamer's unyielding commitment to justice, her full embrace of community, her creative spirit of collective problem-solving, and her unreserved love for Black people. This is a book for everyone who doesn't know the legacy of Fannie Lou Hamer and for everyone who thinks they do." —Melissa Harris-Perry, author, media host, and the Maya Angelou Presidential Chair of Politics at Wake Forest University
"We have a long fight and this fight is not mine alone, but you are not free whether you are white or black, until I am free."—Fannie Lou Hamer
A blend of social commentary, biography, and intellectual history, Until I Am Free is a manifesto for anyone committed to social justice. The book challenges us to listen to a working-poor and disabled Black woman activist and intellectual of the civil rights movement as we grapple with contemporary concerns around race, inequality, and social justice.
Award-winning historian and New York Times best-selling author Keisha N. Blain situates Fannie Lou Hamer as a key political thinker alongside leaders such as Martin Luther King Jr., Malcolm X, and Rosa Parks and demonstrates how her ideas remain salient for a new generation of activists committed to dismantling systems of oppression in the United States and across the globe.
Despite her limited material resources and the myriad challenges she endured as a Black woman living in poverty in Mississippi, Hamer committed herself to making a difference in the lives of others. She refused to be sidelined in the movement and refused to be intimidated by those of higher social status and with better jobs and education. In these pages, Hamer's words and ideas take center stage, allowing us all to hear the activist's voice and deeply engage her words, as though we had the privilege to sit right beside her.
More than 40 years since Hamer's death in 1977, her words still speak truth to power, laying bare the faults in American society and offering valuable insights on how we might yet continue the fight to help the nation live up to its core ideals of "equality and justice for all."
About the writers:
Dr. Keisha N. Blain is an award-winning historian of the 20th century United States with broad interests and specializations in African American History, the modern African Diaspora, and Women's and Gender Studies. She is an Associate Professor of History at the University of Pittsburgh, the president of the African American Intellectual History Society, and a columnist for MSNBC. She is currently a fellow at the Carr Center for Human Rights Policy at Harvard University and a member of the School of Social Science at the Institute for Advanced Study. Blain has published extensively on race, gender, and politics in both national and global perspectives. She is the author of the multi-prize-winning book Set the World on Fire: Black Nationalist Women and the Global Struggle for Freedom (2018) and co-editor of To Turn the Whole World Over: Black Women and Internationalism (University of Illinois Press, 2019); New Perspectives on the Black Intellectual Tradition (Northwestern University Press, 2018); and Charleston Syllabus: Readings on Race, Racism, and Racial Violence (University of Georgia Press, 2016). Her latest books are the #1 New York Times Best Seller Four Hundred Souls: A Community History of African America, 1619-2019, edited with Ibram X. Kendi (Penguin Random House/One World, 2021); and Until I Am Free: Fannie Lou Hamer's Enduring Message to America (Beacon Press, October 5, 2021). Follow her on Twitter @KeishaBlain and on Instagram @KeishaNBlain.
Deesha Philyaw's debut short story collection The Secret Lives of Church Ladies was a finalist for the 2020 National Book Award for Fiction and for The Story Prize (2020/2021), and was the winner for the 2021 PEN/Faulkner Award for Fiction. Her writing on race, parenting, gender, and culture has appeared in the New York Times, the Washington Post, McSweeney's, the Rumpus, and elsewhere. She lives in Pittsburgh.