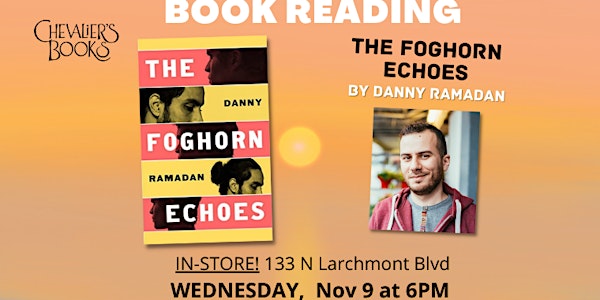 Book Talk! The Foghorn Echoes by Danny Ramadan
DANNY RAMADAN discusses The Foghorn Echoes.
When and where
Location
Chevalier's Books 133 North Larchmont Boulevard Los Angeles, CA 90004
About this event
ABOUT THE BOOK:
Hussam and Wassim are teenaged boys living in Syria during America's invasion of Iraq in the early 2000s. When a surprise discovery results in tragedy, their lives, and those of their families, are shattered. Wassim promises Hussam his protection, but ten years into the future, he has failed to keep his promise. Wassim is on the streets, seeking shelter from both the city and the civil war storming his country. Meanwhile Hussam, now on the other side of the world, remains haunted by his own ghosts, doing his utmost to drown them out with every vice imaginable. Split between war-torn Damascus and Vancouver, The Foghorn Echoes is a tragic love story about coping with shared traumatic experience and devastating separation. As Hussam and Wassim come to terms with the past, they begin to realise the secret that haunts them is not the only secret that formed them.
ABOUT THE AUTHOR:
DANNY RAMADAN is an award-winning Syrian-Canadian author, public speaker, storyteller and LGBTQ refugee activist. His debut novel The Clothesline Swing won the Independent Publisher Book Award for Gay/Lesbian/Bi/Trans Fiction, was shortlisted for the Evergreen Award and the Sunburst Award and was named as a finalist for the Gay Fiction Category in the Lambda Awards. He is also the author of a children's picture book, Salma the Syrian Chef. Danny also translated Raif Badawi's 1000 Lashes: Because I Say What I Think and has published two collections of short stories in Arabic. He was awarded the StandOut Award for his social activism, the 2018 RBC's Top Immigrant in Canada award, and the Bonham Centre Award for Excellency. He lives in Vancouver with his husband.