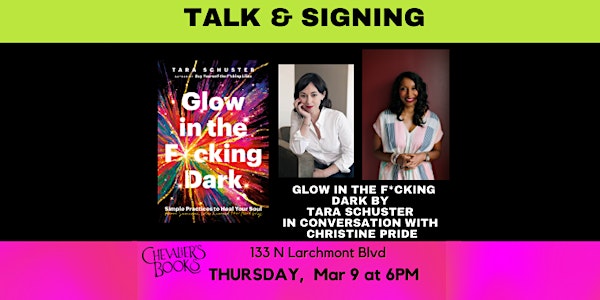 Book Talk! Tara Schuster's GLOW IN THE F*CKING DARK
Join Tara Schuster to discuss her new book GLOW IN THE F*CKING DARK
Date and time
Starts on Thursday, March 9 · 6pm PST
Location
Chevalier's Books 133 North Larchmont Boulevard Los Angeles, CA 90004
About this event
ABOUT THE BOOK:
The author of the runaway hit Buy Yourself the F*cking Lilies shares honest and practical lessons for healing your past and owning your future so you can radiate strength, bravery, and joy when life gets dark.
For the past decade, Tara Schuster worked like hell to repair the emotional wounds inflicted during what she refers to as her neglected, "mess-wreck disaster" of a childhood. She brought radical self-care, healing rituals, and self-love into her life, and on most days, she was a grateful, happy, and stable adult. She even wrote a book about it!
But then she lost her job, the one on which she had staked her entire adult identity. Cue an out-of-body-panic-attack-doom-spiral and deep depression that brought her harshest childhood traumas to the surface. Isolated at home during a global pandemic, she experienced piercing loneliness and a lack of purpose like she had never known. Finally, after a particularly dangerous dissociative episode while driving down the highway, she realized that enough was enough; she needed to slow down and pull over, to stop the relentless hustling that had gotten her this far, and to recover her innermost self.
This book is a guide to healing your deepest soul wounds, getting off your "good enough" plateau, developing habits that will give you lasting courage and resolve, and creating the spectacular life that you actually want. Full of practical, free baby-steps we can take today, it's for people who are ready to liberate themselves from their emotional suffering, discover their purpose, and finally sit in the driver's seat of their experience. It's for anyone who is tired, hurting, and feeling like their essential brightness is gone. It's for people who are ready to glow in the f*cking dark.
ABOUT THE AUTHOR
Tara Schuster is the author of Buy Yourself the F*cking Lilies, selected by Cosmopolitan, Real Simple, Goop, Publishers Weekly, and many more as one of the best books of the year on mental health and self-care. Previously, Tara served as vice president of talent and development at Comedy Central, where she was the executive in charge of such critically acclaimed shows as the Emmy and Peabody Award–winning Key & Peele. She has contributed to InStyle, The New Yorker, and Forbes, among others. She lives in Los Angeles.
ABOUT THE INTERVIEWER
Christine Pride is a writer, editor and long time publishing veteran. She's held editorial posts at many different imprints including Doubleday, Broadway, Crown, Hyperion, and Simon and Schuster. As an editor, Christine published many bestselling and critically acclaimed books, with a special emphasis on inspirational stories and memoir. As a freelance editorial consultant, she does select editorial work and proposal/content development, as well as teaching and coaching and pens a regular column— "Race Matters" for Cup of Jo. She's also the author of the novel, written with Jo Piazza: We Are Not Like Them and the forthcoming You Were Always Mine (both from Atria Books)
About the organizer
Chevalier's Books is the oldest independent bookstore in Los Angeles, located in Larchmont Village.