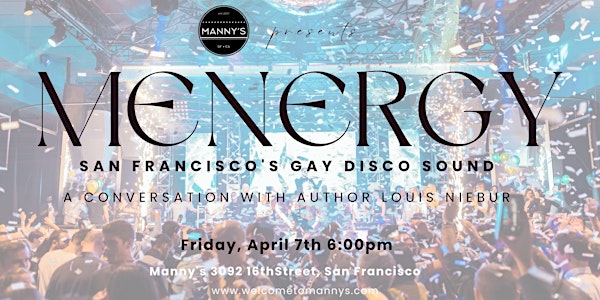 Book Talk - Menergy: SF's Gay Disco Sound w/Louis Niebur
There's no gay liberation without Sylvester and San Francisco's exuberant disco scene of the 70s & 80s. We're talking all about it.
When and where
Date and time
Friday, April 7 · 6 - 7pm PDT
Location
Manny's 3092 16th Street San Francisco, CA 94103
Refund Policy
Contact the organizer to request a refund.
About this event
Menergy tells the story of the "postdisco" recording industry in San Francisco between 1978 and 1984. For most of America, disco died in 1979. Gay people, however, continued to dance, and in the Castro enterprising gay DJs, record producers, and musicians started their own small dance music record labels to make up for the lack of new, danceable music.
The sound derived its aesthetic from San Francisco's unique queer configuration of elements, but immediately this music had a reach far beyond the Bay Area, with Megatone Records, Moby Dick Records, and other labels achieving worldwide success with San Francisco artists such as Sylvester, Patrick Cowley, Lisa, and Boys Town Gang creating the world's first gay-owned, gay-produced music for a dancing audience.
Bring your dancing shoes and join us for this fabulous conversation! Get in the mood with the Menergy! A Gay San Francisco Sound Playlist.
Manny's never turns away people due to lack of funds. If you need a complimentary ticket, please email the word "grapefruit" and the title of the event to angelina@welcometomannys.com.
ABOUT THE AUTHOR
Louis Niebur is Professor of Musicology at the University of Nevada, Reno. He received his Ph.D. from the University of California, Los Angeles. His research areas include the significance of music to LGBTQ communities as it has shifted between live music, the jukebox, and the disc jockey in the context of queer spaces. He has delivered and published papers on such topics as San Francisco's proto-queercore scene, the history of Camp Records and other gay recording labels of the 1960s, and the queer function of electronic sound production in electronic dance music. His most recent book, Menergy: San Francisco's Gay Disco Sound (Oxford University Press, 2022), traces the way disco and high energy dance music channeled the spirit of gay liberation through a shared dancefloor experience.