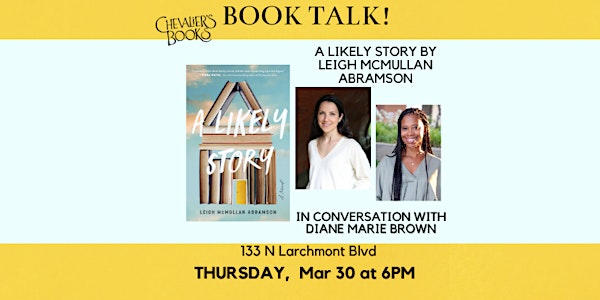 Book Talk! Leigh McMullan Abramson's A LIKELY STORY
Join Leigh McMullan Abramson to discuss her new book A LIKELY STORY
Date and time
Starts on Thursday, March 30 · 6pm PDT
Location
Chevalier's Books 133 North Larchmont Boulevard Los Angeles, CA 90004
About this event
ABOUT THE BOOK
The only child of an iconic American novelist discovers a shocking tangle of family secrets that upends everything she thought she knew about her parents, her gilded childhood, and her own stalled writing career in this brilliantly observed standout debut.
Growing up in the nineties in New York City as the only child of famous parents was both a blessing and a curse for Isabelle Manning. Her beautiful society hostess mother, Claire, and New York Times bestselling author father, Ward, were the city's intellectual It couple. Ward's glamorous obligations often took him away from Isabelle, but Claire made sure her childhood was always filled with magic and love.
Now an adult, all Isabelle wants is to be a successful writer like her father but after many false starts and the unexpected death of her mother, she faces her upcoming thirty-fifth birthday alone and on the verge of a breakdown. Her anxiety only skyrockets when she uncovers some shocking truths about her parents and begins wondering if everything she knew about her family was all based on an elaborate lie.
Wry, wise, and propulsive, A Likely Story is punctuated with fragments of a compulsively readable book-within-a-book about a woman determined to steal back the spotlight from a man who has cheated his way to the top. The characters seem eerily familiar but is the plot based on fact? And more importantly, who is the author?
LEIGH MCMULLAN ABRAMSON has written for The Atlantic, The New York Times, Tablet Magazine and more. She grew up in New York City, the daughter of a children's author and an illustrator. Leigh's parents often collaborated on picture books—many based on Leigh's own childhood experiences. Leigh studied ballet at The School of American Ballet into her teens, but eventually rebelled against her artistic family by going to law school. She practiced law for several years before following her passion for writing.
Leigh now lives in New York City and Vermont with her husband and two young children.
ABOUT THE INTERVIEWER
DIANE MARIE BROWN is a professor at Orange Coast College and a public health professional for the Long Beach Health Department. She has a BA and MPH from UCLA and a degree in fiction from USC's Master of Professional Writing Program. She grew up in Stockton and now lives in Long Beach, California, with her husband, their four daughters, and their dog, Brownie. Black Candle Women is her debut novel.
About the organizer
Chevalier's Books is the oldest independent bookstore in Los Angeles, located in Larchmont Village.