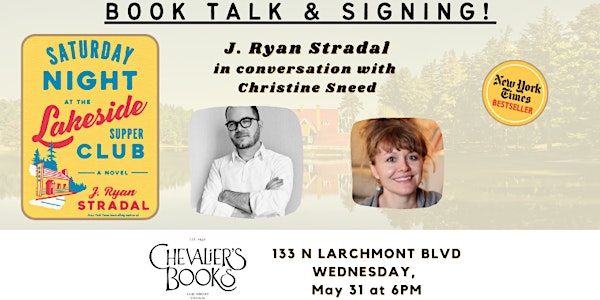 Book Talk! J. Ryan Stradal's SATURDAY NIGHT AT THE LAKESIDE SUPPER CLUB
J. Ryan Stradal in conversation with Christine Sneed to discuss his newest book.
Date and time
Wednesday, May 31 · 6 - 7pm PDT
Location
Chevalier's Books 133 North Larchmont Boulevard Los Angeles, CA 90004
About this event
ABOUT THE BOOK
From the New York Times bestselling author J. Ryan Stradal, a story of a couple from two very different restaurant families in rustic Minnesota, and the legacy of love and tragedy, of hardship and hope, that unites and divides them
Mariel Prager needs a break. Her husband Ned is having an identity crisis, her spunky, beloved restaurant is bleeding money by the day, and her mother Florence is stubbornly refusing to leave the church where she's been holed up for more than a week. The Lakeside Supper Club has been in her family for decades, and while Mariel's grandmother embraced the business, seeing it as a saving grace, Florence never took to it. When Mariel inherited the restaurant, skipping Florence, it created a rift between mother and daughter that never quite healed.
Ned is also an heir—to a chain of home-style diners—and while he doesn't have a head for business, he knows his family's chain could provide a better future than his wife's fading restaurant. In the aftermath of a devastating tragedy, Ned and Mariel lose almost everything they hold dear, and the hard-won victories of each family hang in the balance. With their dreams dashed, can one fractured family find a way to rebuild despite their losses, and will the Lakeside Supper Club be their salvation?
In this colorful, vanishing world of relish trays and brandy Old Fashioneds, J. Ryan Stradal has once again given us a story full of his signature honest, lovable yet fallible Midwestern characters as they grapple with love, loss, and marriage; what we hold onto and what we leave behind; and what our legacy will be when we are gone.
ABOUT THE AUTHOR
J. Ryan Stradal is the author of New York Times bestseller Kitchens of the Great Midwest and national bestseller The Lager Queen of Minnesota. His writing has appeared in The New York Times, The Wall Street Journal, The Guardian, Granta, The Rumpus, and the Los Angeles Review of Books. His debut, Kitchens of the Great Midwest, won the American Booksellers Association Indie's Choice Award for Adult Debut Book of the Year. Born and raised in Minnesota, he now lives in California with his family.
ABOUT THE INTERLOCUTOR
Christine Sneed was a finalist for the Los Angeles Times Book Prize for her first book, Portraits of a Few of the People I've Made Cry, which received AWP's Grace Paley Prize, and a number of other awards including the Chicago Writers Association Book of the Year Award. She has published 4 other works of fiction with Bloomsbury USA and UK that have been widely reviewed, her second, the novel Little Known Facts, received a cover review in the New York Times Book Review; it was also an Editor's Choice selection and later featured in Paperback Row, as was her second novel Paris, He Said. Along with the Grace Paley Prize, Christine has received the Chicago Public Library Foundation's 21st Century Award, Ploughshares' Zacharis Award, among other honors. She's had stories published in The Best American Short Stories and O. Henry Prize Stories and journals including Ploughshares, New England Review, Story, and many other periodicals.
About the organizer
Chevalier's Books is the oldest independent bookstore in Los Angeles, located in Larchmont Village.