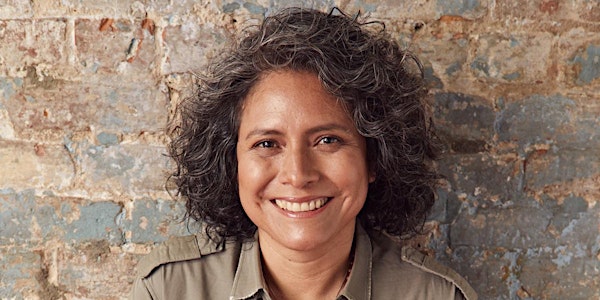 Book Talk: In the Shadow of the Mountain by Silvia Vasquez-Lavado
Join us for a powerful conversation w/explorer & humanitarian Silvia Vasquez-Lavado about her memoir, being her own hero & fearlessness.
When and where
Location
Manny's 3092 16th Street San Francisco, CA 94103
About this event
Are you into climbing?
Do you want to get inspired?
We have another icon gracing our space in the heart of the mission. Sylvia Vasquez-Lavado will be joining us to talk about her book In the Shadow of the Mountain and the adaptation of the book starring Selena Gomez. She was the first openly gay woman to climb the 7 Summits and has a career with an amazing track record.
Do you have questions for her?
Come RSVP and ask her. We'll see you there!
Manny's never turns away anyone for lack of funds. To receive a complementary ticket just email the word "grapefruit" and the title of this event to angelina@welcometomannys.com.
About Silvia Vasquez-Lavado:
Silvia Vasquez-Lavado is a humanitarian, mountaineer, explorer, social entrepreneur, and author of the critically acclaimed Memoire In The Shadow of the Mountain.
In 2016, Silvia became the first Peruvian woman to reach the summit of Mount Everest in Nepal. By 2018, she completed climbing the 7 Summits (known as the tallest mountain on each continent), becoming the first openly gay woman to do so.
Silvia founded Courageous Girls, an organization helping survivors of sexual abuse and trafficking with opportunities to find strength, courage and cultivate their voice. Silvia is a fierce advocate for LGTBQ+ equality, women's rights, and abuse survivors. Silvia's achievements made her an Ambassador in Peru and a symbol of women's empowerment worldwide. Silvia is a member of the prestigious Explorers Club, a sought-out public speaker, and a passionate mentor.
Silvia is one of the women to be featured as part of "Gutsy", Hillary and Chelsea Clinton's eight-part series, which premieres September 9 on Apple TV+. In The Shadow of The Mountain is being turned into a feature film featuring Selena Gomez as Silvia, which is currently in pre-production.
About the book:
Endless ice. Thin air. The threat of dropping into nothingness thousands of feet below. This is the climb Silvia Vasquez-Lavado braves in her page-turning, pulse-raising memoir following her journey to Mount Everest.
A Latina hero in the elite macho tech world of Silicon Valley, privately, she was hanging by a thread. Deep in the throes of alcoholism, hiding her sexuality from her family, and repressing the abuse she'd suffered as a child, she started climbing. Something about the brute force required for the ascent--the risk and spirit and sheer size of the mountains and death's close proximity--woke her up. She then took her biggest pain as a survivor to the biggest mountain: Everest.
"The Mother of the World," as it's known in Nepal, allows few to reach her summit, but Silvia didn't go alone. She gathered a group of young female survivors and led them to base camp alongside her. It was never easy. At times hair-raising, nerve-racking, and always challenging, Silvia remembers the acute anxiety of leading a group of novice climbers to Everest's base, all the while coping with her own nerves of summiting. But, there were also moments of peace, joy, and healing with the strength of her fellow survivors and community propelling her forward.
In the Shadow of the Mountain is a remarkable story of heroism, one which awakens in all of us a lust for adventure, an appetite for risk, and faith in our own resilience.