Book Talk "Homestead Steel Mill, the Final Ten Years" w/ author Mike Stout
About this Event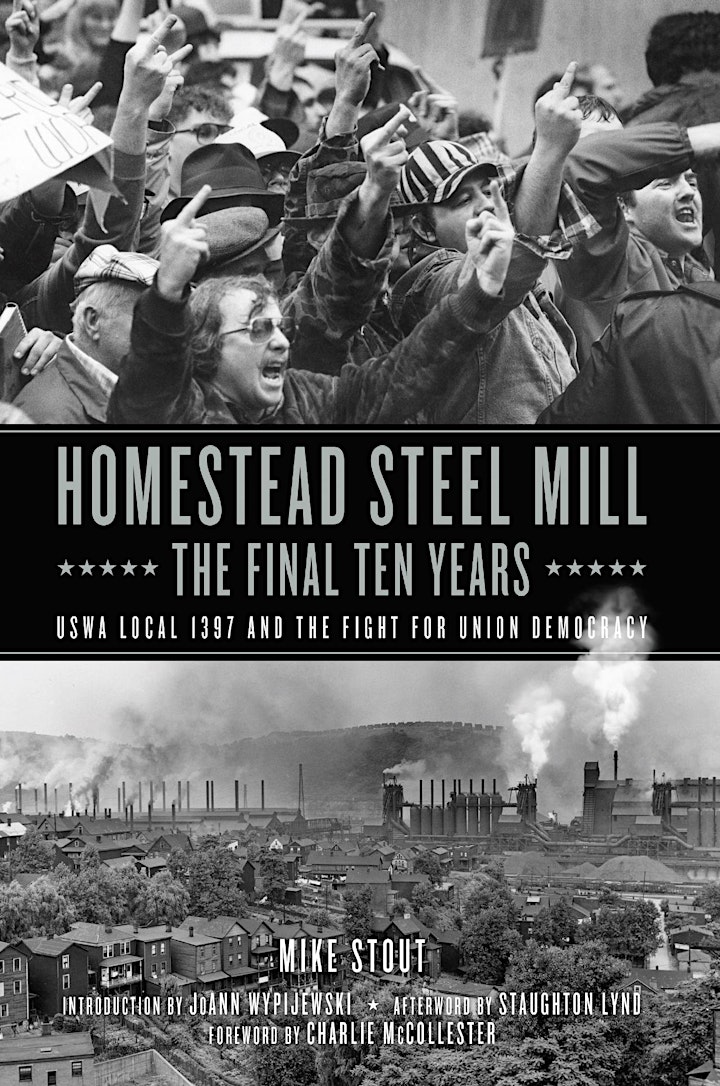 The Battle of Homestead Foundation proudly presents an evening with Pittsburgh author, singer/songwriter, ex-steelworker and lifelong community activist Mike Stout.
Mike's new book is Homestead Steel Mill, the Final Ten Years: USWA Local 1397 and the Fight for Union Democracy, just published by PM Press.
The book is a powerful insider's portrait of the waning days of U.S. Steel's Homestead Works (1977-1987) and the valiant efforts by Local 1397 to turn back deindustrialization and capital flight to save a comunity and its culture.
Profusely illustrated with dozens of photographs, Homestead Steel Mill, the Final Ten Years is labor history at its best, providing a vivid account of how ordinary workers can radicalize and re-energize their unions.
The evening will include recordings of several of Mike's original labor songs and Mike's prescription for moving forward politically in our time.
* Make sure you read Mike's book before hearing him talk Oct. 14: order here and dive in!
_______________________________________________
* PLEASE NOTE: upon registration participants are given a Zoom link and password for the event.
_______________________________________________
** REVIEWS of Homestead Steel Mill, the Final Ten Years **
"MIKE STOUT'S WELL-CONSTRUCTED and splendidly illustrated memoir is about a special place and time, but it also serves as a window on a social insurgency that can provide inspiration for future social progress."
— Charles McCollester, former professor of labor history at Indiana University of Pennsylvania
"UNFOLDING IN THE PAGES of Mike Stout's new political memoir is the radical history of a people too commonly believed to have none. It is a story of the built world, of some of the men and women who made it, and who, in one extraordinary moment in time, strove not just to halt their own unmaking but to dream something different and beautiful."
— JoAnn Wypijewski, Counterpunch
"IF YOU WANT to know why a book about a union democracy movement at a long-dormant steel mill has relevance to your life today, Homestead Steel Mill, the Final Ten Years will provide plenty of answers."
— L.E. McCullough, South Pittsburgh Reporter
_______________________________________________
Mike Stout has spent the last half century as a committed antiwar, union and community organizer and served as the last Grievance Chair for Local 1397 Union at the U.S. Steel Homestead Works. He is president of the Allegheny County chapter of the Izaak Walton League, the oldest environmental conservation organization in the United States. An acclaimed singer-songwriter and recording artist with 18 albums and more than 150 songs written and recorded, Mike has used his music to raise tens of thousands of dollars for a host of social and economic justice causes. His new book, Homestead Steel Mill, the Final Ten Years, is an invaluable inside look at the union democracy movement. https://mikestoutmusic.com
_______________________________________________
The Battle of Homestead Foundation is an educational nonprofit promoting Western Pennsylvania's vibrant industrial and labor history starting with the 1892 Homestead Steel Strike and connecting with current labor issues involving economics, the environment, healthcare, racism and other social concerns.