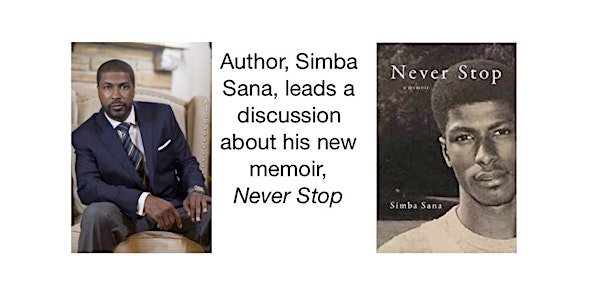 Book Talk: Featuring Author, Simba Sana
When and where
Location
Park Heights Community Health Alliance 4151 Park Heights Avenue Henrietta Lacks Reading Room Baltimore, MD 21215
Description
Come hear the story of the complex life of an entrapreunuer, author, husband and father, Simba Sana as he discusses his new memoir, Never Stop, that was recently reviewed in Essence Magazine. Sana will lead a discussion about his experience and offer guidance to up and coming authors challenged with deciding how to publish their own books.
Born Bernard Sutton in Washington, D.C., Sana grew up in the cycle of poverty, drugs, and violence that dominated inner-city life and culture '70s and '80s. Sana's drive and academic success got him into the prestigious Gonzaga College High School in Washington, D.C. and subsequently college. Sana's life grew increasing complex as he straddled between living as a successful entrepreneur and businessman by day and an ardent Black Nationalist and Pan-Africanist, who led radical consciousness-raising groups by night.
As CEO and co-founder of Karibu Books, the most successful independent and black-owned bookstore chain in the U.S, Sana's accumulated emotional wounds entangled with the duplicity of his life resulted in the devastating and abrupt loss of everything Sana built - his marriage, family, and business. Through faith and determination Sana reconstructed his life and his identity by primarily focusing on the meaning and importance of what every person desires—love.
Sana will have books avaialble for purchase.