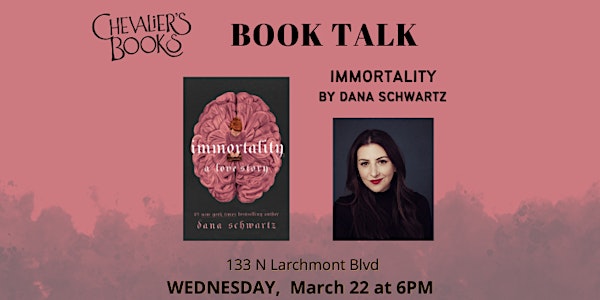 Book Talk! Dana Schwartz's IMMORTALITY
Join Dana Schwartz to discuss her new book IMMORTALITY.
Date and time
Starts on Wednesday, March 22 · 6pm PDT
Location
Chevalier's Books 133 North Larchmont Boulevard Los Angeles, CA 90004
About this event
Immortality: A Love Story is the eagerly-anticipated sequel to Dana Schwartz's #1 bestselling gothic romance, Anatomy: A Love Story. Pre-order a signed copy of Immortality here.
Hazel Sinnett is alone and half-convinced the events of the year before--the immortality, Beecham's vial--were a figment of her imagination. She doesn't even know if Jack is alive or dead. All she can really do now is treat patients and maintain Hawthornden Castle as it starts to decay around her.
When saving a life leads to her arrest, Hazel seems doomed to rot in prison until a message intervenes: Hazel has been specifically requested to be the personal physician of Princess Charlotte, the sickly granddaughter of King George III. Soon Hazel is dragged into the glamor and romance of a court where everyone has something to hide, especially the enigmatic, brilliant members of a social club known as the Companions to the Death.
As Hazel's work entangles her more and more with the British court, she realizes that her own future as a surgeon isn't the only thing at stake for her. Malicious forces are at work in the monarchy, and Hazel may be the only one capable of setting things right.
DANA SCHWARTZ is a television writer and the creator of the number-one charting history podcast Noble Blood. As a journalist and critic, Dana has written for Entertainment Weekly, Marie Claire, Glamour, GQ, Cosmopolitan, Vanity Fair and more. She lives in Los Angeles with her husband, and their cats Eddie and Beetlejuice. Her books include Choose Your Own Disaster, The White Man's Guide to White Male Writers of the Western Canon, and Anatomy: A Love Story.
About the organizer
Chevalier's Books is the oldest independent bookstore in Los Angeles, located in Larchmont Village.