Book Talk: Critical Arts Pedagogy and Creative Research for Social Justice
A Praxis of Possibilities: Creative & Critical Research for Social Justice with Young People
About this event
A Praxis of Possibilities: Creative & Critical Research for Social Justice with Young People
Book Talk
Tuesday, November 9, 2021
5:30-6:30pm PT Online
This book talk will feature Dana Wright, co-editor of Engaging Youth in Critical Arts Pedagogies and Creative Research for Social Justice, which explores the potential of critical arts pedagogies and community-based research projects to empower young people as agents of social change. With theoretical contributions as well as notes from the field, this book is "designed for those who yearn to engage creative research for social justice."
"The table of contents is a stunning assemblage of writers, crafting inquiries for justice, rooted in critical race, queer, transnational and decolonizing theories, asking always how to honor the critical insights and incites of young people at the edge, and how to build aesthetic and epistemic justice to provoke the radical imagination."
ABOUT OUR PANELISTS
Dr. Dana E. Wright, Mills College, School of Education
Dr. Wright is an Associate Professor in the School of Education at Mills College and Affiliate Faculty in the Ethnic Studies Program. Her scholarship focuses on participatory action research (PAR), critical arts pedagogies, educational leadership, critical youth studies, and educational policy. She is the author of Active Learning: Social Justice Education and Participatory Action Research, which examines innovative curriculum and teaching approaches and discusses implications for curriculum and pedagogy, school transformation and educational policy.
Dr. Kristen P. Goessling, Penn State, Brandywine
Dr. Goessling is an interdisciplinary engaged scholar whose work aligns to create spaces of belonging where people build meaningful relationships, construct knowledge, and take action toward social change. Dr. Goessling uses participatory action research to investigate personal experiences of public policies with youth, students, and community members as co-researchers. Underpinning her scholarship is the understanding that individuals are active cultural producers in relation to the social practices and systems in which they are embedded. Dr. Goessling is the principal investigator of the Philly Participatory Research Collective. The Research Collective designs and conducts research in the areas of public education, opioid impacts, and institutional pressures and evolving dynamics in urban coalitions. Their research is designed in tandem with, and in service of social movements.
Dr. Amanda C. Wager, Vancouver Island University
Dr. Wager is a Tier II Canada Research Chair in Community-Engaged Research and Professor in the Faculty of Education at Vancouver Island University in Canada. As an interdisciplinary scholar, she practices community-engaged research, pedagogy, and scholarship that encompasses literacies, languages, and the arts with local youth, families, and communities. Her participatory research methodologies and pedagogies are informed by 20 years of experience as a trilingual/literate/cultural educator. Her research program supports the Arc: A Centre for Art, Research and Community, created and run by and for youth. Amanda has published multiple journal articles and co-edited/authored three books using art as a form of advocacy: Engaging youth in critical arts pedagogies and creative research for social justice, Art as a way of talking for emergent bilingual youth and The reading turn-around with emergent bilinguals.
Dr. Marit Dewhurst, The City College of New York
Dr. Dewhurst is the Director of Art Education and Associate Professor of Art and Museum Education at The City College of New York. She has worked as an arts educator and program coordinator in multiple arts contexts including community centers, museums, juvenile detention centers, and international development projects. Her research and teaching interests include social justice education, community-based art, youth empowerment, and the role of the arts in community development. In addition to multiple journal articles and chapters, her first book, Social Justice Art: A framework for activist art pedagogy, highlights young activist artists. Her second book, Teachers Bridging Difference: Exploring identity through art, describes how to use art as a tool to connect people across different sociocultural identities.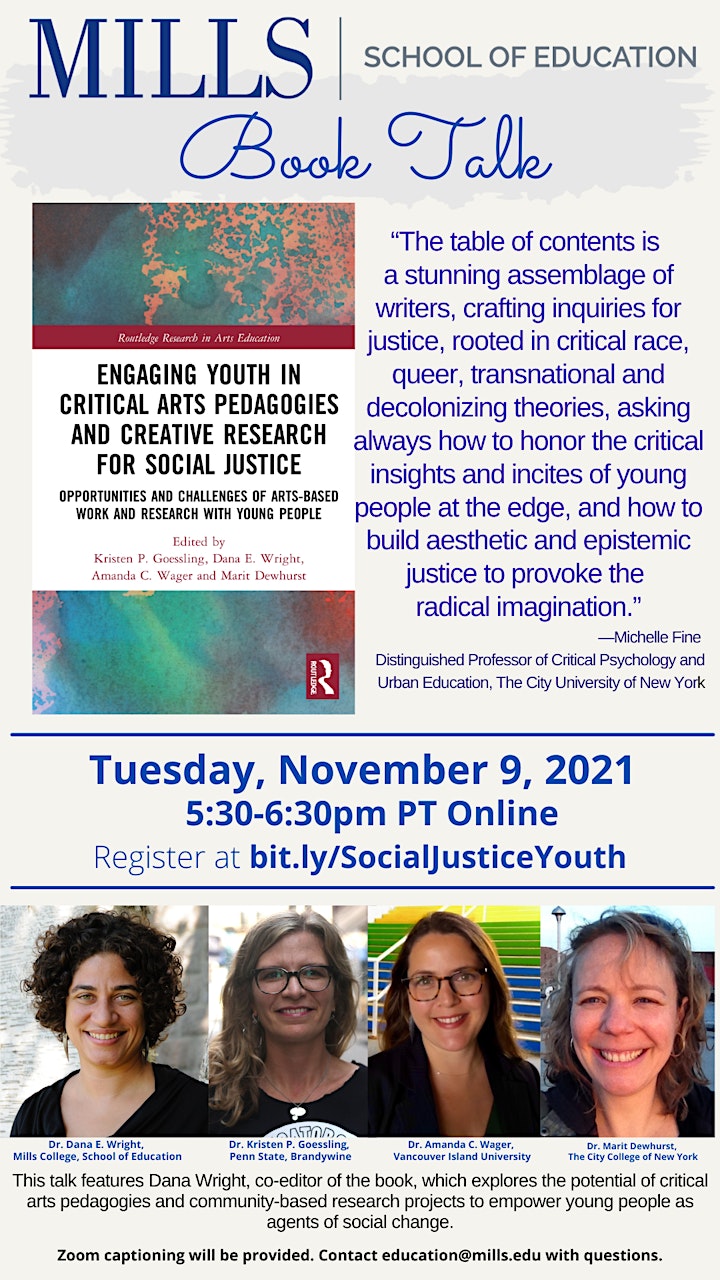 Organizer of Book Talk: Critical Arts Pedagogy and Creative Research for Social Justice