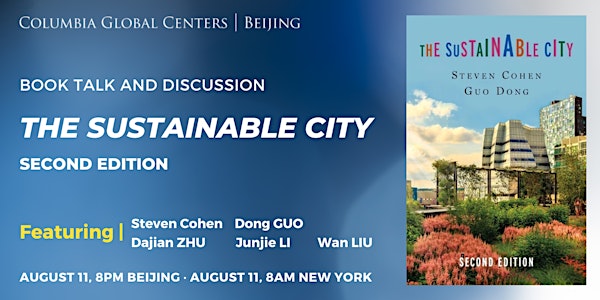 Book Talk and Discussion for "The Sustainable City"
This book provides a broad and engaging overview of the sustainable urban systems of the twenty-first century.
About this event
Time: August 11, 2022, 8:00PM (Beijing) | August 11, 2022, 8:00AM (New York)
Event language: English & Chinese
How do abandon outdated thinking and choose a more sustainable, more resilient, and more inclusive path at a critical turning point in urban development? How can we better create opportunities for all through policies that focus on inclusive and sustainable economic growth? How do evaluate the methods and effects of urban sustainability from different perspectives and improve the breadth and depth of urban research? Columbia Global Centers | Beijing and Columbia University Press will center around the book The Sustainable City (Second Edition), inviting authors to engage with scholars in this field to discuss and analyze sustainable urban planning and sustainable infrastructure-related initiatives, legislation, programs, and financing of public-private partnerships and other issues.
Description
As the world puts more value on issues of sustainability, the field of sustainable cities is gaining more attention. "Sustainable cities and communities", one of the UN Sustainable Development Goals, is defined as making cities and human settlements inclusive, safe, resilient, and sustainable. The goal is becoming crucial for the well-being of humankind and the planet.
Researchers from Columbia Climate School and China Center for International Economic Exchanges conducted joint research on China's sustainable development in 2019 and 2020 and released the "China Sustainable Development Evaluation Report" for two consecutive years. Comprehensive and systematic data verification, analysis and ranking have been carried out on national, provincial and city levels to continue promoting the United Nations' 2030 Agenda for Sustainable Development for China, dynamically maintain an organic balance between the economy, society and environment, and guide China on the achievement of a more inclusive, more resilient, and greener future.
In China, with a population of 1.4 billion, the urbanization rate of the permanent population in 2021 has reached 64.72%. When formulating and implementing sustainable city development strategies, city governments, business organizations and individual citizens need to pay attention to the importance of multi-dimensional perspectives and multi-stakeholder participation in decision-making to promote urban sustainability. Likewise, applying "sustainable development", a global issue, to the urban dimension, they need to constantly draw on excellent examples, innovative demonstrations and new international case studies spanning the globe.
About the Book
The Sustainable City provides a broad and engaging overview of the urban systems of the twenty-first century. It approaches urban sustainability from the perspectives of behavioral change, organizational management, and public policy, looking at case studies of existing legislation, programs, and public-private partnerships that strive to align modern urban life and sustainability. The book synthesizes the disparate strands of sustainable city planning in an approachable and applicable guide that highlights how these issues touch our lives on a daily basis, including the transportation we take, the public health systems that protect us, where our energy comes from, and what becomes of our food waste.
This second edition of The Sustainable City dives deeper into the financing of sustainable infrastructure and initiatives and puts additional emphasis on the roles that individual citizens and varied stakeholders can play. It also reviews current trends in urban inequality and discusses whether a model of sustainability that embraces a multidimensional approach to development and a multi-stakeholder approach to decision-making can foster social inclusion. It features many more examples and new international case studies spanning the globe.
Speakers
Steven Cohen is the Senior Vice Dean of Columbia's School of Professional Studies and a Professor in the Practice of Public Affairs at Columbia University's School of International and Public Affairs. He is also Director of the Master of Public Administration Program in Environmental Science and Policy at Columbia University's School of International and Public Affairs, Director of the Master of Science in Sustainability Management at Columbia University's School of Professional Studies, and the Director of the Earth Institute's Research Program on Sustainability Policy and Management at Columbia University.
Dong GUO is the Associate Director of the Research Program on Sustainability Policy and Management at Columbia University, where he also serves as an associate research scholar. Guo is an adjunct faculty at Columbia's School of International and Public Affairs and the School of Professional Studies, where he has been teaching graduate-level courses in Microeconomic Policy and Analysis and Sustainability Metrics. He is also a senior advisor for recruitment at the School of Professional Studies, and formerly served as the director of the Earth Institute China Initiative at Columbia University. Guo is a non-resident fellow at the Asia Society Policy Institute in New York. Guo helped design an urban sustainability measurement system that produces annual rankings of 100 Chinese cities based on their sustainability performance. He has co-edited Blue Books on Sustainable Development in China, co-authored The Financial Ecosystem— the Role of Finance in Achieving Sustainability (with Satyajit Bose and Anne Simpson) and The Sustainable City, 2nd Edition (with Steven Cohen).
Dajian ZHU is the Professor in the Department of Public Administration, Doctoral Supervisor, and Director of the UNEP-Tongji Institute of Environment for Sustainability Development at Tongji University. Zhu mainly studies sustainable development economics, urban development and management, public services, and public-private cooperation. He is a member of the Social Science Commission under the jurisdiction of the Chinese Education Ministry, and of the Experts Commission on Sustainable Development & Resource and Environment under the jurisdiction of the Chinese Construction Ministry, a special policy advisor for Shanghai Municipal Government, and an expert for the Shanghai Urban Planning Commission. Zhu is also a member of the Global Future Council of the World Economic Forum and an international editorial board member of SCI and SSCI journals such as "Ecological Economics", "International Journal of Public Management" and "Environmental Policy and Governance".
Junjie LI is the Associate Professor, Deputy Director of the Department of Architecture and an Organizing Committee member of the Party Branch of the Department of Architecture at Beijing Jiaotong University. Li is a LEED (Leadership in Energy and Environmental Design) Accredited Professional, an AH AP Professional Trainer, a committee member of the China Green Building Council (China GBC), and a member of the Green Building Theory and Practice Group. She is also the DTSA Commission-SPSD International committee member, and a reviewer of several international SCI journals.
Wan LIU is the Associate Dean of the Department of Urban Planning and Design at the School of Architecture, Tsinghua University. Her research and teaching interests are urban design and architecture criticism. She won the Golden Lion Award at Venice Biennial for a Danish-Chinese Project, "Sustainable Urban Development in China" (2006). The work of students tutored by Liu won the Excellent Work Award from China Urban Planning Education Committee (2008). She is the Director of the Editorial Department, Journal of "Urban and Regional Planning", a member of the Expert Committee in National Urban Planner Register Center, and a Member of the Urban Design Academic Committee, Urban Planning Society of China (since 2007).