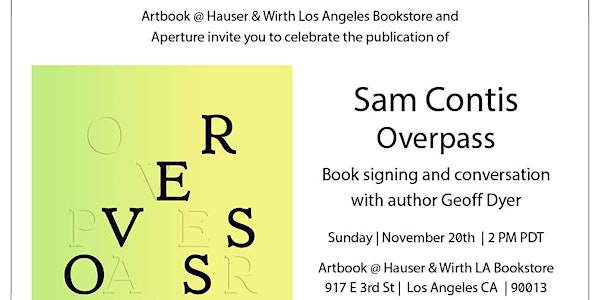 Book Signing with Sam Contis for Overpass
Book Signing with photographer Sam Contis celebrating the release of Overpass. Sam will be in conversation with author Geoff Dyer.
When and where
Location
ARTBOOK @ Hauser & Wirth Los Angeles 917 East 3rd Street Los Angeles, CA 90013
About this event
Join Aperture and Artbook @ Hauser & Wirth LA Bookstore for a conversation between artist Sam Contis and author Geoff Dyer, discussing Contis's most recent title, Overpass (Aperture, 2022).
Overpass is about what it means to move through the landscape. Walking along a vast network of centuries-old footpaths through the English countryside, artist Sam Contis focuses on stiles, the simple structures that offer a means of passage over walls and fences and allow public access through privately owned land. In her immersive sequences of black-and-white photographs, they become repeating sculptural forms in the landscape, invitations to free movement on one hand and a reminder of the history of enclosure on the other. Made from wood and stone, each unique, they appear as markers pointing the way forward, or decaying and half-hidden by the undergrowth. An essay by writer Daisy Hildyard contextualizes this body of work within histories of the British landscape and contemporary ecological discourses. In an age of rising nationalism and a renewed insistence on borders, Overpass invites us to reflect on how we cross boundaries, who owns space, and the ways we have shaped the natural environment and how we might shape it in the future.
Sam Contis (b. 1982) lives in California. Her work has been exhibited widely, including at the Barbican Centre, London; Carnegie Museum of Art, Pittsburgh; Carré d'Art, Nîmes; and MoMA, New York. She is the recipient of a 2022 Guggenheim Fellowship and the author of Deep Springs (2017) and Day Sleeper (2020).
Among Geoff Dyer's many books are three about photography: The Ongoing Moment, The Street Philosophy of Garry Winogrand and, most recently, See/Saw. His latest book, The Last Days of Roger Federer, is published by FSG. His books have been translated into twenty-four languages. A Fellow of the Royal Society of Literature and a member of the American Academy of Arts & Sciences, he currently lives in Los Angeles where he is Writer in Residence at the University of Southern California.