Description
Join The Next Page Books & Nosh and Colorado Mountain College for an evening with bestselling, critically-acclaimed author Peter Heller and his release of THE RIVER. Author talk in the auditorium followed by reception and book signing in the lobby.
Book RSVP ($35) includes event entry, appetizers, and a hardcover copy of THE RIVER and can be purchased online here, in-store, or by phone 970.668.9291.
Event Only RSVP ($10) includes event entry and appetizers. *Event Only RSVP accepted in-store, by phone 970.668.9291 or walk-ups the day of.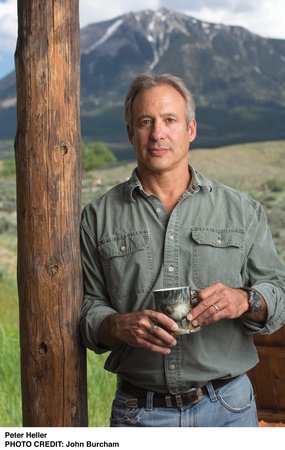 Peter Heller (Celine, The Painter, The Dog Stars) returns in 2019 with a novel of friendship, adventure, and survival: THE RIVER (Alfred A. Knopf; on-sale March 5, 2019). In the vein of Jack London's The Call of the Wild, with cross-genre appeal for fans of Jon Krakauer and Hampton Sides, THE RIVER is destined to be a modern adventure classic. A taut story of wilderness survival, THE RIVER pits two college friends against the untamed beauty and dangers of northern Canada in a tightly-coiled adventure tale. Clear your calendar before you dip into THE RIVER; Heller's latest begs to be read in one breathless sitting. Wynn and Jack are college students and best friends, bound by their shared love of mountains, books, and fishing. When the pair decides to canoe the Maskwa River in northern Canada, they anticipate days of leisurely paddling and picking blueberries, and nights of stargazing and reading paperback Westerns. But nature has other plans for the young men. A brutal wildfire is tearing through the forests near the river, encroaching on the pair of adventurers… With plumes of smoke in the distance, Wynn and Jack rush to clear the area – but their progress is slowed when they hear a man and a woman arguing on a riverbank. Determined not to let these fellow travelers become victims of the fire, Wynn and Jack turn back to warn them of the impending danger… but their search for the pair turns up nothing and no one. Until the next day, that is, when a man appears on the river, paddling alone. Is this the man they heard? And, if so, where is the woman? With the wildfire on their heels, the young men embark on a desperate search for the truth about the mysterious man and his missing partner. With THE RIVER, master storyteller Peter Heller delivers a spellbinding novel poised to join the ranks of American adventure classics. Vividly atmospheric and infused with Peter's deep understanding of and admiration for North America's wilds, THE RIVER is as much an adventure tale as it as an ode to the untamed power of nature. This is Peter Heller at his very best.