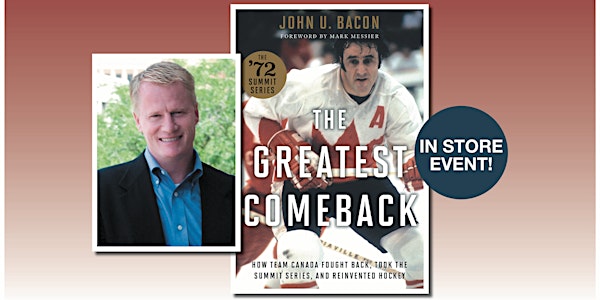 Book Signing with John U Bacon
Local author John U. Bacon will be in store signing his newest book, as well as his backlist titles.
When and where
Location
Schuler Books 2513 Jackson Avenue Ann Arbor, MI 48103
About this event
Local author John U. Bacon will be in store signing his newest book, as well as his backlist titles. You're sure to find the perfect book for the history, hockey, and U of M sports lover on your gift list. And probably hear a fantastic story from John firstshand too!
About the Book
The series you thought you knew: the first book written with the complete cooperation of the whole team
"They've stolen our beer and our steaks, and then to make it worse when we go back to the hotel after the game, they give us warm, skunky Russian beer and not the good, cold Labatt's our sponsor sent. I remember thinking, 'These pricks will never beat us again! They are not going to win another game.'"
—Rod Gilbert
The Summit Series took place in September 1972, when Cold War tensions could not have been higher. But that was the whole point of setting up this unprecedented hockey series. Team Canada, featuring the country's best players—all NHL stars, half of them future Hall of Famers—would play an eight-game series, with four games played across Canada followed by four in Moscow. Team Canada was expected to crush their untried opponents eight games to zero, with backups playing the last four games.
But five games into the series, they had mustered only one win against a tie and three stunning losses. With just three games left, Team Canada had to win all three in Moscow—all while overcoming the years of animosity and mistrust for one another fostered during the Original Six era. They would also have to overcome the ridiculous Russian refereeing that resulted in stick-swinging fights involving the players, a Canadian agent and Soviet soldiers; surmount every obstacle the Soviets and even the KGB could throw at the players and their wives; invent a hybrid style of play combining the best of East and West, one that would change the sport more than any other factor before or since; and win all three games in the last minute.
And they did it all.
The Summit players asked Bacon to tell their story and provided unparalleled access and candour in dozens of interviews with almost every living player. The Greatest Comeback is a universal story about overcoming bitter feuds to forge a hard-earned team spirit and inspire heroics against long odds and almost inhuman pressure—an experience so unforgettable that every member of Team Canada considers those eight games to be the highlight of their storied careers.
About the Author:
John U. Bacon is the author of the national bestseller The Great Halifax Explosion and five bestselling books about college football, including Three and Out, Fourth and Long, Endzone, and Bo's Lasting Lessons, co-authored with Michigan coach Bo Schembechler. A former feature writer for the Detroit News, his writing has been recognized three times in The Best American Sports Writing series. He appears often on NPR and national television, including ESPN's 2019 documentary series on college football. He has taught at Northwestern University's Medill School of Journalism and the University of Michigan. A popular public speaker, he lives in Ann Arbor with his wife and son.