Description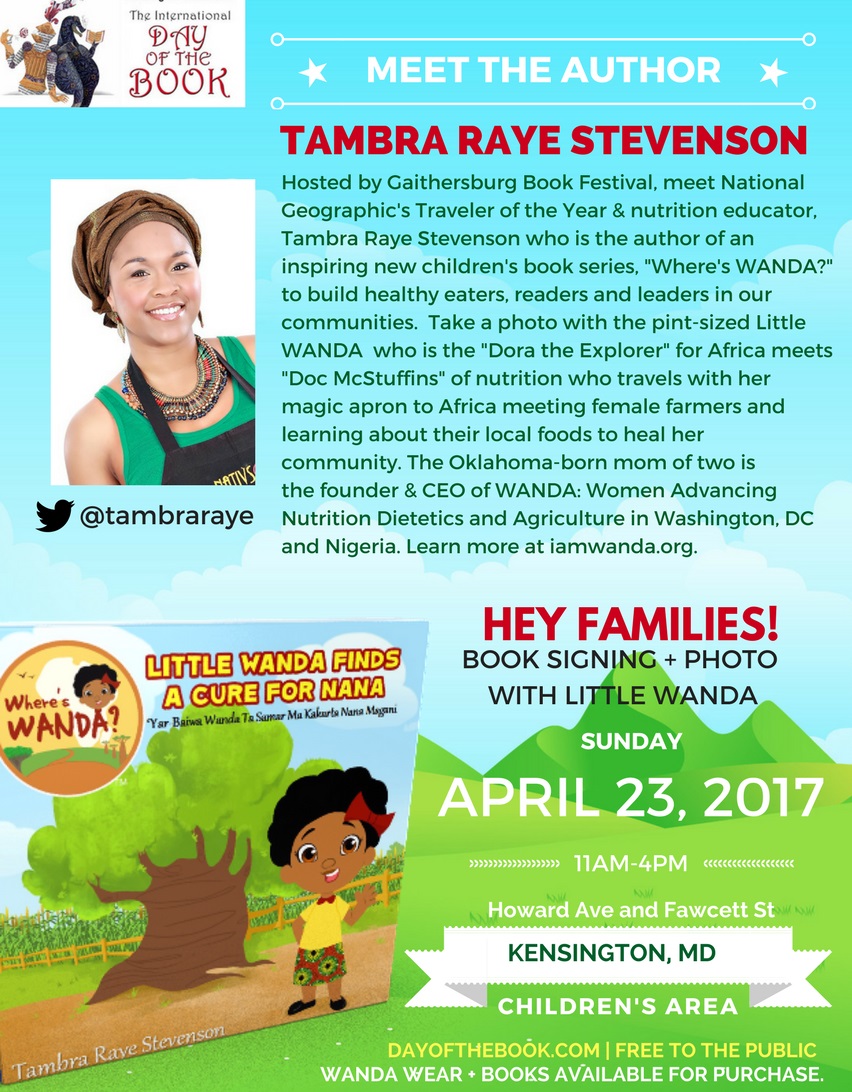 D.C. AUTHOR LAUNCHES A NEW CHILDREN'S BOOK SERIES TO MAKE AG COOL AGAIN!
WASHINGTON, DC (April 8, 2017)---"Let's grow more healthy eaters, readers and leaders!" That's the message and invitation from National Geographic's Traveler of the Year, and internationally recognized nutrition educator Tambra Raye Stevenson as she announces the launch of "#IamWANDA" women and girls' nutrition advocacy campaign at the World Bank/International Monetary Fund Spring Meetings in Washington, DC on April 19, 2017 at 9:00 am. The Oklahoma native is also appearing at the International Day of the Book Festival on April 23, 2017 from 11am to 6pm in Kensington, MD and on May 20th from 10a – 6pm at the Gaithersburg Book Festival for a family-friendly author talk and book signing that is free and open to the public.
The #IamWANDA campaign follows the release of her crowdfunded and highly-anticipated bilingual book series, Where's WANDA?: Little WANDA Finds a Cure for Nana. Stevenson invites audiences to "buy one and give one" copy of the book to a girl, school, library or health clinic; share their #IamWANDA story and follow the journey of Little WANDA on social media. The first bilingual book—in English and Hausa—addresses gender equity, health and wellbeing and nutrition related to the Sustainable Development Goals set by the United Nations. Now Stevenson is on a mission to raise awareness about the role of women and girls as food heroes in agriculture and nutrition to build and sustain healthy communities and economies through a newly formed nonprofit, WANDA: Women Advancing Nutrition Dietetics and Agriculture (WANDA) based in Washington, D.C. and Nigeria.
From now until October 11, 2017, International Day of the Girl, purchase two copies of "Where's WANDA?" and donate one. Take a photo with the book and tag #IamWANDA and share your #IamWANDA story to encourage a young girl to become like Little WANDA on social media at www.iamwanda.org.
"Diabetes took my grandma's life due to her sweet tooth, depression and sedentary lifestyle. Now as a mom, I want to be a better example for my daughter and encourage her to make healthier choices. I want to remind the community it takes a village to raise healthy kids from the policymakers, teachers, family members and health providers. So 'Where's WANDA?' is an important series that shares the power of the community coming together to help Little WANDA become the food shero we need with plant-based recipes, activity sheet and reading questions. The nonprofit—WANDA: Women Advancing Nutrition Dietetics and Agriculture —creates a pipeline and platform to educate, advocate and innovate for a better food system by empowering women and girls," says Tambra Raye Stevenson, a Mayoral appointed D.C. Food Policy Council Member.
"As we work to better educate our girls to become healthy eaters, readers and leaders, we must shine the light on women—Big WANDAs—who are making an impact as food leaders in our community like Mrs. Salamatu Garba of Kano, Nigeria along with Little WANDAs like my daughter Ruby Rose—who are highlighted in the first book. The "Where's WANDA?" series introduces Little WANDA as the "Doc McStuffins" of nutrition meets "Dora the Explorer" for Africa. The empowering series features curious and caring Little WANDA who leads young readers on a food adventure across Nigeria to find a cure for her Nana's diabetes. Guided by her father's wisdom, Little WANDA sets out on a journey from America to Africa with her magic apron in search for Nana's cure with the help of men opening doors to meet with the female farmer—Big WANDA. Little WANDA's story is my story and the story of so many others."
How "#IamWANDA" Campaign" Works:
1. From now until October 11th, purchase two copies of Where's WANDA? Online or in-store and donate one.
2. Take a photo or upload a video and tag #IamWANDA with the book and share your WANDA story on Facebook, YouTube, Instagram or Twitter at @IamWANDAorg.
3. Go to IamWANDA.org and write your personal message (or WANDA story of cooking, growing, educating or advocating for a better food system one girl at a time) to a girl who will receive your book!
4. #IamWANDA is complete!
5. Follow Little WANDA's journey on Facebook and Twitter @IamWANDAorg and Instagram at @_IamWANDAorg and using the hashtag #IamWANDA
About the Author
TAMBRA RAYE STEVENSON is a Tufts-trained, award-winning nutrition educator and health communicator. Her work has been featured in the Washington Post, Huffington Post, National Geographic's Traveler Magazine, Cuisine Noir Magazine, Black Enterprise, and many others. She has appeared on Voice of America, NBC Nightly News, and NBC 4. Tambra worked at the U.S. Department of Health and Human Services, D.C. Mayor's Office on Women's Policy and Initiatives and the Center for Nutrition, Diet and Health at the University of the District of Columbia before founding WANDA: Women Advancing Nutrition Dietetics and Agriculture in Washington, DC. Learn more at tambraraye.com.
WHERE'S WANDA? LITTLE WANDA FINDS A CURE FOR NANA
By Tambra Raye Stevenson
Published by WANDA
**On Sale April 17, 2017**
Softcover | $15.00
ISBN: 978-1-5323-1512-1
Available at IamWANDA.org, Amazon Kindle, Nubian Hueman and Sankofa Book Stores.