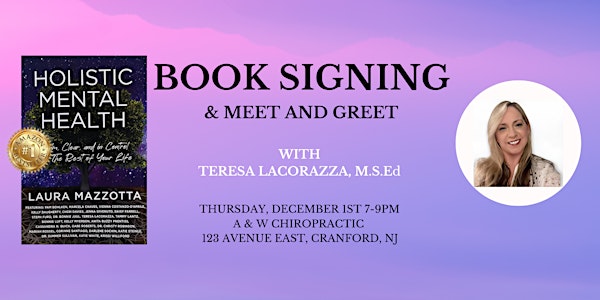 Book Signing & Meet and Greet
Meet one of the authors of the Amazon best selling book Holistic Mental Health, Calm, Clear, and in Control For the Rest of Your Life!
When and where
Location
A & W Chiropractic Center 126 South Avenue East Cranford, NJ 07016
About this event
Join Teresa Lacorazza for a meet and greet where she will take you through her story of how she used gratitude to overcome her battle with breast cancer and renovating her home after being mostly destroyed from hurricane Ida.
Books will be available to purchase for $25 (cash, Venmo, or Zelle). Teresa will sign each book with a personalized message!
Light refreshments will be available.
Reviews:
T A Nunnally wrote:
This book is a great little collection of stories from a wide variety of experts in the field of mental health, many whom have dealt with their own issues and struggles and are able to use this perspective to reach their readers. The stories are relatable and the holistic solutions are creative, many I had never heard of before and I've done plenty of research in the area of anxiety and depression. This book provides hope for those who have struggled to find their own way out of troubling situations.
Reviews:
AC wrote:
I really enjoyed this book and especially recommend it to anyone struggling with anxiety or overwhelming life events. The holistic approach and unique perspectives from each of the authors make it hard to put down. All of the chapters were great, but I truly identified with Teresa Lacorazza's chapter. Her message was centered around gratitude, which is something that I always need to be reminded of, even in the hardest of times.
Reviews:
GIanna wrote:
As a Massage Therapist and Registered Nurse (especially in todays world) I'm always looking for uplifting, soul soothing testaments to the power of the human body and mind.
I loved the whole book, but Chapters 4, 7, 14, 20, and 23 spoke to me personally. I truly hope these authors continue their wellness journeys and continue to be such a blessing to others.
All the Best, Gianna