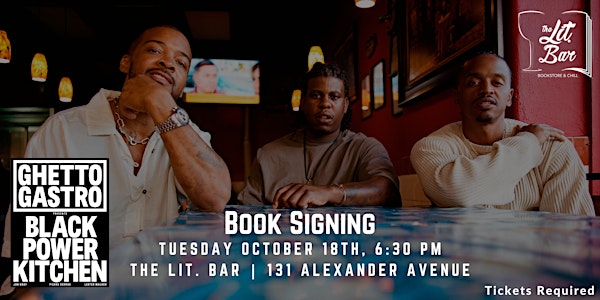 Book Signing: Ghetto Gastro Presents Black Power Kitchen
The Bronx-born culinary collective Ghetto Gastro is coming through to sign copies of their first recipe cookbook, Black Power Kitchen.
When and where
Location
The Lit. Bar 131 Alexander Avenue The Bronx, NY 10454
Refund Policy
Contact the organizer to request a refund.
About this event
Eventbrite registration is required to attend the event. A book purchase from The Lit. Bar is required to join the signing line.
Join us for a launch party and hometown celebration for the masterminds behind Black Power Kitchen: Jon Gray, Pierre Serrao, Lester Walker, and Osayi Endolyn. The first book penned by The Bronx culinary collective Ghetto Gastro does for cookbooks what Ghetto Gastro has been doing for the food world in general—disrupt, expand, reinvent, and stamp it with their unique point of view.
Book Pick Up
Books are available for pick up during the event and must be picked up no later than 11/1/22. See the ticket page for more information.
Shipping
Follow this link to purchase a copy for shipping: https://www.thelitbar.com/blackpowerkitchen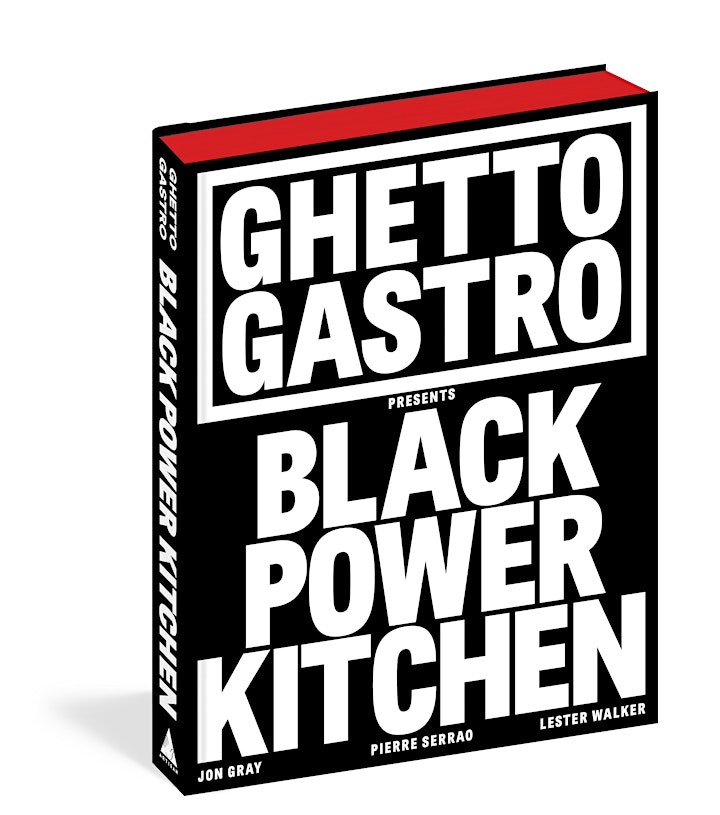 Knowledge Is Power
Part cookbook. Part manifesto. Created with big Bronx energy, Black Power Kitchen combines 75 mostly plant-based, layered-with-flavor recipes with immersive storytelling, diverse voices, and striking images and photographs that celebrate Black food and Black culture, and inspire larger conversations about race, history, food inequality, and how eating well can be a pathway to personal freedom and self-empowerment.
Ghetto Gastro Presents Black Power Kitchen is the first book from the Bronx-based culinary collective, and it does for the cookbook what Ghetto Gastro has been doing for the food world in general—disrupt, expand, reinvent, and stamp it with their unique point of view. Ghetto Gastro sits at the intersection of food, music, fashion, visual arts, and social activism. They've partnered with Nike and Beats by Dre, designed cookware sold through Williams-Sonoma and Target, and won a Future of Gastronomy award from the World's 50 Best.
Now they bring their multidisciplinary approach to a cookbook, with nourishing recipes that are layered with waves of crunch, heat, flavor, and umami. They are born of the authors' cultural heritage and travels—from riffs on family dishes like Strong Back Stew and memories of Uptown with Red Velvet Cake to neighborhood icons like Triboro Tres Leches and Chopped Stease (their take on the classic bodega chopped cheese) to recipes redolent of the African diaspora like Banana Leaf Fish and King Jaffe Jollof. All made with a sense of swag.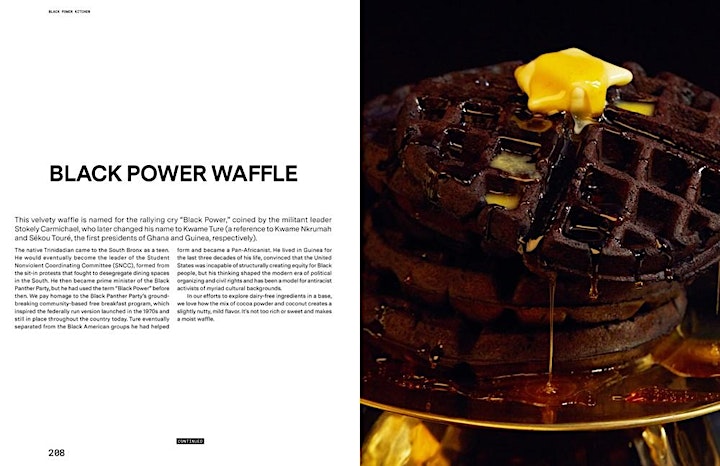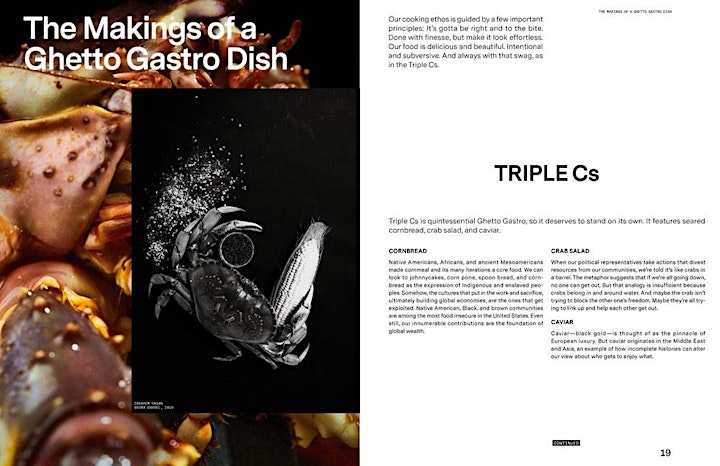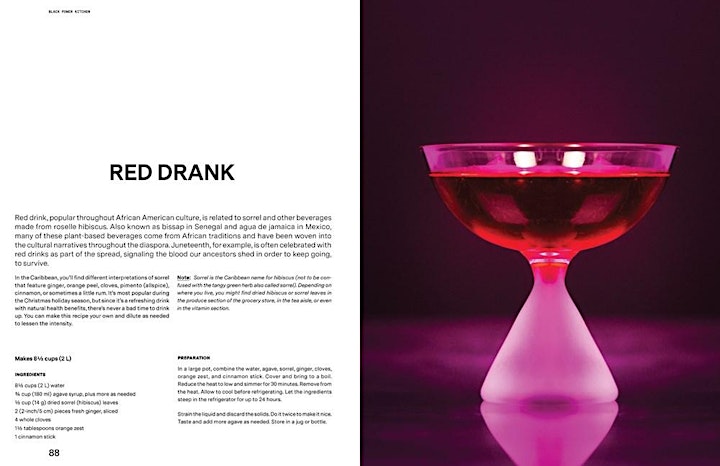 Ghetto Gastro is the Bronx-born culinary collective from Jon Gray, Pierre Serrao, and Lester Walker. The group has notably defined its own lane, merging food, fashion, music, art, and design. Claiming both the beauty and grit from the streets with the aspiration and aesthetics of the finer things, GhettoGastro's interdisciplinary approach celebrates the Bronx as a driver of global culture. The crew masterfully blends influences from the African diaspora, Global South ingredients, and the pulse of hip hop to create offerings that address race, identity, and economic empowerment.
Since launching in 2012, Ghetto Gastro has gone from hosting underground parties to spearheading large-scale brand campaigns and events with leading fashion designers, artists, and entrepreneurs. Their collaborators and partners include figures like Virgil Abloh, Nike, Cartier, the Serpentine, the Museum of Modern Art, and many more. 
During the onset of the pandemic in 2020, Ghetto Gastro prioritized Bronx grassroots initiatives and mutual aid. In recognition for feeding their community, the group was nominated for the Basque Culinary World Prize. In 2021, Ghetto Gastro launched its namesake consumer goods brand of pantry items inspired by ancestral ingredients. The collective released a custom line of kitchen appliances, CRUXGG, across Target stores nationwide, and recently launched their cookware line with Williams Sonoma. Black Power Kitchen is their first cookbook.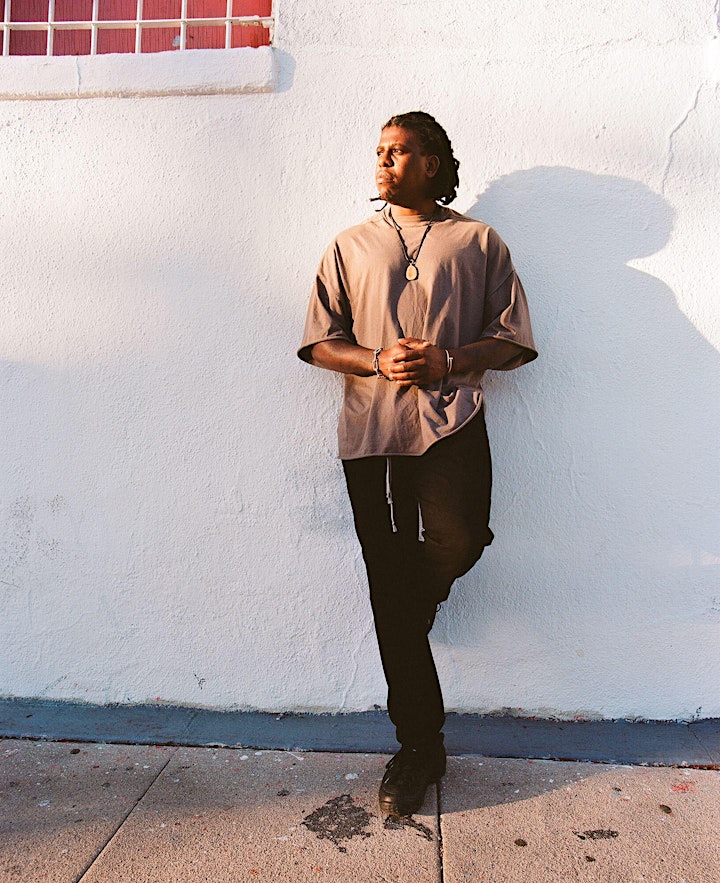 Jon Gray is cofounder of Ghetto Gastro. He aims to shift social narratives by celebrating the culinary, blending a background in fashion to create immersive experiences, product design, and unique storytelling.
From Co-op City, Gray's mother and grandmother taught him about the arts and challenged him to innovate as a way of life. When a rebellious adolescence almost put him behind bars, Gray used the experience to imagine a greater vision for himself. Inventorying his passions and pastimes, he made Bronx-driven gastro-diplomacy his career and mission.
In 2019, Gray delivered the TED Talk "The Next Big Thing Is Coming from the Bronx, Again." Gray is a Civic Practice Partnership Artist in Residence at the Metropolitan Museum of Art. In 2021, he served as guest curator at the Cooper Hewitt, Smithsonian Design Museum, where "Jon Gray of Ghetto Gastro Selects" featured an Afrofuturist theme.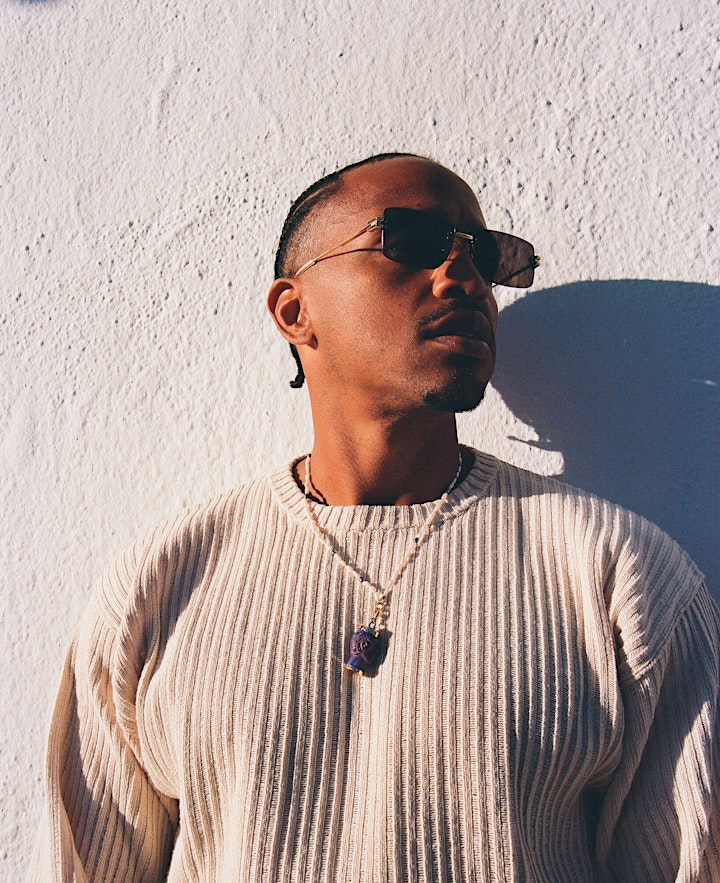 Pierre Serrao is chef and cofounder of Ghetto Gastro. Serrao uses food as both an expression of culture-driven creativity and a tool to create health sovereignty.
Raised between Barbados and Connecticut, Serrao worked in restaurants throughout high school, then graduated from culinary school and the Italian Culinary Institute for Foreigners in Piemonte. He worked at award-winning restaurants in New York, Barbados, and Italy, styling an approach to cooking influenced by ancestral practices and innovation.
The desire to create a culturally sound and iterative expression of food led Serrao to join forces with Jon Gray and Lester Walker, rounding out Ghetto Gastro. Fueled by international travel, enthusiasm for learning, and sheer curiosity, Serrao explores ways to bridge the global pantry with creative entrepreneurship.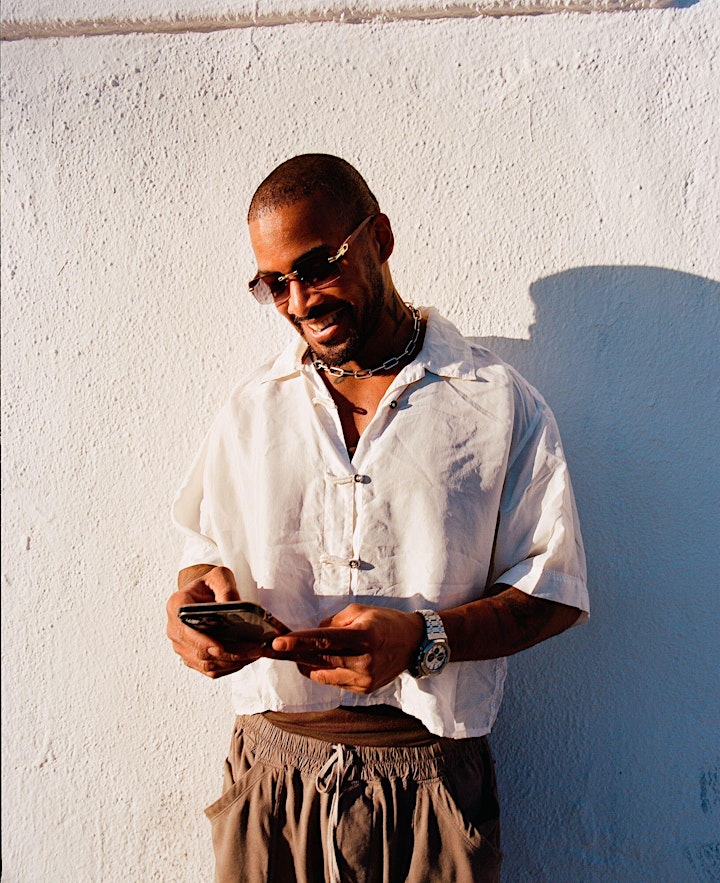 Lester Walker is chef and co-founder of Ghetto Gastro. Walker brings unrelenting imagination, competition-ready technique, and skill at layering flavors to Ghetto Gastro's iconic events, offerings, and storytelling.
A native of the Bronx's Co-op City, Walker discovered cooking at a pivotal moment in his teen years. New York City's Careers Through Culinary Arts Program inspired him to pursue a career in food. Spurred by the speed, focus, and creativity of cooking, Walker worked up the fine-dining line in award-winning kitchens in New York, Washington, D.C., and Miami.
Walker's cooking merges the roots of NYC-based Black American foodways with the cuisines he studied professionally: French, Italian, Indian, and Southeast Asian. In 2012, he won Chopped on the Food Network. That same year, seeking ways to explore historic and modern Black culture through food, he partnered with Jon Gray, fellow Co-op City native, to launch Ghetto Gastro. With GhettoGastro, Walker aims to create art by intentionally pairing food with ideas that represent and celebrate where he comes from.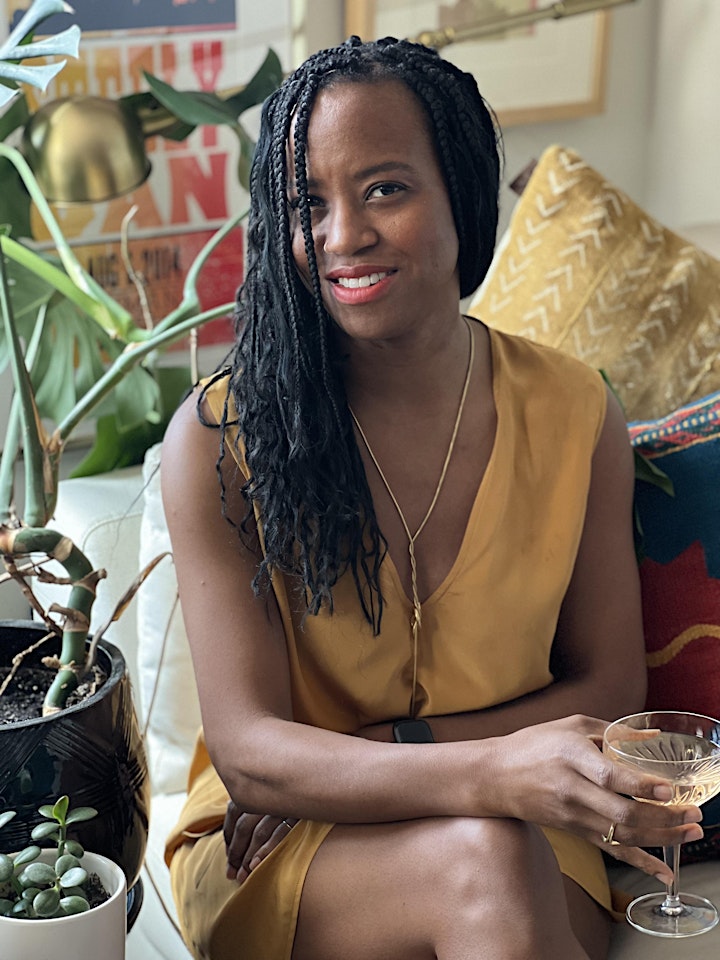 Osayi Endolyn is a James Beard Award–winning writer whose work explores food and identity. She's been published in the New York Times, the Washington Post, the Los Angeles Times, the Wall Street Journal, and Time, among others. Endolyn is coauthor, with Marcus Samuelsson, of the national bestseller The Rise: Black Cooks and the Soul of American Food.
She's appeared on Netflix's Chef's Table and Ugly Delicious, and Hulu's The Next Thing You Eat. Her writing is featured in the Museum of Food and Drink's African/American: Making the Nation's Table, as part of the historic exhibit's Legacy Quilt. Endolyn is the recipient of the UC Berkeley–11th Hour Food & Farming Journalism Fellowship and was named to Southern Living's list of 30 Women Moving Southern Food Forward. Endolyn is on the board of trustees for the Edna Lewis Foundation and Radical Xchange and worked with PepsiCo's inaugural Dig In initiative in support of Black-owned restaurants.
Along with forthcoming book collaborations, Endolyn is writing a narrative that explores American restaurant and dining culture. A California native and former resident of the South, she lives in New York.