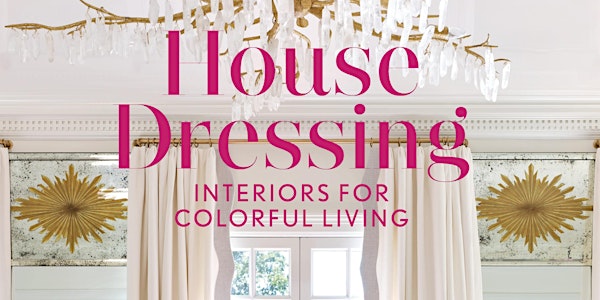 Book Signing for Janie Molster's 'House Dressing'
Reception and Signing for Janie Molster's House Dressing
When and where
Location
The Rink Shopping Center 2727 Prytania Street New Orleans, LA 70130
About this event
**This event will now be FREE, rather than ticketed. With the recent surge of Omicron, we know it's difficult to commit to plans in advance, so come one, come all to those who can join us next Thursday, Jan. 13! If you would, go ahead and register so we know you're coming!**
The Garden District Book Shop is thrilled to announce an evening celebrating the release of acclaimed Southern designer Janie Molster's "House Dressing," will be held on January 13 at 6:00 PM. "House Dressing" is Molster's lively collection of vibrant interiors and insightful advice for colorful living. Through the book, Molster gives a master class in working with color, pattern, and texture to make spaces that are in turn bold, serene, glamorous, and comfortable, but always personal.
How do you make a home that fits to a T? That's tailored to your lifestyle, perfectly expresses your personality, is as comfortable as a second skin, and lets you live life to the fullest? Over more than two decades, Molster has become known for creating family homes that are as bold and sophisticated as they are inviting and practical. In House Dressing, Janie reveals the secrets behind her unique ability to craft dreamy interiors and shares down-to-earth advice for creating your own beautiful and personal spaces.
Showcasing a range of projects, Janie invites readers into country cottages, a riverside retreat, and her own urban farmhouse—Janie's personal design lab—exploring different styles, from glamorous and soulful to contemporary and eclectic. Janie tells the story and describes her thinking behind the design of each one: her recipe for the perfect mix of antique and new, easy but impactful paint treatments you can try, and—based on her own experience—how to create a fabulous home for a family of seven.
The event will kick off at 6:00 PM with a welcome reception. Molster will then share insights into her work with guests, lead a Q&A and then personalize books.
All citywide-mandated COVID safety protocols will be in place. Proof of vaccination or a negative PCR or rapid test result within 72 hours of the event is required for entry.
For more information on The Rink, please visit www.therinknola.com.