Location
Barnes & Noble
The Arboretum
10000 Research Blvd #158
Austin, TX 78759
Description
***PLEASE RSVP TO ATTEND***
Join cookbook authors Arsy Vartanian (The Paleo Foodie Cookbook), Diana Rodgers (Paleo Lunches and Breakfasts On the Go), Melissa Joulwan (Well Fed & Well Fed 2), and Michelle Tam (Nom Nom Paleo: Food for Humans) for an evening book signing and Q&A at the Barnes & Noble at The Arboretum in Austin, Texas!
Don't miss this special joint appearance featuring all four of these Paleo authors!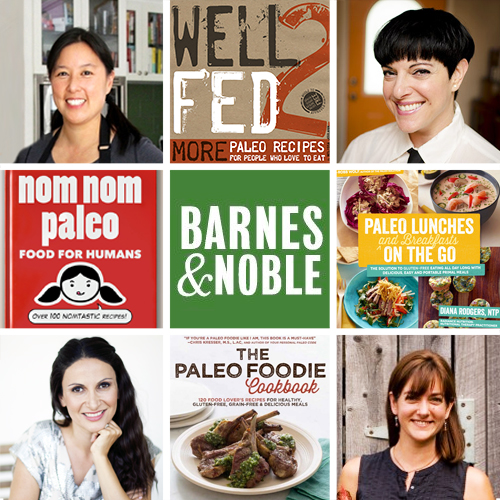 About Arsy's The Paleo Foodie Cookbook:
Arsy Vartanian, Paleo Foodie and author of the bestselling cookbook The Paleo Slow Cooker, is ready to share only the best of the best Paleo recipes that'll have your mouth watering. Arsy's delicious and nutritious recipes range from modern twists on traditional dishes to a wide range of ethnic influences from both her Armenian background and her culinary curiosity. Jam-packed with recipes that don't skimp on nutrition or taste, The Paleo Foodie Cookbook is your one-stop destination for delicious Paleo fare.
About Diana's Paleo Lunches and Breakfasts On the Go:
Lunch and breakfast are often the hardest meals to eat without busting your Paleo, gluten-free diet, especially when most recipes call for gluten, processed oils, sliced bread or sandwich buns. Diana Rodgers, a nutritional therapist and Paleo community activist, solves the problem with 100 easy and delicious packable meals without bread. From lettuce-wrap sandwiches to egg muffins to creative uses for toothpicks and packaging, she takes the confusion out of how to make hand-friendly and fast Paleo meals.
About Melissa's Well Fed 2

Well Fed 2: More Paleo Recipes For People Who Love To Eat is the follow-up to the deliciously popular Well Fed—by "The Clothes Make The Girl" blogger Melissa Joulwan—and it's packed with even more internationally-inspired recipes, mouth-watering photos, and easy meal ideas. All 200 recipes and Quick Meal ideas in Well Fed 2 are made with zero grains, legumes, soy, sugar, dairy, and alcohol—without sacrificing fun and flavor. The recipes are easy to prepare and were tested extensively so they work every time—and so you don't have to spend all your free time in the kitchen.
About Michelle's Nom Nom Paleo: Food for Humans
Crackling with humor and bursting with flavor, Nom Nom Paleo offers a fun, fresh approach to cooking with whole, unprocessed ingredients free of grains, legumes, and added sugar. Authors Michelle Tam and Henry Fong have cooked up a visual feast, with more than 100 foolproof Paleo recipes and over 900 step-by-step photographs and cartoons. There's something for everyone here, whether you're a busy mom, a triathlete in training, or a lifelong foodie who's curious about the "caveman" approach to eating. Besides, there are butt jokes in this book.
---
***SPECIAL INSTRUCTIONS FROM BARNES & NOBLE***
To help the event run smoothly for everyone, the store will be handing out signing-line wristbands to attendees who bring or purchase any of the authors' books and present it at the Barnes & Noble at The Arboretum anytime starting on Monday, April 7. The store will continue handing out wristbands at the event, so feel free to bring your book(s) or purchase them to get a wristband.
Please arrive on time if you'd like to attend the authors' Q&A session. Seating will be available on a first-come basis.
Questions? Call Barnes & Noble at (512) 418-8985 for additional information!