Book signing and Presentation by Husain Haqqani author of "Magnificent Del...
Description
Book signing and Presentation by
Husain Haqqani
author of "Magnificent Delusions"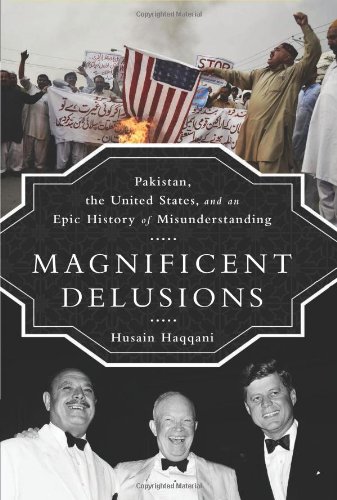 Magnificent Delusions details the important and complex relationship between two supposed allies, Pakistan and America. Without holding back and without pointing blame, Magnificent Delusions objectively recounts the misunderstandings that characterize Pakistani-American relations.
An accomplished author and scholar, Husain Haqqani offers a unique and honest understanding of his homeland, having been involved with Pakistani politics for over 25 years. Prior to serving as the US Ambassador to Pakistan from 2008 to 2011, Haqqani served as campaign manager, special assistant and spokesperson for Prime Minister Nawaz Sharif, became one of Pakistan's youngest ambassadors, serving in Sri Lanka, and was spokesman for Prime Minister Benazir Bhutto.
Haqqani is currently the Director of the Center of International Relations and a Professor of the Practice of International Relations at Boston University. In addition, he co-chaired the Project on Islam and Democracy at the Hudson Institute in Washington, and was co-editor of the international scholarly journal Current Trends in Islamist Ideology. Among his numerous writing credits are "Pakistan Between Mosque and Military" for the Carnegie Endowment for International Peace, "Islam's Medieval Outposts" for the journal Foreign Policy, and "The Role of Islam in Pakistan's Future" for Washington Quarterly.
DATE: Sunday, February 23
TIME: 5:00PM
LOCATION: Dover Rug & Home | 721 Worcester Road, Natick (Rte. 9), MA 01760

SPACE IS LIMITED. YOU CAN REGISTER 4 PEOPLE FOR THIS EVENT.
Registrations will be accepted in the order they are received and based on availability.
---------------------------
Dover Rug & Home, offering the largest selection of fine floor coverings and window treatments in New England Home has been designing, weaving and exporting fine, hand-knotted rugs and carpeting from around the world for three generations. For more information visit the company website at www.doverrug.com; call (508) 651-3500 or follow Dover Rug & Home on Facebook at www.facebook.com/doverrug, Twitter @DoverRug or on Houzz at http://www.houzz.com/pro/doverrug/