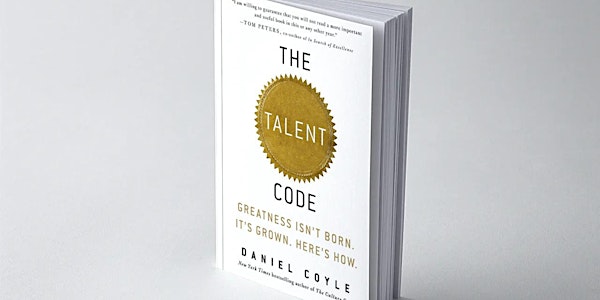 Book Review & Discussion : The Talent Code
Greatness Isn't Born. It's Grown. Here's How
About this event
In this event, you'll learn
How it was possible that many talents were pooled together in 15th century Florence in Italy
Why talent is neither in your genes, nor your environment
What makes Brazilians good at soccer
How a single, igniting event, can inspire and motivate generations to come
What determines how fast a baby learns to walk
How one South Korean golfer became the source of long-term motivation for many of his fellow countrymen
The two types of coaches, and why both have their place
How a master coach talks to his students
About the Author
Daniel Coyle is the author of the New York Times bestseller Lance Armstrong's War and Hardball: A Season in the Projects, and is a contributing editor for Outside magazine. He lives with his wife and four children in Homer, Alaska, where he coaches a rapidly improving Little League team.
Overview
Greatness Isn't Born. It's Grown. Here's How.
What is the secret of talent? How do we unlock it? In The Talent Code, Daniel Coyle provides parents, teachers, coaches, businesspeople—and everyone else—with tools they can use to maximize potential in themselves and others.
Whether you're coaching soccer or teaching a child to play the piano, writing a novel or trying to improve your golf swing, this revolutionary book shows you how to grow talent by tapping into a newly discovered brain mechanism.
Drawing on cutting-edge neurology and firsthand research gathered on journeys to nine of the world's talent hotbeds—from the baseball fields of the Caribbean to a classical-music academy in upstate New York—Coyle identifies the three key elements that will allow you to develop your gifts and optimize your performance in sports, art, music, math, or just about anything.