The Disciplined Pursuit of Less
About this event
In this event, you'll learn
The four pillars of essentialism
Why Southwest Airlines would've been a better stock bet 30 years ago than Apple
A consequence all essentialists have to accept
Why boredom is good for you and a new approach to journaling
What Google, Pixar and Twitter do to keep their employees fresh and creative
How much sleep you can deprive yourself of, before acting like a drunk
The minimum criteria approach
What you can do to not feel bad when saying no
Why goals have to be specific
How the sunk cost bias ruined the Concorde
A cool essentialist case study using boy scouts as an example
What an essentialist life looks like day to day
About the Author
Greg is an active social innovator. He served as a Board Member for the Washington D.C. policy group, Resolve , and as a mentor with 2 Seeds a non-profit incubator for agricultural projects in Africa. And he has been a guest speaker at non-profit groups that have included The Kauffman Fellows, St. Jude and the Minnesota Community Education Association.
He has conducted research in the field of leadership, strategy and why people and teams thrive and why they don't. He is a blogger for Harvard Business Review and the Influencer Network on LinkedIn.
He also collaborated on the writing and research of the Wall Street Journal bestseller "Multipliers: How the Best Leaders Make Everyone Smarter" , "Bringing Out the Best in Your People"
Prior to this research and teaching, Greg worked for Heidrick & Struggles' Global Leadership Practice assessing senior executives. His work included being a part of a year long project for Mark Hurd assessing the top 300 executives at HP.
Originally from London, England, he now lives in Silicon Valley, California with his wife and their four children. Greg holds an MBA from Stanford University.
Overview
The core of essentialism as a concept focuses on the idea that any particular entity requires certain elements for its functioning and existence. These are the essential traits which make an entity what it is. Essentialism is a book which deals with situations wherein people would find themselves in the middle of an information explosion. They could also feel occupied with a lot of work, but still be unproductive. There are times when people follow the notion that they have to do everything, but on the contrary, they end up doing nothing. There is no specific direction to their tasks and neither to their goals. Essentialism as a concept narrows down this notion into doing the right things which are absolutely necessary, in a right manner and at the right time. It is about categorising things as important and unimportant as per one's personal goals, and doing only the important things. This ensures that there is a proper channel for one's energy, time, and effort, which can be appli
The Five Big Ideas
Only once you give yourself permission to stop trying to do it all, to stop saying yes to everyone, can you make your highest contribution towards the things that really matter.
Essentialism is about deliberately distinguishing the vital few from the trivial many, eliminating the non-essentials, and then removing any obstacles so the essential things have a clear, smooth passage.
If you don't prioritize your life, someone else will.
The Paradox of Success: the more options we have, the more we feel distracted from what would otherwise be our highest level of contribution.
To embrace the essence of Essentialism requires we replace these false assumptions with three core truths: "I choose to," "Only a few things really matter," and "I can do anything but not everything."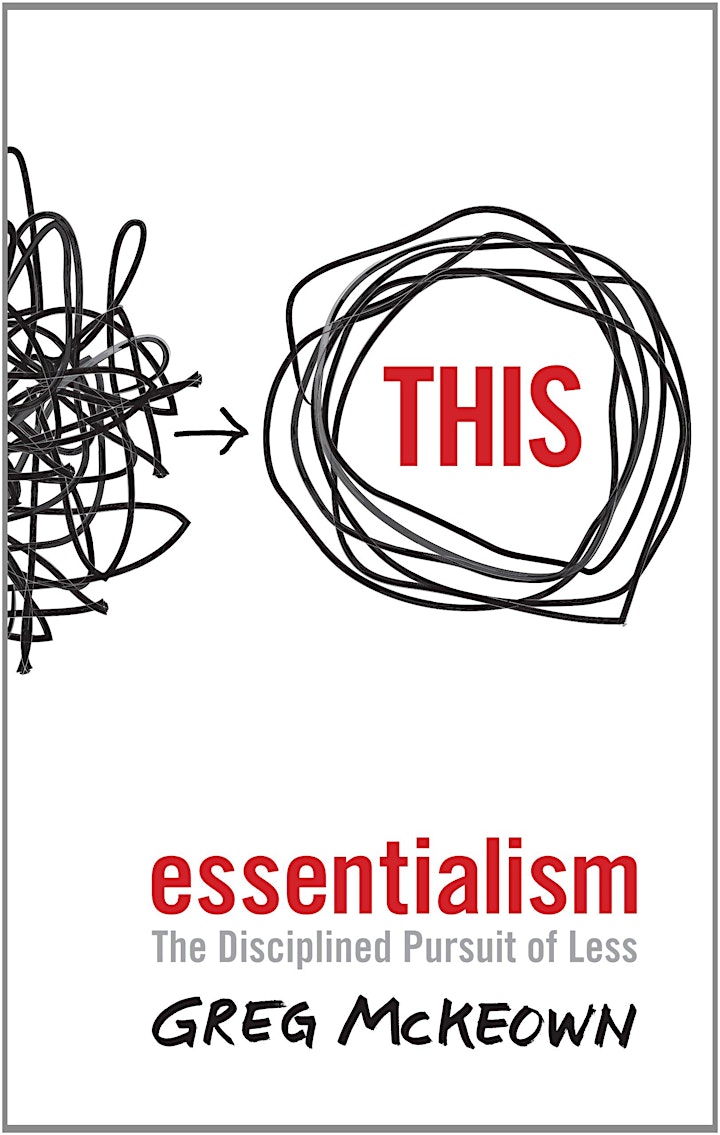 Organiser of Book Review & Discussion : Essentialism