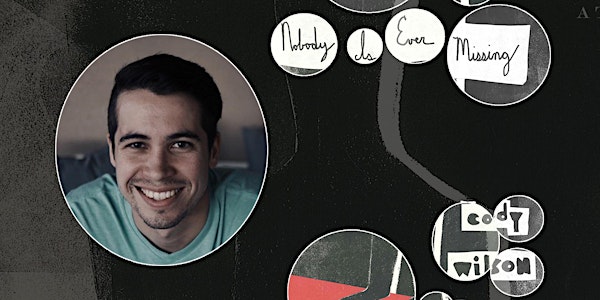 Book Release: Nobody is Ever Missing by Cody Wilson
Description
Local poet Cody Wilson reads from his newly released chapbook, Nobody Is Ever Missing Monday, June 4, 2018 in the lounge at Crescent Ballroom (302 N 2nd Ave, Phoenix, AZ 85003) with special guests Jesse Sensibar and Jennifer Battisti.
Readings begin at 6:45pm. Book signing and frivolity after. To pre-order, visit https://tolsunbooks.com/books/.
While encouraged, RSVPs are purely for the purpose of attendance monitoring and gauging interest. You do not need to bring your registration or RSVP to the event. You do not need to register or RSVP to attend. This event is open to the public and free.
Hosted by Tolsun Books in partnership with the Virginia G. Piper Center for Creative Writing at Arizona State University.
About the Book
Nobody Is Ever Missing reminds us of a difficult yet brilliant truth; oftentimes light can only be realized after it reaches into the darkness. Navigating itself far away from the sentimental, multifaceted lines reflect out from Cody Wilson's debut chapbook as he explores love and loss and the other palpable experiences that make life into living.
Praise for the Book
Cody Wilson has a great feel for the details that speak of what hides below the surface. There's a deeply human mix here – he celebrates, worries, remembers, and looks ahead – and a feeling that he's trying to enact the multitude of woundings and survivals that have shaped who he is. This book is a beautiful reminder of the joy and risk surrounding us every day.
—Bob Hicok
Cody Wilson's debut collection of poems, like grief, finds harmony in the evening's melody. Nobody Is Ever Missing is an asthmatic lungful of secrets that settles in the negative space that embraced loved ones who were reduced to the dust that makes breathing difficult.
—Shawnte Orion, author of The Existentialist Cookbook
About the Authors
Cody Wilson teaches English in Arizona, where he lives with his wife. They are expecting their first son this summer. He has an MFA from Queens University of Charlotte, where he served as poetry editor of QU. He enjoys making things with his hands, including wooden furniture, shadow puppets, and gestures of approval or disapproval. He has recent poems published in Juked, Juxtaprose, Southampton Review and forthcoming in Emrys.
Jennifer Battisti, a Las Vegas native, studied creative writing at the College of Southern Nevada. Her work has appeared in the anthology, Legs of Tumbleweed, Wings of Lace, and is forthcoming in Where We Live, an anthology of writing and art in response to the October 1st tragedy, as well as The Desert Companion, Minerva Rising, The Citron Review, FLARE, Helen: A Literary magazine,The Red Rock Review, 300 Days of Summer and elsewhere. In 2016 Nevada Public Radio interviewed her about her poetry. She holds a leadership position on the Las Vegas Poets Organization and is the administer and a participating teaching artist for the Alzheimer's Poetry Project in Nevada. Her first chapbook of poetry, "Echo Bay," was published in 2018 by Tolsun Books.
Elizabeth Meadows is a poet and speech language pathologist who lives in Phoenix, Arizona. She is very grateful to work with language every day. Recently she started wearing a hat and so far enjoys being a hat person. Two of her current goals are "visit space" and "visitPittsburgh". Her work has appeared in Eunoia Review and Tempe Writers Forum Volume 2.
Jesse Sensibar is unafraid to die but terrified of dying alone. He loves big bore handguns with short barrels; the clean, uncluttered lines of old outlaw choppers, old pawn jewelry, and small fuzzy critters with equal abandon. He has a soft spot in his heart for The Virgin of Guadalupe, tide pools, house cats, quiet bars, innocent strippers, and jaded children. He has worked as a mechanic, heavy equipment operator, strip club bouncer, repossession agent, tattoo shop owner, private investigator, tow truck driver, snow plow operator, wildland firefighter, and college English teacher. He received an MFA in Creative Writing and an MA in English from Northern Arizona University. He currently resides in Flagstaff, AZ and Tucson, AZ
About Tolsun Books
Tolsun Books is a small press based out of Tolleson, Arizona. We're into books that use separate parts to make a whole: poetry, short stories, comics poetry, hybrids, photo stories, new styles that we haven't thought of yet. We love places, and we gravitate toward authors who bring those places home to us. We want to see a palm tree growing right next to a pine tree, and we want to know the coyote that passes under them each night. To learn more about Tolsun Books, visit http://tolsunbooks.com.
About the Piper Center
The Virginia G. Piper Center for Creative Writing at Arizona State University is a non-academic university center is a home for writers, readers, and the literary community, offering talks, readings, classes, conferences, and other literary events and programs for the public good. To learn more about the Piper Center, visit http://piper.asu.edu.
Organizer of Book Release: Nobody is Ever Missing by Cody Wilson